It is sure to be a must-see edition of Monday Night Raw this week as the red brand continues to build towards Hell in a Cell and the return of Goldberg takes place.
Who's next?
After months of hype and speculation, Goldberg finally steps foot back inside a WWE ring in a moment that fans never expected to see happen. After being announced as a star in WWE's latest video game, WWE 2K17 fans began to wonder if he would make a return for one more match and after being challenged by Paul Heyman to a fight with his client, Brock Lesnar it is expected that the WCW icon will answer the challenge this evening.
Will Goldberg accept the challenge and what else will he have to say after so many years away, it is certainly worth tuning in just to see Goldberg's segment as is exactly what Raw needs after a few poor weeks?
SmackDown's challenge
Despite Raw's next PPV being Hell in a Cell, their rivals, SmackDown Live are focusing their attention on the next joint PPV, Survivor Series. Last week saw Daniel Bryan and Shane McMahon issue a challenge to Raw at that show as they suggested three traditional Survivor Series matches, 5v5 male, female, and tag team matches to be precise. Now the ball is firmly in Raw's court and tonight there will be an answer, but will they make any suggestions themselves or add some stipulations?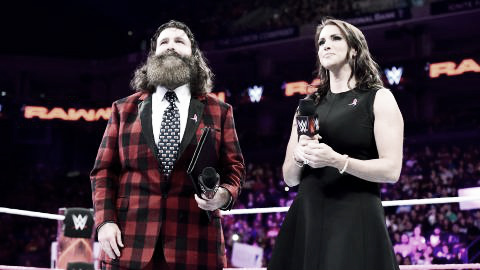 Will Bayley show a new side?
Everyone know's and loves Bayley for her fun loving, hugging attitude, however, as of late that attitude has allowed her to become vulnerable to attacks from Dana Brooke and could lead to a new side of the former NXT Women's Champion being shown. Last week Brooke left Bayley in a heap with her inflatable tubes after she was celebrating a victory and now Bayley is looking for revenge.
Can Sheamus and Cesaro work together?
Ever since the odd couple was paired together they haven't become any closer or shown any signs of being able to work together, however, they have managed to get positive results. But with a Tag Team Championship match right around the corner, they are going to need to start working together especially considering the amazing chemistry their opponents, New Day already have.
Can Kevin Owen's continue to run and hide
For the past two week's Seth Rollins has attempted to get his hands on Kevin Owens, only for the Universal Champion to scurry away leaving best friend Chris Jericho to deal with the situation. Can KO continue to run and hide this week or will Rollins finally get his hands on him?