With that said, there was still plenty of positives to take and the build towards making Survivor Series a major show continues, thank you for joining me and goodnight.
Overall an another average episode of Raw as the show continues to prove that three hours is simply too much, an over-reliance on promos and not enough wrestling hurt this show in a major way.
Another Pedigree this time to Jericho, KO throws away Rollins but eats a Superman Punch, falling onto his best friend, Jericho and pinning him for the victory without knowing, Kevin Owens wins.
Pedigree! But Jericho pulls away the official before Rollins can get the three count, to which he replies with a suicide dive to Jericho.
Rollins won't suffer the same fate, reversing the move and going on to powerbomb Y2J through Strowman and the table he was perched on, the big man is officially down.
The best friends team up to take out Reigns, quickly breaking up the beatdown to tear up a Roman Reigns sign, Cannonball to Reigns on the barricade, "That's why I'm the champ."
It's staredown time between the former Shield brothers, briefly interrupted by Strowman but a Superman Punch and then a Suicide Dive shows they can still work together and just as it seems we would get a Shield powerbomb through the table, Jeri-KO break it up.
Shots from everyone, finishing with a Superman Punch takes down Strowman eventually, impressive showing from the big man so far in this match.
KO hopes to make peace with Strowman but that doesn't work and just like everyone else he also get's taken out, who can stop him? The answer, all four men together, teamwork at last!But that doesn't last long either as he explodes out of the pile shoving everyone away.
It's table time here in the main event but Strowman stops Seth Rollins from using it and takes control of it himself.
Sami Zayn gets the win to progress to Survivor Series!
The Bulgarian Brute comes out firing huge shots at Zayn as he uses his strength to take control quickly.
Time for a number one contenders match now as Rusev faces Sami Zayn in what has the potential to be a fun match, the winner faces Dolph Ziggler at Survivor Series for the Intercontinental Championship.
Hot tag to Bayley and the crowd explodes as the Hugster enters the ring and takes the fight to the Women's Champion. Charlotte accidentally takes out Jax and turns right into a Bayley to Belly and this one is over!
Back from the advert and the heels are still working over Banks in their corner despite the Boss' attempts at fighting back. Charlotte now works on her back as she continues right where she left off at Hell in a Cell.
We go to another break just as Jax lays out Sasha Banks, heel team in control currently.
Women's tag team action now as the three baby faces (Bayley, Banks, Fox) take on the heel team (Charlotte, Jax, Brooke) with Jax dominating early due to her strength and power.
Wait a minute, Cole says Dana Brooke is NOT the final member. Enter= The Boss! Sasha Banks is rounding out the team which now looks a lot stronger, great to see Banks back on Raw after Hell in a Cell, not quite the reaction that Bayley got though... interesting.
The final member... Dana Brooke. Her added with Foxy makes for an incredibly underwhelming announcement with Sasha Banks and Emma available, real shame.
Charlotte wants to introduce the final member of the team, but the crowd will not stop singing for Bayley, WWE has a true star on her hands.
Bayley does her best but she can't silence the Scottish crowd who love Bayley, what a reaction.
Next up... It's Bayley to an incredible reaction.
Nia Jax tells Charlotte she doesn't take orders from her. The next team member announced.... Alicia Fox enters the ring to 0 reaction, she has talent but doesn't get given time for the fans to care.
Ah, here is Cole to talk about Survivor Series and the women's match, just encase you haven't had enough of hearing him already... come on WWE, this is a poor show.
Next week Shane McMahon and Daniel Bryan are invited to appear on Raw as you know, they are in competition.
Next up, it's yet more promo time as we find out the final members of the Raw women's team, this episode is really promo heavy and it is suffering from it, with so much talent and so many hours to fill they really need to just allow the stars to wrestle, it really is that simple.
Primo rolls up Goldust and uses the ropes.. Shining Stars advance to Survivor Series.
The crowd are so bored they are doing Mexican waves. Goldust enters on the hot tag and the fans become interested in the former Attitude Era star, he still has ability and a connection with fans, Golden Truth does not.
It's finally time for some actual wrestling, Golden Truth - Shining Stars, the winners take the spot on Team Raw... if anybody cares.
Braun Strowman tells Jeri-KO he is on 'Team Braun' as he leaves the best friends whilst Jericho adds him to... THE LIST!
Time to look at things from Lesnar's point of view now, he is best used with these sit-down interviews, makes Lesnar a real dominant athlete.
R Truth tells Goldust he has traded their spot at Survivor Series for time at the Shining Stars resort, so I guess the Shining Stars are now in the team? Goldust claims he is going to go and get their spot back so we will see throughout the show. Up next, we look at things from Brock Lesnar's side... wouldn't it be great if one of them could just appear at every show on the build? Is that too much to ask.
Kingston misses with Trouble in Paradise as they prepare for double team work G&A get the upperhand and hit the Magic Killer to win! Well, I asked for better booking of them.... 0 crowd reaction in the latter section of that match.
New Day are currently making light work of Gallows and Anderson, when are they going to be booked seriously? Some cheap heel work puts them in charge of the match but they need to be booked better by creative, seriously.
Woods wants to know what that makes them given that they've beaten The Club on multiple occasions. Apparently, they have been granted a match against The Club... that's next. Good promos by everyone involved even if the segment went slightly too long.
Karl Anderson says nobody is in charge of them and the first chance they get, they'll stab them all in the back. They claim that they can handle SmackDown as they are like New Day... a joke.
Big E quotes Braveheart brilliantly and Enzo and Goldust and Cesaro claim they are all in for their respective teams, something Sheamus isn't best pleased about, saying the only reason is because they have a future championship shot.
The Club also claim they are out of the team as with New Day as their captains they will lose. Here is Big E, attempting a Scottish accent which has gone down well with the fans.
They are out dressed as Braveheart and Xavier Woods has found himself some bagpipes which is called Agnus, but he admits he can't play them so he is instead singing into it to make a noise.
Plenty of bickering continues but Goldust tells them to take a deep breath but Sheamus once again takes charge, great promo from him he is standing out here, but just as he is set to leave.... New Day arrive.
The Celtic Warrior declares himself the captain of team Raw, but Enzo says he shouldn't be scared of that and instead lists things he should be scared of... How you doing?
Sheamus asks Enzo if he is finished dancing around and he begins to talk about how good Ireland is and continues to make several jokes at Scotland's expense.
Before New Day can arrive it is time for.... ANOTHER BREAK. There seems to be a lot more than usual in this opening hour, perhaps getting them out of the way for longer segments later in the show?
The Club are out next followed by Golden Truth then the oddball couple of Sheamus and Cesaro.
Back from another commercial (there have been plenty) and Enzo and Big Cass have arrived to a thunderous reaction.
Backstage Sami Zayn is with Stephanie McMahon who says she finds him irritating. But she says Foley accepted Dolph Ziggler's challenge for him to face Ziggler but she picks Rusev. It will be Zayn - Rusev tonight with the winner getting the shot at the Intercontinental Championship at Survivor Series, huge match with both guys being great choices to face Ziggler.
Of course, at the same time WWE get to plug the WWE 2K17 video game at the same time as this match.
Back from the break and we are now focusing on the Goldberg - Lesnar match, specifically from Goldberg's point of view, WWE packages are always good.
Kendrick tells Dar he is a loser but the crowds chant's only annoy Kendrick as he begins to beat up Dar, until he fights back, huge kick to the head and Dar gets his huge babyface pop.
Swann appeared to have the match won but Dar breaks it up as Sin Cara launches himself over the ropes and sentons Dar on the floor whilst Swann gets a roll-up on the champion and beats the champion, Dar loses in Scotland- typical hometown booking, as always it's never logical.
Very strange having Dar team with a heel I must add....WWE knew he would get a huge bayface pop.
Back from the break and it's Kendrick in control of Cara but huge chants for Dar and the Scotsman is back in the ring.
Dar in control of things so far but with the referee not looking Kendrick takes a cheap shot at Sin Cara.
NOAM DAR- he enters to a HUGE reaction.
It's tag team action as Rich Swann and Sin Cara take on Brian Kendrick and....
Up next, time for a new debut for the cruiserweights... a certain Scotsman I mentioned in the preview perhaps?
The tag team's are announced for Team RAW- New Day, Golden Truth, The Club, Enzo and Cass and Sheamus and Cesaro.
Jeri-KO has spoken too much and a brawl begins with Strowman coming out on top, good way of building the tension that the team can't work together. Steph returns and makes the announcement that it will be a Fatal Fiveway match tonight between the Raw team.
A great prep talk by the boss who tells them their jobs depend on this match, which KO agrees with and says that he and Y2J may have made a few mistakes, but insists they must put it aside.
Kevin Owens isn't happy with the choice but Rollins claims that once this match is done things are NOT finished between them.
The final member... Seth 'Freaking' Rollins, of course. Great reaction for Rollins as Raw completes a very strong team.
A totally different reaction for Roman Reigns, huge boos for the US Champion, next is the quietest reaction yet- Braun Strowman.
Steph is now introducing team Raw, starting off with Kevin Owens who enters to a great reaction from the Scottish faithful, but Jericho is next to an even bigger one.
She promises that Raw will decimate their opponents as she hypes up Survivor Series, including the Goldberg/Brock Lesnar match.
We kick things off with Stephanie McMahon, she is out to name the fifth member of Team Raw (male).
It's Raw time! Hope you've avoided spoilers as we are set to go from Scotland, for the first time in history.
Overall it should be a fun episode of Raw with a crowd that will certainly be vocal, join me LIVE for the commentary and be sure to avoid those spoilers in the meantime as this is a taped show.
Tonight could be the time for a Shield reunion (minus Dean Ambrose) as Reigns and Rollins may find themselves being forced to team up to take on the team of 'Jeri-KO' or will the best friends find a way to sneak out of it?
Roman Reigns and Seth Rollins haven't seen eye to eye ever since Rollins' betrayal, however, it seems they may now have common enemies in the form of Chris Jericho and Kevin Owens, especially after last week.
Will the Shield find a common enemy?
The former champion lost it when Brian Kendrick sneaked away with his championship via a count out and Perkins showed a more aggressive side than we have seen before and you can expect that to continue again until he gets a fair shot at the belt he lost at Hell in a Cell.
Since moving to the main roster TJ Perkins has not been the star fans wanted to see, something wasn't clicking, mainly due to his forced gaming lines that nobody wanted to hear, but last week TJP seemed to be a new man, a better man.
The dawn of a new TJP?
The popular wrestler is known for trying to get along with everyone, but there is only so much a woman can take and this week we may see a new side to Bayley, or will she be put to work again by her captain?
Bayley was called out as the 'weak link' of the women's Survivor Series team last week by her own captain, Charlotte before she was quickly dismantled by Nia Jax, not the perfect start to any team.
Will Bayley get revenge?
That man is Noam Dar and surely if WWE is wanting to debut him, doing so in Scotland would be the perfect place? He is guaranteed a great reaction from the fans and that would instantly introduce him as a future star to fans who didn't watch the CWC, something that the company needs to start doing with the cruiserweights.
Ever since the cruiserweights were announced to be appearing exclusively on Raw fans have been awaiting the debut of several names that were announced in the press release, one of which happens to be from Scotland.
Hometown debut?
Speaking of the traditional Survivor Series matches the third match will take place between the two brands top male stars and Raw currently has one space available which is also expected to be revealed in Scotland, surely Seth Rollins marks the perfect member?
Who will take the final spot on Team Raw (males)
The majority of SmackDown's teams are known and therefore Raw are currently playing catch up to the blue brand and tonight they will be sure to reveal more teammates, perhaps we will see the re-debut of Emma under her Emmalution name?
Last week it as revealed that Charlotte and New Day would be captains of the Women's and Tag Team Raw sides (respectively) for the Survivor Series matches against SmackDown and this week it is time for the champions to announce their teammates.
Survivor Series captains name their teams
Tonight should see that challenge issued and whether it is a superstar staking his claim or Mick Foley putting a match together, whoever does take up the challenge will have plenty of pressure on their shoulders, I personally think Sami Zayn would make an excellent opponent for Ziggler.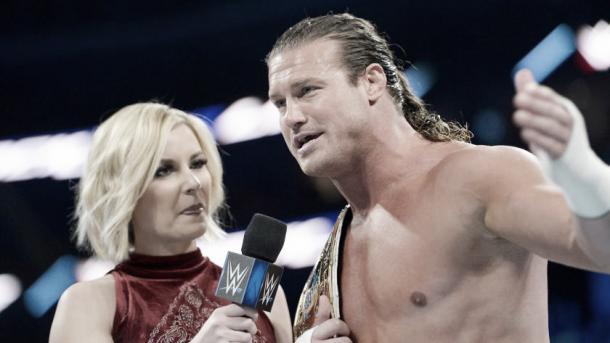 Ziggler issued an open challenge to anybody on the Raw roster to compete in a match at Survivor Series where the Showoff revealed he would put his title on the line, meaning there is a chance that the belt could swap brands, giving Raw a definitive edge over their rivals.
With both brands building towards the annual Survivor Series the stakes of the competition are building and on last week's SmackDown Live, current Intercontinental Champion, Dolph Ziggler upped the anti.
Who will answer Dolph Ziggler's challenge?
For the first time in WWE history, the company will be producing a show from Scotland and even though it will not be aired live (due to the time difference) tonight is a historic episode and the company will be sure to pull out all the stops to impress what should be, a lively crowd.
Welcome, everyone to VAVEL USA's coverage for tonight's episode of Monday Night Raw's. My name is Matthew Wilkinson and I will be providing minute-by-minute updates throughout the show of all the action and results, as well as an in-depth preview, so sit back, relax and enjoy.