This week on SmackDown Live in a sit-down interview with Tom Phillips, former WWE Champion Randy Orton made it clear that his feud with Jinder Mahal is not over and that he plans on regaining his championship in the near future.
Whilst that is nothing overly surprising, it was the Vipers comments about the fact this is now personal that have sparked rumours that a stipulation match is set to take place for the third bout between the two men; with Orton claiming he would travel to India to take out Mahal's family.
The interview segment certainly alluded to a grudge match between them and if it was set to be a blow off for the feud, then a stipulation match would make sense and the rumoured match is one that will likely be met with a mixed reaction.
The return of the Punjabi Prison
According to reports by NoDQ.com, the WWE is considering bringing back the Punjabi Prison stipulation that was used during The Great Khali's run in the main event scene for several matches. The stipulation never really took off and was only used twice due to the fact that fans did not care for the stipulations confusing rules and even though the structure itself looked menacing, the matches that took place within it were never overly impressive.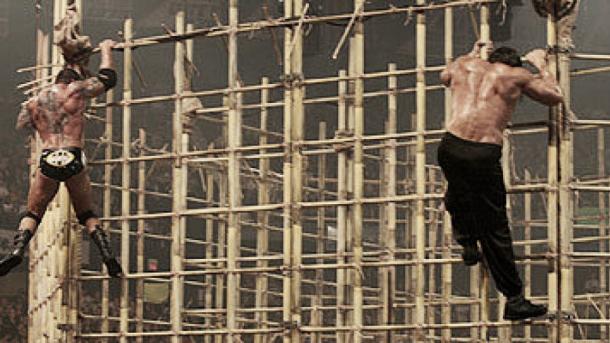 However, with WWE looking to push Jinder Mahal and really gain a growth in their Indian market, it appears the stipulation could be coming back for the upcoming Battleground event. A comment on F4WOnline.com's message board claimed that a security member for the Wells Fargo Center (the location of Battleground) has stated the arena was being measured to fit a large bamboo structure.
It was also noted on the YouTube channel 'HeelbyNature' that the WWE warehouse officials have been told to take the Punjabi Prison structure out of storage, presumably to be used. Whilst the reports are not confirmed and nothing is official, it appears WWE is at least considering the idea of re-using the Punjabi Prison in a stipulation that would surely favour the current champion.
What do you think about the Punjabi Prison returning? Let us know via Twitter- @Vavel_Wrestling