Bayley shockingly re-entered the RAW Women's Championship picture after defeating close friend Sasha Banks a couple of weeks ago and gained even further momentum after defeating Nia Jax on on Monday Night.
However, the no.1 contender may have suffered heartbreak as reported by WWE, the 28-year-old may have injured her shoulder and putting her match at SummerSlam in doubt.
Over before it begins?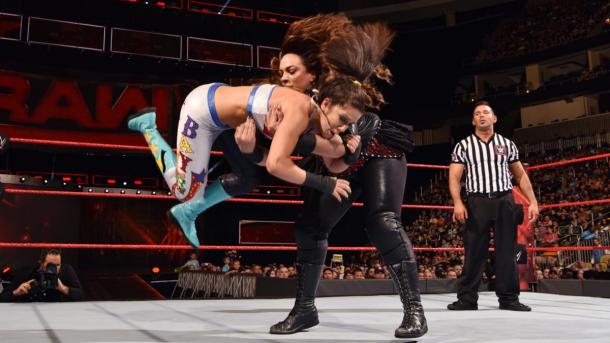 While her original feud with Sasha Banks ended in farce with the Goddess of WWE reigning supreme, it seemed that those behind the scenes were willing to give the former NXT Women's Champion another shot.
After overcoming BFF Sasha Banks and then defeating Nia Jax via count-out it seemed Bayley was finally getting the job done and building great momentum ahead of her title opportunity.
According to WWE.com, the results of the shoulder injury were "inconclusive" due to the amount of swelling involved, however the Huggable One has been advised to rest her shoulder until next week where a full diagnosis will be observed.
Bayley said "Everything just tensed up around it, I've never had an injury like this before, so I can't really know what it is. I guess we're gonna see."
The supervising Dr. Chris Amann stated "We've determined the injury is shoulder-related, and she will be going under further diagnostic testing later this week to determine the extent of the injury and also establish a timetable for recovery."
While Bayley entering the main event title picture can only be a good thing, her being injured so early into the stages of the will not be however but with The Boss Banks waiting on the fringes it may be more exciting should the former NXT champ take some time off to recover.
SummerSlam card
While the Raw women's championship remains in doubt, the current card for The Biggest Party of the Summer is heating up with a number of high profile bouts already confirmed.
Natalya will battle Naomi with the SmackDown Live Women's Championship.
Shinsuke Nakamura will take on WWE Champion Jinder Mahal after defeating John Cena on Tuesday night.
AJ Styles puts his United States title on the line against Kevin Owens with Shane McMahon as the special guest referee.
On the red brand, Brock Lesnar will have his hands full against three opponents in the form of Roman Reigns, Samoa Joe and Brawn Strowman.
After demanding competition, Rusev will battle Randy Orton at SummerSlam and 205 Live will get in on the action also as Neville battles Akira Tozawa.