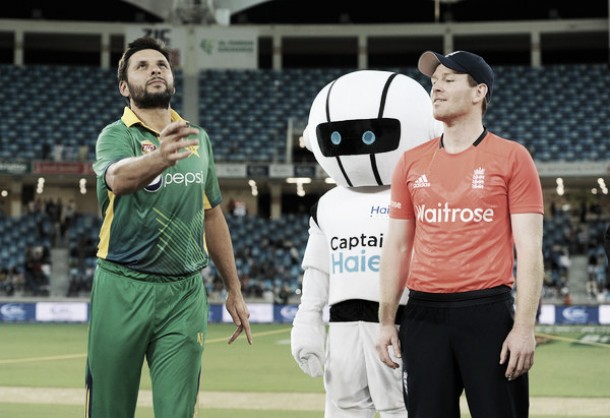 It's been a pleasure to guide you through this fantastic T20 match, that's it for English cricket now until the South Africa tour in late December, and that's it from me. I've been Tom Simmonds, @TomSimmonds1999, and England have been exciliarating. VAVEL UK will see you in South Africa.
Pakistan on the other hand have a lot of work to do going into the World Cup. They went into this series as the second best T20 team in the world, yet they have been white-washed by a team ranked down in 8th in the World Rankings.
England throughout this series have been fantastic, they have proven they have batting power throughout their order, proven that their bowlers can cope in pressure situations and certainly established themselves as a team to watch out for going into the World T20.
You have to give credit to both sides. This game may have been a dead rubber but both teams gave it their all and put on a great show for everyone watching, this game will certainly go down as one of the most exciting games of T20 cricket in history.
And relax. What a game that was, Jordan didn't have the greatest of games but boy did he recover in the super over, probably the greatest over of his career. Winning the game almost single-handedly for his country.
Pakistan couldn't gather the ball, so England make it home for the second.
5TH BALL: TWO!! ENGLAND WIN THE SUPER OVER AND GAME.
4TH BALL: SINGLE, ENGLAND NEED 2
3RD BALL: BUTTLER ON STRIKE, DOT BALL!
2ND BALL; SINGLE, ENGLAND NEED 3
1ST BALL: MORGAN ON STRIKE, DOT BALL!
England Super Over
England have sent their big guns out, Morgan and Buttler wherear BOOM BOOM Afridi will try and recoover this game for Pakistan.
Thanks to a simply amazing over from Jordan, England now have this game well within their sights again. Time to see who will bat.
PAKISTAN FINISH 3-1, ENGLAND NEED 4 FROM 6
FINAL BALL: WICKET! AKMAL MISSES THE RAMP!
5TH BALL: DOT! WHAT AN OVER FROM JORDAN.
4TH BALL: SINGLE AGAIN, JORDAN'S LINE IS PERFECT
3RD BALL: SINGLE, JORDAN BOWLING PERFECTLY
2ND BALL: LEG BYE, TERRIFIC FROM JORDAN SO FAR
1ST BALL: DOT! PERFECT FOR ENGLAND AND JORDAN
SUPER OVER!
Afridi and Akmal to open for Pakistan with Jordan surprisingly bowling for England.
I have never seen an international super over and I'm betting most people reading this haven't either. Here we go!
WHAT A GAME WE HAVE! In the super over Pakistan will bat first. England have one bowler, Pakistan have 3 wickets and then vice-versa. Most runs win.
FINAL BALL: SINGLE, WE GO TO A SUPER OVER!!
TANVIR ON STRIKE
Anwar Ali new man in.
MALIK c. BILLINGS b. WOAKES 75 (54)
5TH BALL: WICKET/DOT, MALIK GOES, PAK NEED 2
4TH BALL: SINGLE, PAK NEED 2, MALIK ON STRIKE
3RD BALL:DOT BALL, JUST WHAT ENGLAND NEED, PAK NEED 3
2ND BALL: SIX, PAK NEED 3, WHAT A STRIKE!
1ST BALL: SINGLE, MALIK OFF STRIKE, PAK NEED 9
HERE COMES THE FINAL OVER, HERE COMES WOAKES
PAKISTAN NEED 10 OFF 6 BALLS
OVERS 19: PAK Well bowled from Jordan, it's well controlled and he has held Pakistan to 3 singles and a precious dot ball. But then an edged four ruins the over. 8 from the over
Jordan is bowling, so that leaves Chris Woakes to bowl the final over.
PAKISTAN NEED 18 FROM 12 BALLS
OVERS 18: PAK 137-6 It had looked to be a good over from Willey, the crucial wicket of Afridi, but it was ruined by two fours from Malik at the end.
Tanvir the next man in.
WICKET! BOOM BOOM'S GONE! Willey bowls him round his with the slower ball, Afridi goes for the ramp can't get bat on it and is dismissed at a cruciall time for England. Afridi b. Willey 29 (20)
3 OVERS TO PAKISTAN REQUIRE 29 RUNS, FASTEN YOUR SEATBELTS.
OVERS 17: PAK 126-5 Unlucky for Jordan he tucks Afridi up, but it was a nightmare chance for Buttler, realistically he didn't have a chance, not sure Jordan totally agrees. Then a typically powerful cut from Malik crashes into the ropes for 4. Then another boundary is athletically saved by James Vince.11 from the over.
Here comes Chris Jordan.
OVERS 16: PAK 115-5 Well what looked to be a good over has been absolutley ruined by BOOM BOOM in typical fashion. He pulls Willey for SIX and that isn't just out the ground, it's half way to Abu Dhabi. 11 from the over.
AGAIN, another chance of a run out, a direct hit and BOOM BOOM would certainly have been run out, its as if they don't train with each other at times.
Pakistan now need 51 from 30 balls, we have got a game now!
100 UP FOR PAKISTAN/ FIFTY FOR SHOAIB MALIK
OVERS 15: PAK 104-5 Malik gets a bit of luck with a chinese cut for 4 but then follows it up with a classy guided 4 down to third man. England coming under some heavy pressure now. 12 off the over.
Morgan now turns to Woakes to break this partnership.
OVERS 14: PAK 92-5 A great hit from Afrdi, he clears the rope and crashes into the roof for SIX. Next time it's Malik's turn using his feet to turn the delivery into a full toss and smashing him back down the ground for 6. Ali finishes his overs then with figures of 1-22
OVERS 13: PAK 78-5 A great strike from Afridi, its a mishit in truth but even with the fielder out there he stil gets the SIX. A couple of good balls before Malik ruins a good over, charging and drivng Rashid for 4. 11 from the over
OVERS 12: PAK 67-5 Another top drawer over from Ali takes a crucial wicket and is then just inches away from removing Boom Boom. Just 2 runs come off the over, this has been a great spell from Ali so far.
Here comes BOOM BOOM, Shahid Afridi the new man in.
WICKET! ANOTHER AMAZING CATCH. Chris Jordan this time diving away to his right to pluck Umar Akmals slog out of the sky. Akmal c. Jordan b. Ali 4(9)
OVERS 11: PAK 65-4 I'm obviously not the only one that has realised Pakistan need to kick on, as Malik launches Rashid straight back over his head for SIX. That boundary ruined what was a good over from Rashid 10 from it.
OVERS 10: PAK 55-4 Ali is really turning the ball now, a very good over, featuring a good LBW shout. Just 3 runs from it. Pakistan really falling behind now.
OVERS 9: PAK 52-4 A truly brilliant over from Rashid, he takes a crucial,and well deserved wicket. Just as important thought he only concedes two runs. Good work from the Yorkshireman.
Umar Akmal the new man in.
WICKET! WHAT AN AMAZING CATCH FROM RASHID. The leg-spinner is well bowled and Rizwan can only get a leading edge. Rashid then does the rest, an fantastic low catch as he came through in his follow through, some delay while the third umpire checks the catch, but Rizwan has to go. Rizwan c. and b. Rashid 24(23) Pakistan 50-4
OVERS 8: PAK 50-3 Moeen getting some really sharp spin now, he questioned a wide and he had good right to, it pitched well outside off stump. Just 4 from the over, well bowled from Ali
Spinning the ball the other way now, Morgan tosses the ball to Moeen Ali.
OVERS 7: PAK 46-3 A good economical over from Rashid, the leggy keeping Pakistan to ones and twos only. 6 from the over.
Time for tweak, here comes Rashid.
OVERS 6: PAK 40-3 A poor over from Jordan. Rizwan edges past the keeper for four, then following that up with 2 good fours through square. 14 runs from it. England needs to break this partnership quickly
Beyond a joke now, good fielding by Root and again Pakistan uncertain in their calls, very lucky not to lose their fourth wicket. Good job Hafeez isn't still out there.
OVERS 5: PAK 26-3 Another very economical over from Woakes. Pakistan can pick up just 5 runs, England will feel they have a good grip on this game
Chris Woakes just having a change of ends, he's replaced Willey.
OVERS 4: PAK 21-3 A decent over from Jordan, nothing special.He's unlucky not to Malik chopping on, next ball though he comes charging and crashes Jordan through the covers for four. Singles to follow. 6 come off that over.
Chris Jordan into the attack now. Root doing his impression of the fast bowler in the field.
OVERS 3: PAK 15-3 A tidy over from Willey, conceded just 5 runs but more importantly picked up a crucial wicket.
On a side note Hafeez has now been involved in 5 run outs during this tour, more training needed I think.
Rizwan the new man in.
WICKET! A golden duck for Rafatullah, walking across his stumps he's trapped LBW by Willey, Morgan's men well on top here. Rafatullah lbw. Willey 0 (1)
OVERS 2: PAK 10-2 A brilliant over from Chris Woakes. Well controlled line and length backed brilliantly by Ali and Jordan fielding insiide the circle. Just 1 run from the over.
Shaoib Malik the new man in.
WICKET! ANOTHER RUN OUT FROM PAKISTAN, I feel like I'm repeating myself far to often when talking about Pakistan. Some confusion over who's out but in the end its Hafeez who is sent on his way. Hafeez run out (Vince) 1 (1)
OVERS 1: PAK 9-2 A poor four to start and a hat-trick of wides ruin what looked to be a good over from Willey that included a crucial wicket. 9 from it.
Hafeez the new man in.
WICKET! Some good shape from Willey and he gets the ball through Sarfraz, he departs for 5. Sarfraz b. Willey 5(5)
Rafatullah and Sarfraz to open for Pakistan, David Willey to open for England. Here we go...
PAKISTAN INNINGS START
Pakistan require 155 from 20 overs to win at 7.75 runs an over. Afridi's side will fancy this and you know they will be desperate to stop England taking a 3-0 series victory back home with them.
A great recovery from England, Root played a solid innings at the top of the innings, and despite a middle order collapse James Vince stood tall to lead England through a difficult patch, until he was very ably joined by the agressor Chris Woakes.
INNINGS END ENGLAND 154-8 PAKISTAN NEED 155 TO WIN
Jordan comes in and doesn't face a ball.
WICKET! Vince goes now, he squeezes a four through but can't follow it up with a six. He's played an important innings for his side.
Willey the new man in.
WICKET! Woakes' fantastic innings finally comes to an end. He goes for the big shot but can only hole out to Akmal. Woakes c. Akmal b. Tanvir 37 (24)
OVERS 19: ENG 146-6 some scampering runs from England bring up the fifty partnershiip, before Vince drops a knee and pulls Irfan for 4, should have been stopped however, poor fielding from Pakistan again. Vince tries the dilscoop pads it and gets away with it, the follow up is fantastic. Vince again going over the leg-side and its a huge SIX, what a find this lad is for England. Another big over for England.
Woakes 34(21) and Vince 31(38) England are really finishing strong here.
OVERS 18: ENG 133-6 WOW! What a shot from Woakes, a SIX slogged over midwicket onto the roof of the stadium. "New ball please" as Bumble would say. Then a disgraceful wide that even the keeper struggles to reach. A very good reply from Ali though, a wide yorker and it was absolutely inch perfect. Another big SIX from Woakes and I''m not sure how. He drops onto one knee and sort of cut/drives over point. This is looking to be a solid partnership for England. 16 from Ali's six.
After that drop Ali comes back into the attack.
OVERS 17: ENG 117-6 What a shot from Vince, a rank half volley from Irfan and Vince deals with it accordingly SIX. A poor over from Irfan 12 coming from it, although a dropped catch off the final ball should have saved it. It was an absolute dolly for Ali. England should be aiming for 150.
OVERS 16: ENG 105-6 Excellent from Afridi, absolutely no width from Afridi. He finishes his overs with figures of 2-19.
Afridi back into the attack, his quick bowling changes are getting really hard to keep up with.
100 UP FOR ENGLAND 100-6
OVERS 15: ENG 100-6 A shot that you won't see in any textbook from Woakes. A cross batted slap over cover gives England a well needed boundary. Vince struggling to get the ball away but he's rotating the strike well, he needs to bat till the end if England are to have any chance. 8 runs from the over.
Tanvir into the attack now.
OVERS 14: ENG 92-6 The England batsman really struggling to read Maliks spin now, its fair enough. I don't think Malik is even reading his spin. 4 from the over.
Malik back into the attack now.
OVERS 13: ENG 88-6 A good over from Ali, takes the wicket of Billings and finds his length for Woakes. 6 from the over. England projected just 135, get the feel they'll take that after the start they've had.
Chris Woakes the new man in
WICKET! Billings tries to follow a great pull with another big shot, but he can only lob the ball high into the air and its a good catch by Akmal running backwards. Billings c. Akmal b. Ali 7 (8)
OVERS 12: ENG 82-5 Afridi back into the attack, a nice inside out shot from Vince earns him two, then followed by a wide. Vince playing a clever innings here, he just needs a partner. 6 from that over and England are really struggling to get into a rhythym now.
OVERS 11: ENG 76-5 An economical over from Irfan forces Buttler to give up his wicket stupidy.
Sam Billings the new man at the crease.
WICKET! For once it's an England batsman run out, Buttler looking to steal a single that was never truly there. Buttler run out Rizwan 2 (3)
Irfan back into the attack now.
Spin is going to play a huge part in this game. A good over from Malik, removes England's skipper, concedes just 5 runs and has a very strong LBW shout turned down.
Buttler the new man in, all is not lost for England. This is the ground Buttler scored his record breaking hundred at during the One Dayers.
WICKET! Malik comes into the attack and bamboozles Morgan immediatley, he plays the wrong line and Malik rearranges his timber. Morgan b. Malik 15 (10)
Shoaib Malik replaces the excellent Afridi.
OVERS 9: ENG 68-3 An amazing charging six from Morgan over long-on followed by some good running ruins Ali's first over. 11 from the over in then end.
OVERS 8: ENG 57-3 Afridi can't take his hat-trick opportunity but it's still a good over from the spinner, some good running from England however. Just 6 runs from that over.
OVERS 7: ENG 51-3 Good bowling by Ali and some surprisingly good fielding by Pakistan restrict England well. Just 3 runs from that over.
Anwar Ali into the attack now.
OVERS 6: ENG 48-3 An amazing over from Boom Boom, two key wickets and just 2 runs conceded.
Eoin Morgan the next man in.
WICKET! England in real trouble now, Moeen Ali simply lobs on back to the Pakistan captain, and that's two ducks in a row now for Ali.. Ali c and b Afridi 0(1)
WICKET! Root was going well, but Afridi just gets one to skid one through and the Yorkshireman has to go. Root b Afridi 32(22)
Root is really going now, he has 31 off 19. Boom Boom Afridi into the attack now.
OVERS 5: ENG 46-1 Another glorious shot from Root, this lad really is special, a four then a scampered two before getting Vince on strike. Misfield from Pakistan, big shock I know, an what should have been a dot quickly became a two. Much better strike from Vince to follow a charging drive through the on-side for 4. 13 from the over.
Sohail Tanvir has changed ends.
OVERS 4: ENG 33-1 Root struggled to get his cut away but he's smashed this over midwicket SIX. Then a classy drive over the top. One bounce 4 over mid on. 12 from that over, England really coming into their stride.
The giant Irfan comes into the attack now, replacing Tanvir.
OVERS 3: ENG 21-1 A glorious cut from Root to begin the over with a 4. Then a fantastic on drive while on the drive again form Root. 10 off that over. Engand starting to settle into this game now.
OVERS 2: ENG 11-1 A much better over from England's point of view 8 runs from it.
OVERS 1: ENG 3-1 A great start from Pakistan removing Roy early, singles and dots from the rest of the over.
Joe Root the next man in
WICKET: Jason Roy falls straight away LBW to Yamin, looked like it was sliding down to me, no reviews in T20 however. Roy 0 (1)
Yamin to open for Pakistan, hes on debut.
ENGLAND 1ST INNINGS
Here we go, outstrides Jason Roy and James Vince.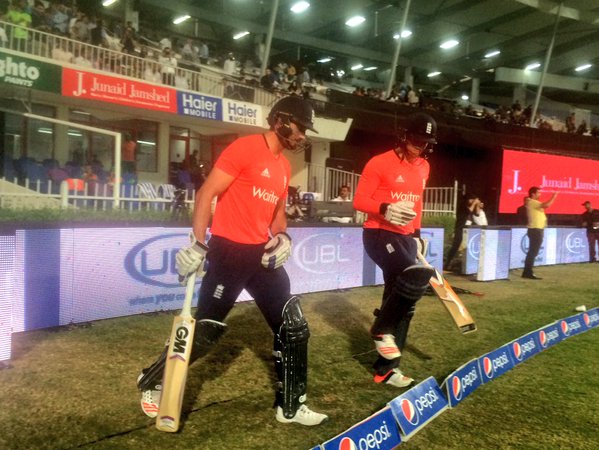 The series may be decided but we should have a great display for you today. The game gets underway in 5 minutes.
It hasn't weakened England's batting line-up however. Adil Rashid, who normally bats at 7 for Yorkshire, is at number 11 for England today. Such a strong tail should create a great show of lower order hitting.
The big team news is the exclusion of Alex Hales. His and Jason Roy's opening partnership has been solid recently, but Vince has been moved up to allow for Ali's re-introduction.
The World T20 is still 101 days away, yet England only have 3 more T20 internationals, after this one, and Pakistan are in a similar boat. It's no wonder teams keep rotating, their players are getting almost no time in the middle.
Again England choosing to tinker with their set up, continuing with this new rotational style. England are looking exciting but hopefully they will have their final line up sorted by the World T20 in March.
Pakistan: Rafatullah, Shehzad, Hafeez, Malif, Rizwan, Akmal, Afridi, Yamin, Anwar, Tanvir, Irfan.
England: Roy, Vince, Root, Ali, Morgan, Buttler, Billings, Woakes, Willey, Jordan, Rashid.
Team News Coming Up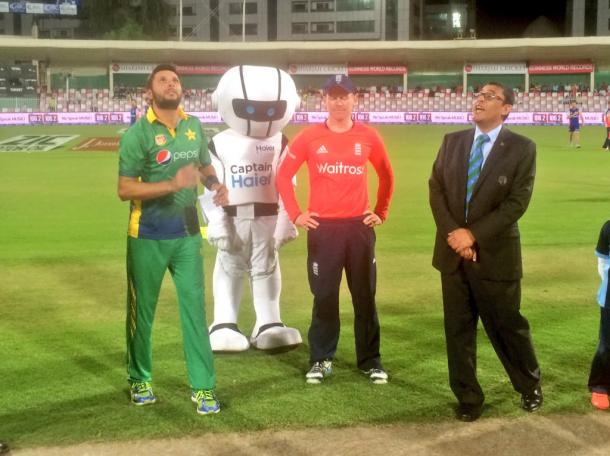 England have won the toss and have chosen to bat. This is the third time England have won the toss and have chosen to bat all three times. Eoin Morgan did the toss so it's safe to assume he has returned to the team.
Here comes the toss...
As I mentioned earlier England already have an unassailable 2-0 lead in this series, but this won't mean they will ease off today. Ever since the disastrous World Cup performance this new look England team have been on a run of 4 T20 matches unbeaten, a run stretching back to the New Zealand series in the Spring.
Pakistan however have dropped form spectaculary. In recent T20's they have looked a shadow of the team their supposed to be. Depsite being ranked second in the world, we often end up talking about comical run outs and school-boy fielding rather than players clearing the rope or brilliant spells of bowling.
If he gets the support he deserves from Mohammad Hafeez and Sarfraz Ahmed this Pakistan side will be a formidable force. The Pakistanis will be hoping that these three get into form to give themselves a solid base for the upcoming World Cup in March.
Pakistan too have some key players. Boom Boom Shahid Afridi, the captain of the Pakistan side, showed just how special he can be when he hit 24 off 8 balls in the second T20 to give Pakistan a sniff of victory.
Of course the skipper is a key man. Eoin Morgan, capable of scoring in all 360 degrees, once he gets going he is a very difficult man to stop. Joe Root currently at number 4, the Yorkshire man may not always play explosive innings but he can certainly anchor an innings and play a key role for his side. Of course there is also new-boy James Vince who has taken his chance by the scruff of the neck and is currently the highest run scorer in the series.
Then you come to the two wicket-keeper/batsmen. Sam Billings and Jos Buttler. Both explosive batsmen, Billings fresh from his rapid fifty in the first T20 and Buttler who captained his side in the 2nd T20 expertly, and currently holds the record for fastest century by an Englishman. But both also quality keepers, it will be interesting to see how the selectors deal with this.
A bowling attack with various options and variatons mixed with a solid opening partership have turned this England side from rank outsiders into one of the major contenders coming into the World Cup in March, where Trevor Bayliss and Paul Farbrace will be hoping they can show the world their work.
England though have got their fair share of dynamic players that can change a game too. Currently possessing arguably one of the most dangerous batting line ups in world cricket at the moment and a bowling attack to suit, England are an exciting team. But who should we look out for?
While I say the match will be exhilarating, the match is of course a dead rubber, but that shouldn't stop these two teams giving it their all. England will be out to prove this new look side really is the real deal while Pakistan will be desperate to halt their recent limited overs struggles.
Hello and welcome to VAVEL's live coverage of the final T20 International match of this hotly contested series between Pakistan and England. I am your host Tom Simmonds, @TomSimmonds1999, and I will be here to guide you through what should prove to be an exhilarating match.