Following a mightily impressive victory over Yorkshire to improve Somerset's chances of a maiden County Championship title, the club have announced that keeper-batsman Steven Davies will join them next season after turning down a contract extension at Surrey.
The 30-year-old will move to the West Country club at the beginning of next season on a three-year deal, with the hope that he can spend more time with the gloves than he has at Surrey.
Davies could be joining County Champs after ten-wicket Headingley win
The announcement of Davies' incoming comes at the end of a week which has seen Somerset establish themselves as a big part of next week's County Championship finale.
A win at home to Warwickshire last week had moved Somerset to third behind runaway leaders Middlesex and Yorkshire, before they pulled off the one-sided 10-wicket win at Headingley inside three days.
The 23 match points secured in Leeds has moved Matthew Maynard's side to within one point of back-to-back champions Yorkshire, with Middlesex set to go top at the completion of their game with Lancashire which headed to a fourth day.
After bowling Yorkshire out for 145 on the opening day, a pair of 73's from Marcus Trescothick and Lewis Gregory moved Somerset into a commanding first innings lead of 247. They then dismissed their star-studded hosts for 286 in their second innings, which meant that when Somerset cantered to their match-winning target of 43, they headed to the final week as contenders to top the table for the first time in their 141-year history.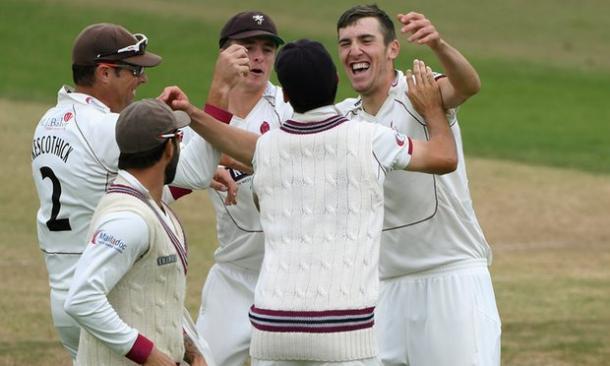 In the final fixtures of the season, Somerset take on an already-relegated Nottinghamshire side at their home Taunton-base, while Yorkshire and Middlesex meet at Lord's for what previously looked like a title decider.
Davies to join in 2017 with hopes of return to 'wicket-keeping'
Ever since Somerset lost Jos Buttler (Lancashire) and Craig Kieswetter (injury retirement), the wicket-keeping position in their team has been somewhat of a poisoned chalice.
The likes of Matthew Bates and Alex Barrow have each moved on having failed to nail down a spot in the team, while Ryan Davies has shown flashes in his debut season with the club but has struggled with the bat more than often.
Director of Cricket, Matt Maynard said that he is 'delighted' with the signing of Steven Davies, who 'will add to the considerable talent we have at Somerset.'
Having played 13 fixtures for England from 2009-2011, Davies harbours hopes of a return to the international game which he believes will be improved at Somerset. Davies believes that the 'new challenge, along with a return to wicket-keeping' can only be a good thing for his future.
Since joining Surrey from Worcestershire back in 2009, Davies has accumulated 10,635 runs across all formats for the London club and will be a huge asset for Somerset, who's attention remains fully on winning a first County Championship title.