India finished day two on 63 without loss in the first test against England in Rajkot after finally bowling the tourists out for 537.
The visitors began the day on 311-4 and quickly went about scoring runs as both Moeen Ali and Ben Stokes hit centuries to push Alistair Cook's side past the 500 mark.
After finally bowling the tourists out, the hosts batted through the final session of the day without losing a wicket to set up a crucial day tomorrow.
Ali brought up his fourth test century
All eyes were on Ali at the beginning of day two as he came to crease having finished day one on 99 not out.
If he had any nerves at all that was settled early on as he scored a single of the third ball of the day to bring up a brilliant hundred.
Alongside Stokes, the pair took their partnership passed the fifty mark before India made a crucial breakthrough when Ali misjudged a delivery of the bowling of Mohammed Shami to leave the field after making a well made 117.
Stokes and Bairstow put India to the sore
This brought Jonny Bairstow to the crease and he and Stokes took the attack to tiring Indian bowlers as Stokes went passed fifty.
Just as it looked like the partnership was going to go passed the 100 mark, Shami got the wicket of Bairstow for 46 to give the team some much-needed energy.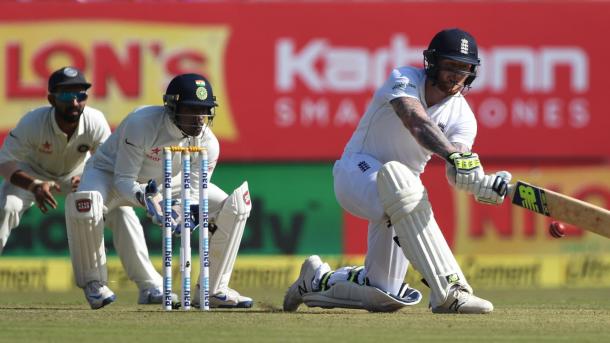 Stokes took the attack to the India bowlers throughout his innings | Photo: ECB
Therefore at lunch, even though England added over 100 runs, India had an end to bowl at after lunch as England went to the break on 442-6.
The break did revitalise the hosts as Ravindra Jadeja removed Chris Woakes for four and Adil Rashid for five early on in the session.
Stokes made it three centuries in the innings for the hosts
The problem that they faced though was that Stokes was in the mood to go big and he alongside Zafar Ansari took the score passed the 500 mark.Stokes in the process brought up his fourth test century in testing conditions to show how much he has matured over the last few years.
Stokes brilliant innings was finally brought to an end on 128 when Umesh Yadav got the breakthrough for the hosts.
Ansari and Stuart Broad added further runs before Amit Mishra trapped Ansari LBW for 32 as England were all out for 537 before the tea break.
Hosts batted through the final session without losing any wickets
After tea, the hosts began their first innings and made it all the way to the close without losing a wicket as India ended the day on 63 without loss, 474 runs behind England.
Gautam Gambhir was 28 not out at the close while Murali Vijay was 25 not out as the pair will look to push on tomorrow.