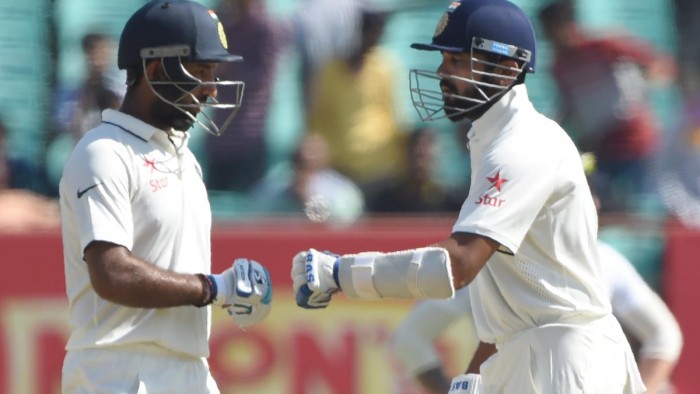 India gritted their teeth and showed their resolve as they played their way to 319-4 at the end of day three, trailing England by 218 runs with six wickets remaining.
England began well as Stuart Broad removed Gautam Gambhir, the opener trapped LBW for 29. The joy was short lived however as Murali Vijay and Cheteshwar Pujara dug in and both batted for almost the entire day, both of the top order batsmen reaching their centuries.
There was a glimmer of hope however as Adil Rashid and Zafar Ansari struck in the final two overs of the day, removing Vijay and Amit Mishra respectively.
A pair of centuries makes England struggle
Having reached the end of day two on 63 without loss, all eyes were on the opening pair to see how far they could push their opening stand. It wasn't to go on to much further, however, the pair could only add five more runs to their partnership total before Gambhir fell to a good delivery from Broad that angled in and caught Gambhir struggling to fix his footwork and caught him in his crease.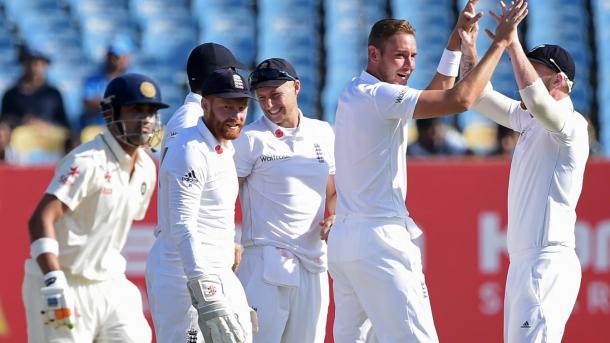 From then on, it was all one-way traffic for India as England's bowlers were reduced to mere passengers as the Indian top-order scored well, with Pujara the more free-flowing of the pair. He latched onto anything slightly short or wide. He finally reached his century, having been stuck on 99 for 11 deliveries, and a tea break, before taking a quick single off Chris Woakes to achieve his ninth test century, his first at his local ground.
Despite having shown steely resolve he was finally dismissed by a short and wide ball from Ben Stokes that Pujara could only manage to steer to Alastair Cook at wide slip, the Indian number three falling finally for 124 from 206 deliveries.
Murali Vijay's innings was far less pleasing to the eye, yet the innings was the cornerstone of the Indian innings. His innings was full of determination if not fluidity. He scored just 13 boundaries from his 301 deliveries, although four of those boundaries were maximums. The opener sending both Moeen Ali and Ansari over the ropes twice each. Vijay did eventually fall to Rashid, the opener pushed forward to a good length googly and Vijay could only manage an inside edge that was well held by Haseeb Hameed at short leg. The opener scoring 126 runs from 301 deliveries.
The two centurions had done their job, however, the partnership between Vijay and Pujara. The partnership was worth 209 runs and had lasted a mammoth 67 overs, taking India from a decent start, 63-1, to a commanding start, 277-2.
England bowlers work hard and eventually reap rewards
Whilst it may have been slim pickings in terms of filling the wickets column, the bowling unit cannot be accused of a lack of effort. In the heat of the sub-continent, with two batsmen looking well set and almost immovable the bowlers kept pounding in, bowling with speed and trying everything in their arsenal to break the Indian's resistance.
Woakes, in particular, was a captain's dream. Early in the morning, he was bowling with heat and fire, rattling Pujara's helmet three times in the opening few overs. As the ball got older and fatigue set in, Woakes didn't let up. He moved away from his short stuff and got the ball up there and kept that batsman trapped. An economy rate of 1.69 runs per over was an outstanding return that in truth deserved a wicket or two, which both him and England will be hoping will finally come tomorrow. Whilst Woakes has been picked out, all of the pace bowlers kept going, following everything Cook could have wanted them to do.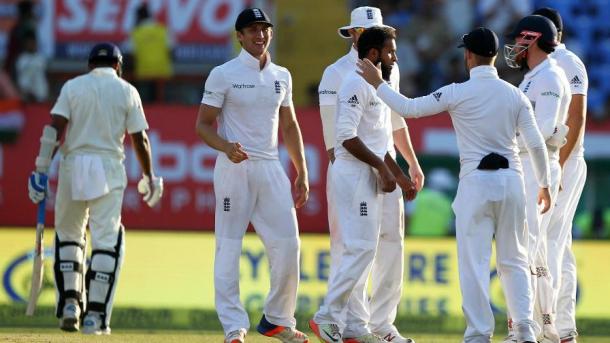 Whilst traditionally England's spinners would always have been immediately identified as an England's bowling attacks weak links, they were fantastic today. Rashid, Ansari, and Ali both kept going throughout the day, with Rashid, in particular, going through all his variations to keep the batsmen guessing. England finally got crucial breakthroughs late in the day. Rashid finally dismissing Vijay before Ansari ensured that nightwatchman Mishra would only survive two deliveries, it was his wicket in the end that brought the day's play to a close.
Tomorrow England will be looking to build on the late momentum the two wickets provided, whilst India will be expecting their middle order to build on the success of the top order and try and force a result out of what is seemingly a certain draw.