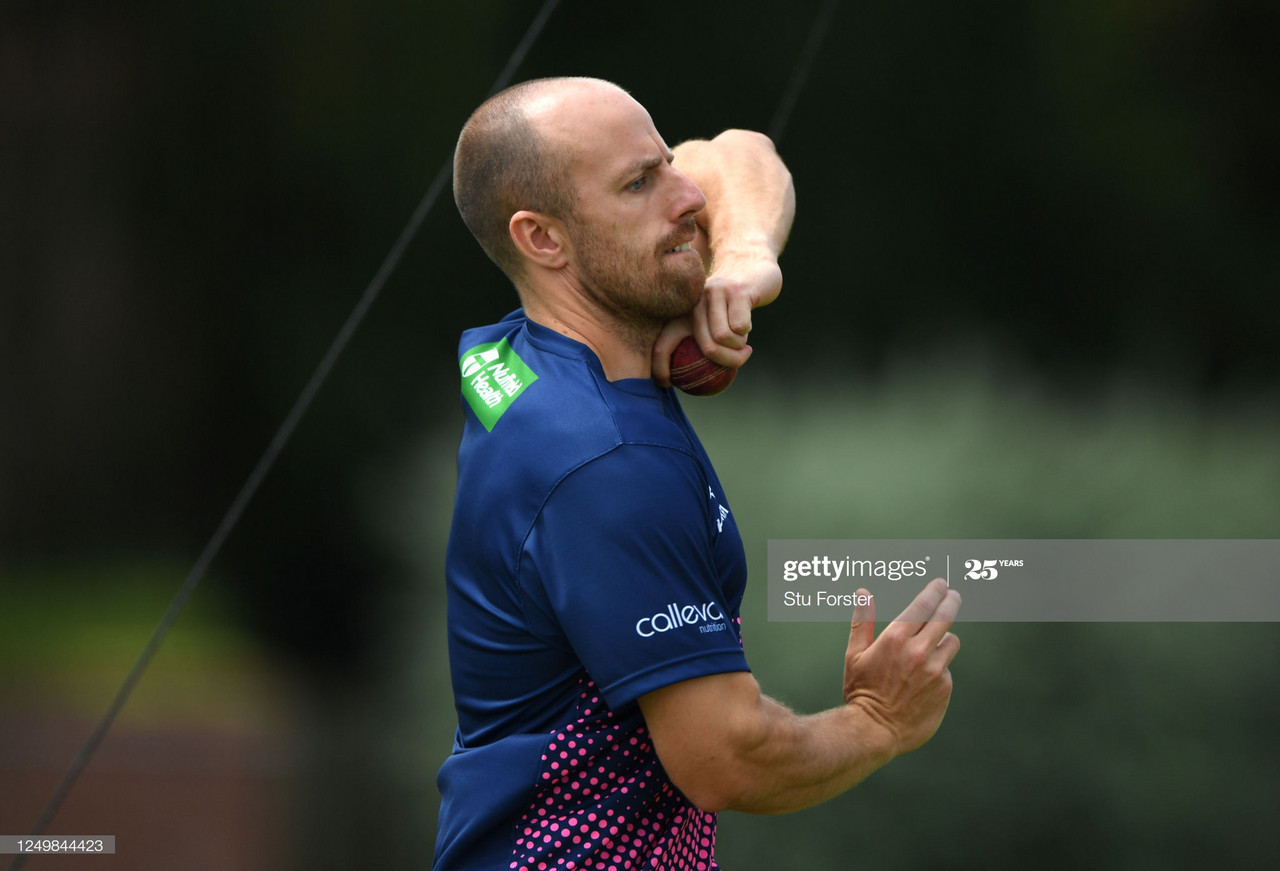 Jack Leach says he's ready to put a tough winter behind him and "bring his best" to the England set-up this summer.
Leach has taken 34 wickets at an average of 29.02 in his 10 Test appearances so far for England but was barely able to feature during a packed winter schedule.
Leach also acknowledged his place is far from certain with the Somerset spinner being part of a five-man spin group included in England's training squad.
The 29-year-old spinner struggled with a mix of injury and illness throughout the winter ending his tour of New Zealand and stopping him taking to the pitch in South Africa.
Speaking about that period Leach said: "So I had in Hamilton, I went down with some food poisoning. That' sort of progressed quite dramatically through a sort of 12 hour period. And it turned into sort of sepsis.
"I think I probably didn't really realise how bad I was and how long it probably took me to recover from that. And then it was only a week later that we went to South Africa so very tough ask to then be ready for another international tour.
"That was at the start of South Africa. Then there was this team bug going around. Obviously I caught that because I catch everything. And yeah, that was sort of lost a lot of weight there and still try to come back there for Cape Town and I think the test after that Port Elizabeth and it just wasn't happening. It felt like I was trying to push and push and I wasn't feeling right."
Bringing his best to Test cricket
Despite having respectable statistics from his fledgeling international career so far, Leach believes he is yet to hit his top level.
"I'm thinking about trying to bring my best to the England sort of setup. I feel like I haven't done that yet. And I think you know, it takes a bit of working out mentally of how you want to go about things.
"You come from county cricket, where you feel like you are massively involved after performing over and over. Here I feel like I haven't done that yet. And I think I have a better understanding of why that is, and I think a lot of it is mental.
"You know, we kind of judge ourselves on numbers and things like that, but actually, it's just about how the ball feels like it's coming out. And I feel like, I can do that side of things better.
"I want to feel comfortable I don't want to be thinking, like overthinking, I guess is, is the thing and for me, my practice and preparation is something that I feel I can get better."
Ali's return and competition for places
As part of England's return to cricket, England picked an initial 30 man training group ahead of the first Test against the West Indies. This included the return of Moeen Ali for the first time since August.
Leach has welcomed the return of Moeen: "I'm so glad to see Mo back as well. When Mo's at his best he's an unbelievable player.
"I'm really excited to have Mo back here. I think all the boys love having him around. He's a great character and he's great for me.
"I have already had a good chat with Mo about what he's working on what I'm working on. That's fun for us."
With England expected to only go with one spinner for the opening Test, it means the five spinners in the training squad are directly competing for that place. Something Leach believes can drive all five on.
"It feels like everything to play for like that thirty guys are playing for spots. So there's lots of competition throughout the squad and spins no different. I think it's about us all working together to all be at our best.
"Now at dinner, or when we're passing its how was today, how did the ball come out thoughts on the wickets and all this kind of thing. So there is general chat that goes on. I think there's no reason why we can't work hard together on our skills."