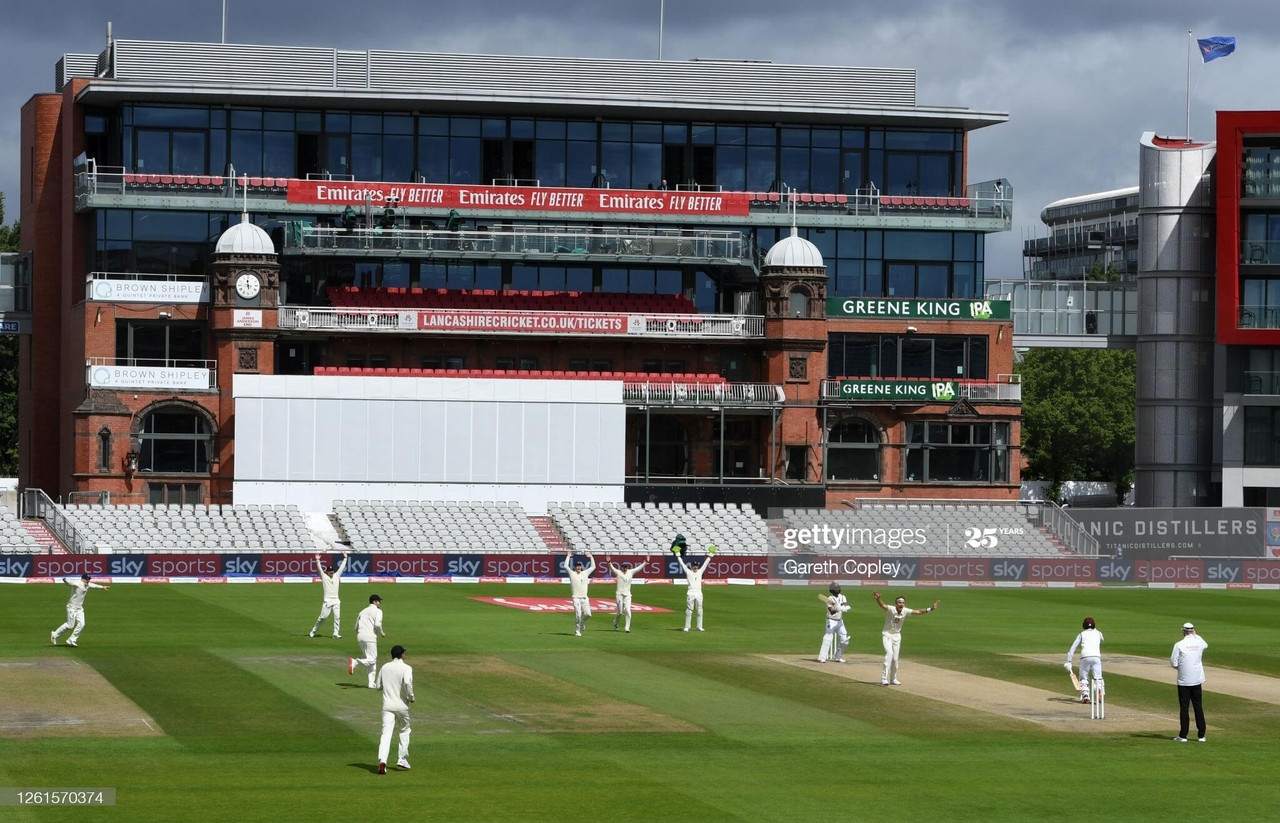 It was the rain- scattered showers either side of the lunch break- that offered the most resistance to England at Old Trafford, as Chris Woakes and Stuart Broad dominated on day five against the West Indies to give England a 2-1 series win.
Broad reaches historic landmark
With intermittent showers forecast there may have been some concern in the England camp about having enough time to take the remaining eight wickets. In the end, England had the innings wrapped up with tea still on the horizon and 269 runs in the bank, Broad making Jermaine Blackwood his 501st test victim- and tenth in the match- finishing off the good work of Woakes's 5-50.
The focus at the start of, and throughout, day five was on Broad's 500th wicket. He started the day on 499, and with him and James Anderson opening up with probing spells it only felt a matter of time before number 500 fell. It was only fitting that when Broad did strike, it was Kraigg Braithwaite who had to go. The opener- also Anderson's 500th scalp- was one of Windies' best hopes of batting out the day but didn't last long in the morning session, a full ball from Broad keeping low and trapping him dead in front.
Woakes takes over
It was a disappointing end to the series for the tourists who began the day just two down. Realistically their chances of securing a draw hinged on there being a bit more rain than was around, but it was a limp effort as day five briefly became the Chris Woakes show.
Shai Hope had batted nicely to reach 31, including two gorgeous drives off Jofra Archer, before playing the exact opposite shot to what was required- an attempted pull shot skewed a length delivery up into the air and Broad raced round from mid on to complete Woakes's first of the innings.
Two overs later Woakes had his second, another set batsman in Shamarh Brooks this time. A good length ball nipped in slightly and took the inside edge of a wafty back foot drive through to Jos Buttler. Both batsmen had thrown away a lot of hard work and thrown away the match before lunch, and it seemed an apocalyptic rain forecast akin to day four's washout was needed to save the test.
Another patch of rain meant an early lunch was taken and it was soon after the resumption that the fifth wicket fell, in a perfect summation of the Windies innings. Blackwood tried to steal a single through cover point but it was some wonderful fielding from Dom Bess to pick the ball up on the run and twist to throw down the striker's end, leaving Roston Chase well short and any faint hopes surely evaporated. A needlessly risky single to run out their most important batsman a summation of the collapse in the tourists' batting standards since Southampton.
The session was soon interrupted by a brief shower yet again, but at this point the West Indies must have been thinking when it rains it pours. A succession of LBWs from the right arm of Woakes essentially sealed the deal for England as they closed in on a series victory. First, Captain Jason Holder joined Blackwood at the crease but 13 balls and 12 runs later was sent back, before Shane Dowrich lasted just as long and was equally as plumb. Rakheem Cornwall's four ball stay ended in much the same way.
Broad returns for ten in the match
Joe Root then chucked the ball back to Broad, giving him an opportunity for ten in the match to cap his finest hour. In terms of quality, that last wicket won't be up there- a loose delivery down leg flicked through to Buttler- but it will still be one of his more memorable. Blackwood's stay at the crease had been unnaturally disciplined- lasting 48 balls for his 23 runs- but it rather summed up the tourists' time in Manchester over the last two tests.
Had Blackwood have held out a bit longer there may have been a glimmer of hope, with a deluge of rain arriving during the post game formalities. Today was all about Broad though- it was always going to be- and the second Englishman to 500 wickets has rather proved his point after that interview.