From seemingly cruising to victory to becoming only the third team in history to lose a five game series which they were winning 2-0, and from scoring 399 in the first game to being bowled out for 236 in the decider, England will be wondering where it all went wrong in their one day international series against South Africa.
Is attack the best form of defence?
The 'new' England is all about attack. Long gone are the days where they would be happy with a score of 250. Trevor Bayliss' men are joining the 21st Century and applying the tactics of the great 50-over-playing nations, whereby attack is the best form of defence.
Yet the England players are slowly realising that the tactic can be hit or miss depending how wisely you use it. Take the first match for instance, where nearly every shot went to plan and the tourists cruised to 399 at close to eight runs per over.
However, despite using the same tactic, England flopped to 236 all out in the fifth match, as their batsmen lost their discipline and played aerial shots when a more defensive approach would have been a lot more sensible considering wickets were falling around them.
After watching AB De Villiers lead South Africa to victory with an offensive but mature century at Newlands, England captain Eoin Morgan recognised the need for his teammates to 'learn from such an innings and understand when is the best time to play the risky shots'.
England clearly seemed to be lacking in experience. Where De Villiers was wise in building his innings, the tourists were ill-disciplined in this area. There were many examples of when an attacking mentality can sometimes pay off, whereas the next day it falls flat on its face, but a great example is that of Adil Rashid.
The all-rounder attacked everything in the fourth game, sprinting to a score of 39 partly thanks to a heap of luck. Yet the same mentality took him to just nine in the deciding match when England were desperate for him to forge a partnership with the stranded Alex Hales.
Even Hales and Joe Root, the two top scorers in the series for either side, showed their inexperience by looking for the big shots too early when they were on centuries in the fifth and fourth matches respectively. A more measured approach for another couple of overs would have added an extra 10-20 runs to England's score.
What is Plan B?
The young heads on young shoulders were also evident in the way that far too many of England's batters failed to turn starts into half centuries or centuries. This assisted in middle order collapses, a tradition of English cricket, as they severely lack players who are ready to dig in and try to hold an innings together when times get hard.
When a team does have a player who sticks around, such as Hashim Amla, Quinton De Kock and De Villiers, they tend to be a tough nut to crack. The tourist bowling attack found themselves with no plan B and became easy pickings for any South African who set themselves.
Only Reece Topley can really say he had a good series out of the bowlers, as the likes of Chris Jordan and Chris Woakes were expensive and Stuart Broad, David Willey, Ben Stokes, Moeen Ali and Adil Rashid struggled to pick up wickets consistently. England failed to bowl South Africa out in any of the five matches.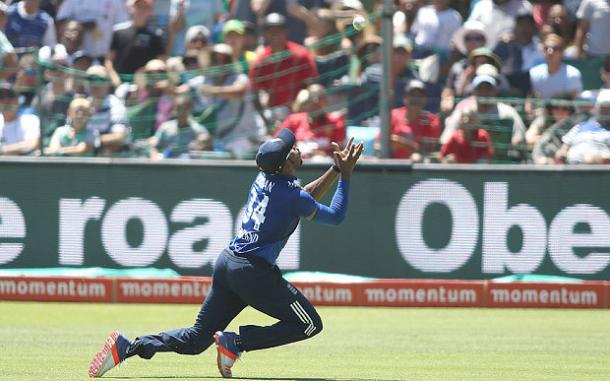 Perhaps one surprise from the England team selection was the continual use of two spin bowlers. Despite the hosts' main spinner Imran Tahir struggling to have an impact on home soil, England stuck with Moeen Ali and Adil Rashid. On only one occasion each did either take more than one wicket as they struggled to get much purchase out of the South African pitches.
The visitors were also keen to use all-rounders rather than genuine pace bowlers as they focused on having a longer batting line-up than a real bowling threat.
Too many players are out of form
One man who is usually considered a threat with the ball is Stuart Broad. Yet, as his exclusion from the World Twenty20 squad shows, he is lacking form in the one-day format of the game. He returned to the team for the final two matches after nearly a year out of the international set-up, but struggled to take wickets as he does in the test match format. Broad, once considered the next Andrew Flintoff, is all over the place with his batting and has a mountain to climb if he is going to be considered an all-rounder as he desires.
Jason Roy and Eoin Morgan are also desperately out of form. Roy has struggled to settle, allowing South Africa to break his opening partnership with Hales too early on too many occasions.
He has also been guilty of a number of misfields, an area Trevor Bayliss suggests the 'whole team needs to improve on'. Morgan has also found runs hard to come by, perhaps due to the burden of captaincy as we have seen in the past, although Bayliss still suggests he is 'the right man for the job'.
England can take some positives from the series, though. Alex Hales and Joe Root ended up as the top two highest scorers, beating Quinton De Kock, Hashim Amla and AB De Villiers in the process. Young Reece Topley also looks to be an exciting talent after finishing the series as the number one bowler, despite the good form of South Africa's Kengiso Rabada.
Yet, you cannot help but sense a slight tinge of panic in the England ranks. With arguably their most talented player, Kevin Pietersen, still being overlooked despite scoring a bundle of runs in Australia's Big Bash tournament, the selectors included Liam Dawson in the World Twenty20 squad - a player Bayliss admits to have 'never seen playing'.
It will be interesting to see what the tournament holds for an England side who will be lacking confidence after this latest failure and still holding the scars of a dreadful World Cup campaign last year.