19:30 - These two sides will go at again on Sunday at Johannesburg with a start time of 12:30pm UK time. It looks like being a thriller of a game to end England's series in South Africa. Until next time it has been a pleasure to guide you through the second innings of this t20 match between these sides.
19:20 - What a game of cricket! England at the half way mark would have thought they didn't have a chance after scoring 134-8. A fantastic effort with the ball saw England get back into the game, and they were favourites going into the last over. It wasn't to be and South Africa go one up in the series.
Topley was unable to defend 15 from the final over. Morris scored a four and a six of the third and fourth ball. Two was required from the final ball, and Morris hit it down the ground and got back for two. England are distraught.
End of the Match! South Africa win by 3 wickets to 1-0 up in the series! Chris Morris has done it again to England.
Reece Topley back into the attack to bowl the final over. South Africa need 15 from the last over.
Overs 19: 120-7 Jordan produces a wonderful over. David Miller tried to go big first ball of the over but is caught by Root on the boundary. Jordan bowls Wiese with the fifth ball of the over. The over goes for six in total. South Africa need 15 form the last over.
Kyle Abbott is the next batsmen in for a South Africa at number 9.
Wicket for England! David Wiese is gone for 2 runs off 2 balls. Jordan bowls and hits the stumps.
Chris Morris is the next batsmen in for South Africa at number eight.
Wicket for England! David Miller is gone for 13 runs off 9 balls. Jordan the bowler. Root the catcher.
Overs 18: 114-5 Ali continues into his third over and gets a wicket first ball. Roussow tries the big shot, but miscues it, and it goes straight up in the air for Rashid to catch it. Miller smashes Ali for a four and six to end the over. South Africa need 21 off 2 overs.
David Wiese is the next man in for South Africa at number seven.
Wicket for England! Riley Roussow is out for 18 off 18 balls. Moen Ali the bowler. Rashid the catcher.
Overs 17: 103-4 Jordan bowls a really tight over only going for five singles in the over. South Africa need 32 runs from three overs.
100 up for South Africa! South Africa bring up their hundred 100-4.
Chris Jordan comes back into the attack to replace Adil Rashid who bowled his four overs well.
Overs 16: 98-4 Ali starts his over well by bowling tight for the first five balls of the over. Du Plesis tries to go big from the last ball, but hits it straight to Stokes on the boundary. Big wicket for England. South Africa need 37 runs from four overs.
David Miller is the next man in for South Africa at number six.
Wicket for England! Du Plesis is gone for 25 runs off 30 balls. Moen Ali the bowler. Stokes the catcher.
Overs 15: 91-3 Roussow finally gets the big shot out and smashes Rashid for six. The rest of the over sees Roussow trying to repeat the shot, but Rashid brings the over back well to only go for 8. South Africa need 44 from five overs.
Overs 14: 83-3 Ali bowls a tight first over only conceding four runs. Both batsmen in the middle seem to be struggling to get the ball away. South Africa need 52 from 6 overs.
Overs 13: 79-3 Rashid gets the breakthrough with his second ball of his third over. Duminy tried to hit Rashid for six, but was caught by Root on the boundary. Five runs come of the over. South Africa need 56 from 7 overs to win.
Riley Roussow is the next man in for South Africa at number five.
Wicket for England! Duminy is gone for 23 runs of 21 balls. Rashid the Bowler. Root the catcher.
Overs 12: 74-2 Aggression from Duminy from Stokes first ball of the over as smashes he bowler for four. The rest of the over sees the batsmen once again just hitting singles. Good spell from Ben Stokes comes to end 4 overs 1-19.
Overs 11: 65-2 Rashid bowls a tight over that goes for four runs. The South African batsmen aren't trying to hit the boundaries just yet. They need 70 from 9 overs to win the game.
Halfway stage in the South Africa innings! 61-2. The home side need 74 from 60 balls.
Overs 10: 61-2 Four runs comes from Stokes third over. The English bowler bowls tightly looking for a wicket, but the South Africa batsmen milk him for four singles.
Overs 9: 57-2 Rashid's first ball is short and pulled away to the boundary for four. The next five balls of the over for for three runs. 7 from the over.
Adil Rashid comes into the bowling attack to replace Chris Jordan.
Overs 8: 50-2 Seven runs come from Stokes second over. Stokes has JP Duminy dropped from his 5th ball, but it was a tough one from Willey. England need to keep chipping away.
Overs 7: 43-2 Eight from Jordan's second over. Du Plesis gets going with a brilliant cover drive for four. The South African milk four singles from the other five balls.
Overs 6: 35-2 Fantastic over from Ben Stokes. The England bowler bowls a wicket maiden which are precious in T20s. Stokes got the wicket of Amla with a leading edge with his third ball. Good couple of overs for the visitors.
JP Duminy is in at number four for South Africa.
Wicket for England! Amla is gone for 22 off 21 balls. Stokes the bowler. Willey the catcher.
Ben Stokes comes into the attack to replace Topley for England.
Overs 5: 35-1 Jordan gets the breakthrough from England with his second ball. De Villers tried to smash Jordan out of the ground but only found Hales on the boundary. The rest of the is tight and only goes for four.
Faf du Plesis the next man in for South Africa at number 3.
Wicket for England! Ab de Villers gone for 7 off 10 balls. Jordan the bowler and Hales the catcher.
Chris Jordan comes into the attack to replace Willey.
Overs 4: 31-0 Nine runs comes of Topley's second over. Amla was dropped by Buttler with Topley's fifth ball of the over and it went for four. Poor from England.
Overs 3: 22-0 Willey starts his next over well and only concedes four runs from his first five balls, but concedes a boundary from his last ball as Amla belts him for four. Perfect start for the hosts 22-0.
Overs 2: 14-0 Much better start from Topley as he only goes for three runs from the over. England need early wickets.
Reece Topley opening the bowling from the other end.
Overs 1: 11-0 Poor start from Willey as he concedes two fours of the first two balls of the over. The rest of the over just goes for 3. 11 from the first over for the hosts.
David Willey opening the bowling for England, Amla to face.
SOUTH AFRICA 2ND INNINGS
That was something of a horror show from England as none of their batsmen could get going. Wickets were falling at regular times and they just couldn't cope. Buttler was left stranded at the end and he just was given no real help from any of the lower-order. You would say that the hosts will chase this down with ease, but you never know in cricket. I've been Tom Mason and I hope that you have enjoyed following the coverage of the first innings. Brandon will be here to take over in around 10 minutes until then thankyou...
Innings End England 134-8. South Africa need 135 to win.
Overs 19: 125-8 England manage just five off the next over and Butler just can't get going at all.
David Willey is the next man in to the middle.
Wicket: Rashid is the next to go as he falls to Abbott after a smart catch by Amla. Rashid 2 (6).
Overs 18: 120-7 A much better over for England as Butler is starting to get going and the score is aided by some wides from Morris. Ten come from the over.
Overs 17: 110-7 England just can't get going and only four come off the next over which included the wicket. The problem for Butler is he can't go to hard because he is running out of partners.
Adil Rashid the next to the wicket.
Wicket: Jordan is the next to go after Miller makes no mistake in at mid-wicket. A cameo from Jordan but sense it won't be enough. Jordan 15 (15)
Abbott back into the attack.
Overs 16: 106-6 A much better over for England as 12 runs come from the next Morris over. You sense that if these two bat through to the end of innings they could get up and around 140.
100 UP FOR ENGLAND 100-6.
Overs 15: 94-6 Another quiet over for England but importantly no wickets were lost. Tahir finishes with figures of 4-21 from his four overs, England will be glad to see the back of him.
Overs 14: Eng 89-6 A much better over for England, although only eight runs come from it as Jordan scores his first boundary.
Overs 13: Eng 81-6 England in all sorts of trouble now and Tahir thinks he gets the hat-trick, but it somehow misses the stumps and Jordan survives. England have been rocked and Buttler and Jordan have just got to be calm as there is still seven overs left to bat.
Jordan in next.
Wicket: Ali goes first ball as he plays another awful shot and is out caught. Tahir on a hat-trick. 0 (1)
Ali in next.
Wicket: Yet another wickets falls as skipper Morgan plays an crazy shot which goes straight up into the air and the fielder makes no mistake. Morgan 10 (12)
Tahir replaces David Wiese.
Overs 12: 80-4 Just a single off the next over as Butler remains calm and yet to play anthing to attacking.
Overs 11: 79-4 Another quiet over as Butler and Morgan continue to re-build the innings after the loss of quick wickets. Five singles in the over and the hosts remain fully in control.
Morris replaces Tahir.
Overs 10: 74-4 Just four come from the next over as England are more watchfull as the hosts have their tails up and can sense if they can get Morgan and Butler then the game could well be their's to lose.
Overs 9: 70-4 England lose yet another wicket in the other and when you think they are just getting going they lose another wicket. The visitors need to be smart here and not go to mad and just take the runs when the can and then go for it in the final five overs.
Jos Buttler in next.
Wicket: Stokes is the next to go out stumped by De Villiers. He had just hit ten in two balls, but he goes to far and is out for 11 a crucial wicket for the hosts. 11 (7)
Overs 8: 58-3 England have another quiet over, but the skipper Morgan does manage to get off the mark with a four off of the last ball of the over. These two have really got to bat carefully for the next few overs to build the innings.
Ben Stokes is next in.
Wicket: Root is the next to go as he slices Wiese to Rilee Rossouw. Root 8 (12).
David Wiese replaces Rabada in the attack.
Overs 7: 53-2 South Africa are fighting back brillaintly and have really stemmed the flow of runs and continue to pick up regular wickets.
Eoin Morgan in next.
Wicket: Hales goes after attempting a slog-sweep and there is some confusion between Duminy and Rabada, but the former somehow manages to hold on to it. Hales 26 (21)
Tahir replaces Morris.
Overs 6: 50-1 England going along nicely, it was a solid over from Rabada as only two runs come from the first five balls but Root cashes in on the final delivery and reaches the rope to go to 6*.
Overs 5: 44-1 Another quiet over for England as Morris brings some control which was missing. Hales skied the last ball of the over to Duminy but he dropped it, how crucial will that prove to be.
Morris replaces the expensive Abbott.
Overs 4: 39-1 Thats much more like it for the hosts as only three come off this over which included the wicket of the dangerous Roy.
Joe Root in next.
Wicket: Jason Roy falls to Rabada for 15 out caught by Amla. Roy 15 (10)
Overs 3: 36-0 Another big over for England which goes for 14 and Abbott is really struggling to deal with the England openers in particular Hales. England off to a flying start.
Overs 2: 22-0 Twelve come from the next over as Rabada like Abbott can't find the right line and Hales tucks into him nicely to race to 19 from just 11.
Rabada opens the bowling from the other end.
Overs 1: Eng 10-0 A shocking start from Abbott couldn't get his line right and England take advantage to race to ten without loss after the first over.
Kyle Abbott to open the bowling for the hosts, Roy to face.
ENGLAND 1ST INNINGS
3:55 The anthems are now being played we are just moments from getting underway here in Cape Town.
3:50 Just ten minutes until we get underway in Cape Town, what do you make of England's team? Tweet @vavel with your thoughts.
3:49 This is the opening match of the series and one neither will be wanting to lose as they won't be able to win the series as its only a two match series.
3:47 England have a strong bowling line-up at bat all the way down to number 10 and Adil Rashid, the bowling options are strong and they have four seamers and two spinners to choose upon.
3:45 Vince performed superbly in the most recent series against Pakistan but, Hales is restored at the top of the order Vince will feel rather unlucky to be dropped from the side.
3:44 So England go into this match full of expierence as Root, Stokes and Ali have all come back into the side. England are looking to name a consistent side as they go in search of form ahead of the World T20 starting in March.
3:40 South Africa: Amla, De Villiers, Du Plessis, Duminy, Rossouw, Miller, Wiese, Morris, Abbott, Rabada, Tahir.
3:38 England: Roy, Hales, Root, Morgan, Buttler, Stokes, Ali, Jordan, Willey, Rashid, Topley
3:35 Team news on the way
3:30 South Africa win the toss and elect to bowl first
3:28 Here comes the toss...
The pitch at CapeTown is known to be a bowler friendly pitch, but in T20s that doesn't matter much as sides nowadays seem to play well in all kinds of conditions. South Africa and England both have the big hitters in their side to make the big scores. The two match series will be a great indicator to see how both sides will try and play before the World Cup next month.
Both sides will be confident ahead of the first game as South Africa won their last series in India 2-0, while England came through convincingly against Pakistan and won the series 3-0 out in the UAE. South Africa are currently sitting sixth place in the rankings while England are sitting in third place.
South Africa go into the T20 series with England on a high after winning the recent ODI series between the sides 3-2, especially after being 2-0 down in the series. England though before the ODI series defeated South Africa in their own backyard in the test matches by winning 2-1 over four games. England players will have bad memories of that ODI series, and will be looking to put it right in the upcoming matches as they look to impress the selectors.
England played a warm up match versus South Africa A on Tuesday and won the match by 44 runs after making a massive score of 202-6 from their 20 overs. Alex Hales continued on from his impressive form in ODIs with a quickfire 78, while captain Eoin Morgan, who had been struggling for form, smashed 42 from 13 balls. In reply England restricted their opponents to 158-8 with Reece Topley taking three wickets.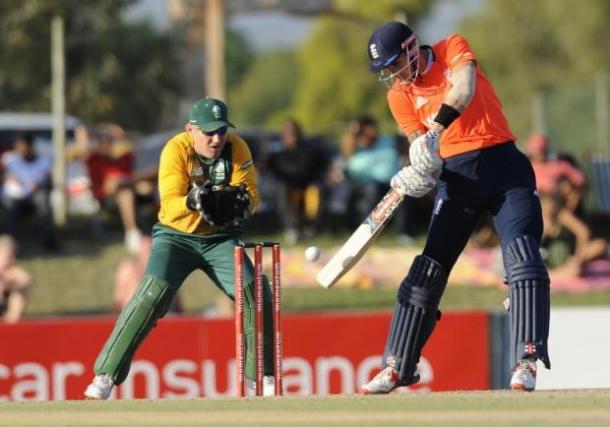 With England's bowlers, they still don't know who their best options are, and they may use these games to make a firm decision on who to select for the World T20, as you don't want to head into such a big event not knowing who your best bowling line-up is. At the moment Adil Rashid is the front-line spinner in the side after a fantastic Big Bash in Australia, whilst Moeen Ali and Joe Root offer other spin choices. As for the pace bowlers, Recce Topley has come into his own of late and has been a real positive for England in the shorter forms of the game. Steven Finn is also selected in the squad, although he is still recovering from injury and he faces a race against time to be fit, but if he is fit he will lead the line. Chris Jordan and David Willey are other options, whilst Ben Stokes will play as an all-rounder.
England have added Hampshire all-rounder Liam Dawson to their squad for this series as well as the World T20 which to many was a surprise, so it'll be interesting to see how he does if picked. The ironic thing is, he went out on loan to Essex for the T20's last season as he couldn't get into the Hampshire side, so it's some transformation to make it into England's squad for the tournament in India.
This match will have plenty riding on it as for both sides as it's their final series of T20 cricket before the start of the World T20, although both sides will have a number of warm-up matches before the higher ranked sides enter the event on the 15th March as hosts India entertain New Zealand. England will hoping to further prove the amount which their new-look side has come on in recent years, much like they did when they performed superbly in their most recent series against Pakistan - winning the three match series 3-0.
Hello and welcome to VAVEL's live coverage of the opening T20 international of this highly anticipated series between South Africa and England. We're awaiting the toss, which is set for 15:30, so stay with us for that before the game sets underway.