As another tour of the Southern Hemisphere concludes, England's latest episode should be reflected upon as a wholly successful one.
A Test series win versus the world ranked number one cricketing nation should be regarded as a superb outcome for Trevor Bayliss, less than a year into the job as England head coach.
Nevertheless, after taking a 2-0 lead in the ODI series versus The Proteas, the tourists went on to lose 3-2. Furthermore, the two TwentyTwenty outings both ended in defeat - despite both games being within reach of a reverse outcome.
Latest defeat was fifth consecutive loss
Sunday's loss in Johannesburg was the fifth successive defeat and after such a rosy start, England's familiar cracks have arisen from a rather glossy woodwork once more.
It is a worrying scenario, with the World T20 Cup in India just a few weeks away. If England are to mount a serious challenge to win a second World Cup, these frailties must be addressed with haste.
Batting line-up has suffered inconsistency
After dominating the first two ODIs in Bloemfontein and Port Elizabeth, England's lusty batting line-up was lauded by all corners of the media - both English and South African.
Three losses in a row however, cast doubt over the clinical nature of the team. With two further defeats - one in resounding fashion - consistency is once more becoming a contributing factor.
Bayliss has improved England mettle
There is little doubt that Bayliss and Paul Farbrace have improved the unit as a whole from a sheer carefree perspective. The past years of typical caution and struggle in adapting to the ever-evolving limited overs game, was an element that had haunted English cricket almost perennially.
Now, with a order that boasts the likes of Jos Buttler, Eoin Morgan Ben Stokes and Joe Root, the runs are flowing freely. Without however, a balanced approach (and the occasional rub of the green - or grass as it were) it is easy for the the right direction to end in a cul-de-sac.
Top order has mis-fired
With such stagnation, all the progress made after a disastrous World Cup last spring threatens to unravel. The similar traits have returned; the top order of Jason Roy and Alex Hales misfiring; the intrinsic mis-communication and the contribution of just one or two in the eleven.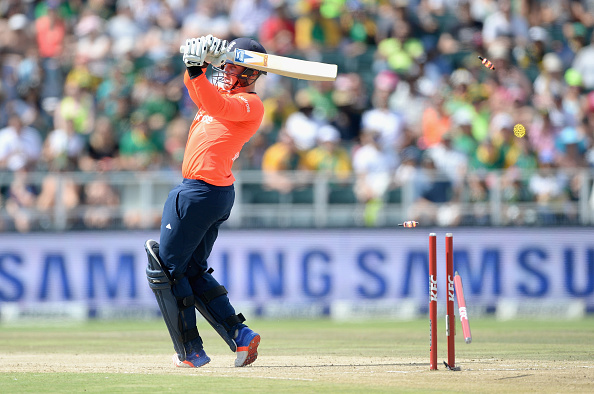 One thing English cricket has always lacked is consistency. Granted, it is a tough feat across all three forms of the game. The test side of the cricket has always been England's forte, but with the current squad to utilise, a series defeat from two-nil up is an occurence which should not come to fruition.
Morgan and Buttler partnership highlighted shortcomings
England's loss on Sunday was the epitomy of the their lack of consistency. At once stage on a stand of 96 and spraying the ball to all sides of The Wanderers, a hole out a mid-on and a huge slice of bad fortune swung the game almost meteorically in hosts favour.
Previously, captain Morgan had failed with the bat, but seemed to be picking his moment before Stokes' inadvertant drive was flicked onto the stumps by Kyle Abbott - running the no.4 out.
The fact though that both he and Buttler had failed over the past week or so, then hit their straps but could not carry it through, echoes the sheer collapsable nature of English cricket in a nutshell.
England begin their T20 World Cup campaign on 16 March in Mumbai versus the West Indies. With familiar foes South Africa also in their pool, it will be a chance to learn from mistakes made. To do that, Trevor Bayliss will need to raise the level of consistency.
On the subcontinent however, that is very much a case of easier said than done.