South Africa head into the T20 World Cup as the third favourites for the event with the bookmakers, only behind hosts India, and Australia.
The Proteas have been a much-improved side of late in this form of the game and will expect to go far in this tournament as they have got a wide range of match winners in their side.
This event is becoming incredibly difficult to predict who will win as so many teams on their day can beat any other. Also, T20 is fast becoming a game which is very difficult to succeed in if you are a bowler, so you can expect many of the matches too see scores of up and around 200.
Recent form
The South African's have only played two T20 matches since last October, but they did win both of them matches against England and the second match in particular they were really impressive as they won by nine wickets with more than five overs remaining. In the other match in the recent series, they narrowly won by just three wickets on the last ball to set them up nicely for the World T20 in India.
In the series before facing England, they came up against India and much like the England series they easily won 2-0. In the first match of the series it was a high-scoring affair as India scored 199-5 from their 20 overs, only for South Africa to cruise home by seven wickets with a couple of deliveries to go. In the second match the South African's completely out-thought the Indian's as they bowled them out for just 92 in 17.2 overs. Morne Morkel did much of the damage, taking figures of 3-12 from his four overs. They then easily reached their target for the loss of four wickets and they had three overs remaining in the chase. The final match in that series was abandoned without a ball being bowled meaning India lost the three match series 2-0.
So in terms of recent results in T20 cricket. South Africa head into this event in fine form having won four matches in succession and will be a team to look out for heading into the World T20.
Star Players
Undoubtedly their star players for this tournament will be Ab de Villiers and Kagiso Rabada, who has emerged as a real prospect over the past year and at the age of 20 has still got a lot more to offer in all forms of the game.
De Villiers is one of the most exciting players to watch with the bat and if he comes off at any point during the tournament then South Africa will be in with a great chance of going far. De Villiers is so instrumental at the top of the order for the South African's, as without him the side look half the side that they could be and it doesn't strike anything like as much fear into the opposition teams if they know that South Africa will be without de Villiers.
Playing in his favoured T20 position of opener, de Villiers is the first person which the team look to call upon in the pressure situations and he has done it in many big games and will once more play a key role in how far his side go in the competition.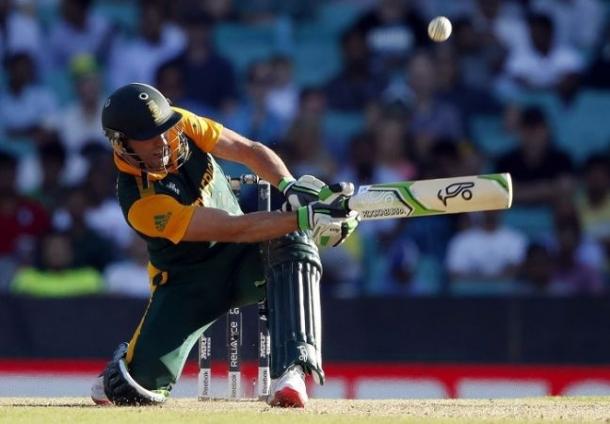 Rabada is one of the biggest prospects in world cricket right now as he has really burst onto the scene of late, and with his fire and passion is definitely a force to be reckoned with ahead of such an important event. He has come into the side as a result of stalwart Dale Steyn struggling to shake off a number of injuries and the 20 year-old has been fantastic ever since coming into the side regardless of the format.
Rabada is typically an opening bowler and has real pace about him and has a great ability to bowl at the death which is a vital component for any pace bowler to have in the shortest form of the game. He is a handy batsman to have in the lower-order, but you would expect that in the majority of the games he wouldn't be required to bat.
Opponents
South Africa have been drawn in group A, and will take on Sri Lanka, West Indies, England and a qualifier as they bid to reach at least the knockout stage.
England will be their first opponents, with the two sides set to meet on Friday the 18th March. It is a match which you would expect the South African's to win, despite this England shouldn't be disrespected as they have got a side which is playing much more exciting cricket and one which is improving with every game which they play. England are currently ranked 5th in the shortest form of the game, but came up well short in the most recent World T20 as they only came forth in their group two years ago. England's player to watch is wicket-keeper batsmen Jos Butler who has been in fine form of late and is sure to perform well.
Next up are West Indies, most likely to be South Africa's third most easiest game in group A. West Indies are in mixed form heading into this event as in their most recent series which was against Sri Lanka they drew the series 1-1. It is widely expected that the West Indies will be without many of their more important players for this event which is likely to be much of their down-fall of the competition. However, they are ranked third in T20 cricket which is just one place lower than the South Africans, so that suggests we could be in for a classic.
The final team in the group are Sri Lanka, who won the most recent event in 2014 beating India in the final in Bangladesh. Their best player at the moment is Dinesh Chandimal who has been in fine form of late and in particular in the Asia Cup which is has been taking place in Bangladesh across the past couple of weeks. Sri Lanka will be tough opposition for the South African's but, if they want to progress through to the next round then it's a game which they should be targeting to win.