Ireland have been knocked out of the World T20 at the qualifying stage after heavy rain meant their game with Bangladesh in Dharamsala was abandoned.
Heavy rain means the game ends in a no-result
It was unfortunate for the Irish as they needed to defeat Bangladesh to have any chance of advancing to the Super 10 stage going into their last game with the Netherlands. There was some cricket played, but that was only eight overs which saw the Bangladesh Tigers make 94-2 and looking like making a massive total.
The match finally got underway after heavy rain throughout the day saw the game delayed by nearly two hours. The game earlier in the day between the Netherlands and Oman ended in a no result which meant the Irish team needed to win the game or else they were out.
Ireland won the toss at choose to bowl first
At the toss Ireland captain William Porterfield won it and chose to bowl which felt like the the right decision given the weather that had been around. The game was reduced to twelve overs a side and the Bangladesh batsmen had to go out a set to a good score.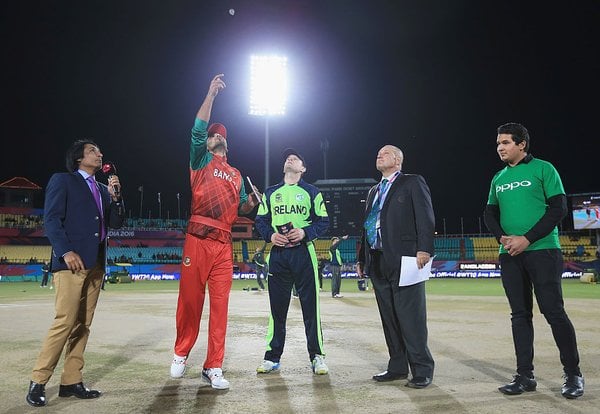 Setting a big score was exactly what the Bangladesh batsmen went out to achieve and the opening pair put on sixty-one runs off twenty-eight balls before Soumya Sarkar was finally out. Andrew McBrine got the wicket as the batsmen tried one to many big shots and was stumped by Niall O'Brien for 20(13).
Thunderstorms started as soon as Tamim Iqbal got out
The scoring didn't stop though as runs continued to flow as Tamim Iqbal made a quick fire 47(26) before he was out off the bowling of spinner George Dockrell. The wicket of Iqbal then saw the heavens open again as the rain came back and started pouring down and it meant the players had to come off the pitch. The score before the rain started saw Bangladesh get to 94-2 off eight overs, so maybe the Irish didn't mind going off the field.
The rain just wasn't relenting and with the thunder and lightning in full force there wasn't any chance of the umpires managing to get the players back out in the field. The frustrating thing about that for Ireland is that it ends their chances of qualification for the Super 10 stage as they only manage to get a single point for the no result.
Ireland came into the qualifying stage confident that they could get through the group, but their defeat to Oman by two wickets in their first game meant it was nearly impossible to get through. Ireland though, will have one more game to play on Sunday against the Netherlands and they will looking to end the tournament on a high with a win.