The West Indies will be hopeful they can carry this electric form into their next contest with Sri Lanka. England, on the other hand, must quickly put this defeat behind them as they look ahead to their next match against South Africa.
Then of course Chris Gayle stole the show. The self-proclaimed World Boss took England apart on his way to becoming the only man to have ever scored two centuries in the World T20. A perfect Man Of The Match innings.
After England batted, the West Indies knew they were always in with a chance after limiting England to a below par score. The increasing dew and a very inexperienced bowling attack combined to give the West Indies a comfortable chase.
Andre Russel gets an inside edge off Topley and the as the ball runs down to deep fine leg, they collect the single they need to win the game.
WEST INDIES WIN BY 6 WICKETS!
OVERS 18- WI 182-4. Not a great over from Stokes with extras costing England yet again, scores are level, the West Indies need just 1 run to win.
Wide- A disgusting wide, it's so wide Buttler did well to get there. 10 wides from England today, very poor.
Free Hit- Stokes bowls a good delivery and it seems like Andre Russell actually forgot it was a free hit.
NO BALL FOUR- A high full toss from Stokes, and now WI just need 5 to win, with the free hit they could do it next ball.
Chris Gayle 100* (47)
HUNDRED! Chris Gayle has done it! He's batted extremely well and to be fair to England once Gayle is in this frame in mind it's impossible to stop him. The fastest 100 in World T20 history.
Ben Stokes into the attack.
GAYLE ON STRIKE! HE NEEDS JUST 1 RUN FOR A 100.
OVERS 17- WI 172-4 A very good over from Jordan, just the three runs from it.
Gayle onto 99* now!
OVERS 16- WI 169-4. A poor over from Willey and Gayle fills his boots, he needs 3 runs for a ton now.
SIX! A dot separates the sixes, but Gayle expecting the bouncer again, he smashes it over square leg for 6, Gayle onto 96 now.
SIX!- A horrendous delivery from Willey, a full toss on leg stump and Gayle hammers it over the rope to bring him into the nineties.
Four- Smashed from Gayle. He looks well set for a ton now, he's dissecting the field perfectly now.
David Willey back into the attack now.
OVERS 15- WI 151-4. A good over from Jordan just 5 runs from it, West Indies still well and truly in control though.
Wide- Another wide from Jordan, he's just pushing these yorkers a bit too far.
Wide- Jordan has bowled his wide yorkers well this over, but this one is just the wrong side of the white line.
Chris Jordan into the attack now.
OVERS 14- WI 146-4 A massive over, three sixes in a row absolutely ruins Ali's bowling figures and has well and truly put the West Indies in the driving seat.
SIX! He's done it again, yet again Gayle charges and yet again the ball sails over the rope. Three massive sixes in a row.
SIX! An almost exact copy from Gayle, but it's hit much better this time and it sails for 6.
SIX! A charge again from Gayle, he toes it this time and it very nearly doesn't beat Willey, still goes for 6 though.
Four- To straight from Ali and a fine tickle off the pads beats Buttler and it runs away for four.
Moeen Ali back into the attack.
OVERS 13- WI 124-4 Very poor from Topley and his extras are costing England.
Four- Russell absolutely crunches Topley through the off side for four.
Wide- Yet another wide from Topley, the extras could lose it for England here.
Wide- Another poor ball from Topley and Gayle leaves it alone for the extra.
Four- The batsmen crossed and a leg side delivery to greet Gayle. He just gets enough bat on it to beat a despairing dive from Buttler.
Andre Russell the new man in.
Dwayne Bravo 2 (4) c Hales b Topley
WICKET! Bravo is gone. The third umpire confirms the height was good and that just leaves Bravo to admit it was a poor shot to a full toss, had no real conviction in the shot.
A review here! Topley gets Bravo to lob one up into the air, but the umpires have sent it upstairs to check the height.
Reece Topley into the attack now.
OVERS 12- WI 113-3. What had been a good over from Ali ruined by that 6 from Gayle.
SIX! Just after bringing up his fifty Gayle charges Ali and hits him straight back over his head for six.
FIFTY! A well deserved fifty for Chris Gayle. HE's been patient today after being forced to wait at the non-strikers end for a long time, but he's just got his head down and batted well through this innings.
Danesh Ramdin 12 (14) c Rashid b Ali
WICKET! Ali comes on to bowl at the other end. Ramdin has a wild swing at a full ball and it just balloons up in the air and its a simple catch for Rashid. Dwayne Bravo the new man in.
OVERS 11- WI 103-2. A horrible over from Stokes and Gayle cashes in.
SIX! Not as good a hit this time and it almost has the fielder interested. But it's another short ball and with that Gayle overtakes McCullum for the most sixes in T20 Internationals.
SIX! Far too short from Stokes and Gayle has expected the bouncer and Gayle smashes it very far back for 6.
Wide- Another horror ball from Stokes, far too wide and for the first time in this innings a wide outside off stump.
Four- Not a good start, a poor ball down leg side and Ramdin helps himself to four runs.
Ben Stokes to bowl after this break then.
This break could do England a huge favour as the WI batsman are looking very settled at the crease.
OVERS 10- WI 85-2 A very good over from Ali, just two from it. Now we will have a small break while the Super Soppers come out and try and remove some of this excess dew from the pitch.
OVERS 9- WI 83-2 A massive over for the West Indies, back to back sixes means that 16 runs come from that over.
SIX! Not as big from Gayle this time, just 86 metres! Back to back sixes now for Gayle.
SIX! That's absolutely massive from Gayle. He smashes Rashid over cow corner into the third tier of the stands, 98 metres!
OVERS 8- WI 67-2. An okay opening over from Ali, a very poor first ball, but just singles and dots to follow. 8 from the over.
Four- A real loosener from Ali, but Gayle can't middle it into the stands and it just pierces the field for four.
Spin from both ends now as Moeen Ali comes into the attack.
OVERS 7- WI 59-2 A brilliant first over for Rashid, just four runs from the over and the crucial wicket of Samuels as well.
Denesh Ramdin the new man in.
Marlon Samuels 37 (27) c Willey b Rashid
WICKET! The move to spin has paid off for Morgan, Samuels charges Rashid but can only pick out Willey at long on.
Morgan thinks it's time for spin, Rashid replaces Stokes.
OVERS 6 - WI 55-1. A real mixed bag from Jordan, poor balls mixed with good yorkers. 11 from the over.
Four- A half volley from Jordan, and Gayle is always going to smash that back down the ground.
Wide- Wayward again from Jordan, he needs to calm himself down and get back on his line and length.
Wide- A poor ball down leg side and it brings up the 50 for the West Indies.
Four- Jordan back into the attack and Samuels bludgeons him down the ground for yet another boundary.
OVERS 5- WI 44-1. Not a great over from Stokes and the West Indies well and truly took advantage, England under pressure now and struggling with the extra dew.
Free Hit- Samuels doesn't make use of the free hit, just lobbing it into the air for a single.
No Ball- A high full toss from Stokes and Roy takes the catch well. Free Hit to come.
Four- Extremely poor fielding from Jordan in the deep. What should have been a very simple stop burst through his hands and runs away for a boundary.
Four- A much better shot from Samuels this time, he powers Stokes down the ground for four.
Four- Really unlucky for Stokes. A really good delivery and Samuels edges it, it flies through the vacant slip area for four.
Ben Stokes replaces David Willey.
4 OVERS- WI 30-1. A good over from Jordan, keeping the pressure on the WI batsmen, just the 5 runs from his opening over.
Four- It had been good from Jordan. He had the ball zipping around up at Samuels chest, this time though he clears his front foot and uses the pace on the ball to cut it away.
Chris Jordan replaces Reece Topley.
3 OVERS- WI 25-1. 9 from that over, unlucky for Willey. There was some really good deliveries in that over that had Samuels completely bamboozled. Still WI up with the required run rate.
Four- Trying to avoid the leg side, Willey over compensates and it's too wide this time. Samuels crashes it to the boundary with an excellent cover drive.
Four- Very good from Willey this, has Samuels dancing all over his crease. Samuels finally gets bat on one and it beats the man at short fine leg.
2 OVERS- WI 16-1 A good over for the West Indies, 10 from it. Gayle showing his attacking intent already.
SIX!- Another full ball and Gayle makes a much cleaner connection from Gayle, first six of the innings.
Four- Two good balls from Topley, but the third is a bit full and Gayle dispatches it. Has Morgan interested but never a real chance for a wicket.
Reece Topley to bowl from the other end. Gayle on strike.
OVERS 1- West Indies 6-1. An eventful over, some wides, a wicket, good appeals and then a boundary to finish. A good start from Willey.
Four- After two very close LBW shouts, Willey just misses his length and Samuels guides it down past fine leg for four.
Johnson Charles 0 (2) b. Willey c. Ali. Marlon Samuels the new man in.
0.2 Overs- WICKET! After a wayward start Willey gets back on his line and length and Johnson Charles can only chip one up to short midwicket where Moeen Ali takes a good catch.
0.1 Overs- Wide- Wide again, Willey needs to get back on the right line.
0.1 Overs- Wide- First ball wide, encouraging swing for Willey though.
David Willey to open the bowling, Johnson Charles to take first strike.
The England players are waiting to take the field, here comes the second innings.
England's bowlers are inexperienced but have shown an ability to execute their skills well in the past, but with a man like Chris Gayle at the crease will England's new boys collapse under the pressure?
The West Indies will need to chase down 183 from their 20 overs. No doubt it will be a challenge but with increasing dew on the pitch and a good batting track the West Indies will certainly fancy their chances.
Thanks Shane. I'm Tom Simmonds and I will be here to guide you through what promises to be a thrilling finale to this contest.
I've been Shane MacDermott and thanks for listening. Tom Simmonds with be here to bring you the West Indies' chase in about 20 minutes.
England make 182/6 off their 20, a good contest to come in the second innings.
END OF INNINGS.
Wicket - Run out. Ali short at the keeper's end tryng to scamper two. Morgan finishes 27 not out off 14.
Six - Ali whips the slower ball for six. Substitute fielder Jason Holder drops a simple catch for six.
Moeen Ali in at seven with two balls left.
Wicket - Slower ball and Stokes is a goner. LBW, Stokes through the shot way too early and is plumb infront. Good cameo, 15 off just seven for the Durham man.
Four - Stokes absolutely muscles it back past the bowler. Almost decapacitates Morgan in the process. England on 175 with three balls left.
Attempted yorker, into cover for a single.
Six - Morgan smashes the first ball over long on for six. Top shot.
Long off, long on, cow corner and deep square in place.
Bravo to finish up the innings.
One over left. England 164/4, 175 bare minimum here.
Morgan outfoxed by a slower ball. Lands in no man's land for a single.
Single into the leg side.
Six - Stokes now 10 off three after blocking one. 82 metres into the leg side.
Wide full toss and Stokes misses.
Four - Dropped catch. Straight through the fielder and Stokes picks up four off his first ball.
Two left. Russell to bowl.
England 152/4 as Stokes comes in at six. Buttler's three boundaries were all maximums.
Wicket - Buttler goes for 30 off 20 balls. Full toss, Buttler connects well but only finds Brathwaite at deep square. Bravo with a little dance.
Great fielding. Fielder saves two at wide long on with a one-handed sprawling dive.
Six - Pick that out. That is absolutely huge. Buttler picks the slower one and smashes Bravo into the second tier.
Bravo with two left. Bowling the 18th and inevitably the last.
Three left. Good over for England, they're now 142/3. Buttler 21* and Morgan 18*.
Four - Morgan clubs Benn straight for a boundary.
Good running between Morgan and Buttler. The left-hander chips to long on.
Six - buttler deposites Benn over deep micwicket, miles back in the stand. Another drop, poor showing from the fans - 96 metre wack!!!
Conversation between Sammy, Bravo and Benn. Sammy throws the ball to Benn, saving Bravo's last over.
Four overs left. England are 128/3 but need to get a move on to post 170-odd.
Good improvisation from Buttler. Goes early to lap over fine leg but changes to third man, but only a single.
Brathwaite back. Went for 11 in his first over. Sammy still hasn't had a bowl.
Five left for England and they're 123/3 off 15 with Russell getting the prized scalp of Root.
Six - Poor in the crowd as a sitter goes down. Morgan takes on the bouncer and hits Russell 91 metres.
Skipper Eoin Morgan in at five.
Wicket - Another tame dismissal as Root can only find Taylor at mid off. Russell with another slower ball and Root falls two short of a fifty.
Long on, deep midwicket and deep square on the leg side.
Russell back, 1/15 off his two so far.
14th over: Badree goes for 34 off his four. England 114/2.
Smart cricket as he nudges into the leg side for two next ball.
Six - Buttler joins the party. Skips down the deck and dispatches Badree 86 metres over his head. No fielders in the stands.
Scrambled leg bye. If Badree hits then Root is a goner.
Captain Darren Sammy having a long chat with his leggie as Eoin Morgan loosens up in the dugout.
Badree to finish his allocation.
13th over: England well placed for a late dash at 103/2. Can Buttler produce the goods?
Slower ball befuddles everyone. Buttler misses it and it deflect off Randim for a bye.
Four - A rare poor piece of fielding from Russell. Root gets hold of one to long on and it goes through Russell.
Everyone on the off side in the ring to Root.
Bravo to unleash his bag of tricks.
12th over: England 96/2 heading into the last eight.
Root and Buttler tick along for a few singles.
Jos Buttler in at four.
England now 92/2.
Wicket - Benn strikes first ball of his second over. Hales bowled trying to cut. Hales 28 (26).
Big Benn back into the attack. Went for five in his opener over.
11th over: England 92/1 with nine left. Taylor has gone the distance, 30 off his three so far.
Taylor slower ball to finish.
Top fielding again from Russell, who saves top with a one-handed pick up and release.
Sixer! First of the innings for England as Root picks up a lenghth delivery and smashes it 79 metres over mid-wicket.
Taylor back into the firing line after his first two went for 20.
Halfway stage of the England innings. They are 80/1 with the second wicket partnership between Hales and Root at 44.
Well run! Root and Hales put Marlon Samuels at long on under pressure as they scamper two.
Badree back into the attack.
Nine gone, England are 74/1 and going nicely.
Four - Hales whips a leg stump full toss behind square. Top cricket.
Good comeback with a yorker but Root gets one to mid on.
Four - Root carves him over mid-wicket for four.
Carlos Brathwaite in to bowl.
Eighth over: 63/1 with 12 overs left. Hales and Root rotating the strike well.
Hales beaten for bounce outside off stump as he tries to dab the ball behind point.
Big Benn into the attack, expect some bounce from his left-arm tweakers here.
Seventh over: England are 58/1 after seven overs.
Six - Russell digs in a quick bouncer at 87 mph that rushes Root, but he gets enough bat on it to lift it over square leg for six.
Russell up at 87 miles per hour. Root goes for a big swipe and is almost cleaned up.
Powerplay finished and England are 49/1 after the first six. Bravo pulling out all of his variations in his first over.
Root goes deep in the crease and gets down on one leg early. Bravo bowls a wide down the leg side.
Bravo missing it up with a mixture of off-cutters and back of the hand slower balls.
Good fielding in the deep from russell who saves a solitary run as Hales picks the slower ball and gets three into the leg side.
Dwayne Bravo to bowl the last over of the powerplay.
Five gone and England are 42/1 after Russell picks up Roy for 15.
Root misses out off the next ball. Speared down the leg side for a wide.
Four - Root off the mark second ball as he finely glances a stray leg-stump half volley.
Root in at three for England.
Wicket - Jason Roy tamely throws it away for a run-a-ball 15. Sticks in the pitch and Roy feathers it to a diving Badree at mid-wicket. Russell with the early breakthrough. England 37/1 after 4.3.
Well bowled from Russell. Beats Roy outside the off stump as he tres to guide it down to third man.
Andre Russell comes on for Taylor as the first change of bowling.
Fourth over: Fruitful over fr England. Run-rate now at nines! 36/0.
Four: Three in a row for the former ranked no.1 batsman in the T20I cricket.
Four: Back-to-back swept boundaries for Hales. England beginning to motor.
Four - Hales gets the leavers out and pulls Badree's full toss for four.
Third over: Positive over for England with three boundaries, Roy unbeaten on 15 as England are 23/0.
Four - Roy hands back and waits for the attempted yorker and just punches it wide of mid-on. Great shot.
Four - Poor from Taylor. Spears one down the leg side and it's through Ramdin for four.
Four - Taylor drops short with the first ball of his second over and Roy dutifully pulls infront of square for the first boundary.
Second Over: Only four off it for England, 5/0.
Samuel Badree to bowl his leg-spin from the other end.
First Over: Quiet opening over for England with a single to Jason Roy.
Jerome Taylor to open the bowling for the West Indies.
Jason Roy and Alex Hales out onto the park to open for England.
Both sides are out to sign the national anthems. Darren Sammy having a whale of a time already as he carries out his mascot.
West Indies have a wealth of experience in the shortest format in their team. Especially with stars in their side who had made a name of themselves in the IPL. We'll have to wait and see whether the Gaylestorm will strike later on. England's new-look side has gone from strength to strength in white-ball cricket over the past 12 months so this should be an absolute cracker.
Fifteen minutes away from the start here.
England XI: Jason Roy, Alex Hales, Joe Root, Eoin Morgan (c), Jos Buttler (wk), Ben Stokes, Moeen Ali, Adil Rashid, David Willey, Chris Jordan and Reece Topley.
David Willey plays ahead of Liam Plunkett.
West Indies XI: Chris Gayle, Johnson Charles, Marlon Samuels, Dwayne Bravo, Denesh Ramdin (wk), Andre Russell, Darren Sammy (c), Carlos Brathwaite, Samuel Badree, Jerome Taylor and Sulieman Benn.
West Indies have won the toss and elected to bowl.
Toss time
The pitch looks green in Mumbai. Beneficial for the seamers first up.
I'm Shane MacDermott and I'll be bringing you the majority of the first innings as England get their World T20 campaign underway against the mighty West Indies.
The West Indies will of course turn to their T20 specialists such as Chris Gayle and Andre Russsel, both of which earn their living by travelling the globe almost exclusively playing T20 cricket. World renowned limited overs specialists has always been an area where England have struggled, and the West Indies will be looking to capitalise on England's lack of experience playing high pressure cricket on the world stage.
Whilst many may see England's inexperience as a weakness the stories coming out of the England camp appear to suggest they are planning to use it to their advantage. The young players such as Jos Buttler, Ben Stokes and Jason Roy all embody what this new England side are all about. They play a modern aggressive style of cricket that has played a key part in this renaissance of English cricket and England will be hoping should stand them in good stead to win the whole competition.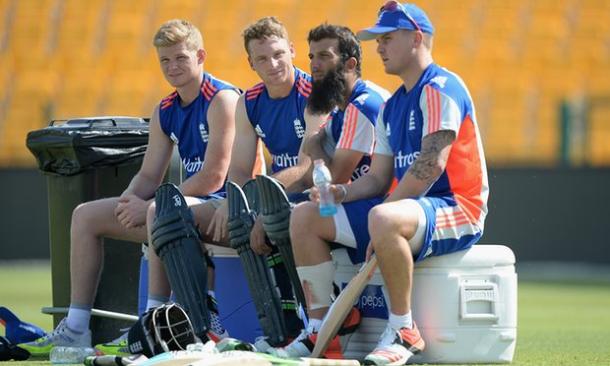 On the other hand the West Indies will hoping that they can use their much higher levels of experience to exploit this young and developing England side. The West Indies are likely to have an added bit of determination behind them as it's expected that for many of their star players this could be their last chance for World T20 glory. But with a still ongoing pay dispute between board and players the off-field distractions could prove too much for the West Indies to handle.
England will be hoping that they can secure victory over what is a hit and miss West Indies side. England's resurgence in limited overs form has all been leading up to this tournament and England will be hoping they can get off to the best start possible and take control of what promises to be a very tight group stage.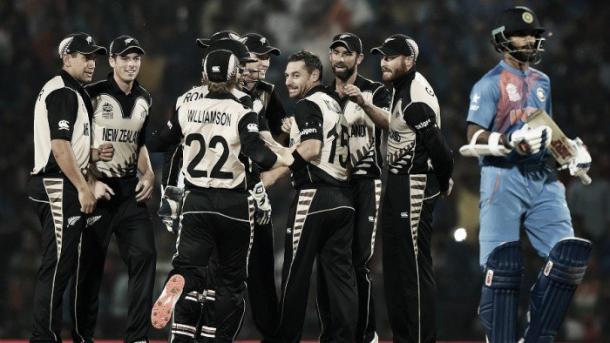 The first game of the Super 10 stage was played yesterday, in the other group - Group 2. Tournament hosts India were expected to kick-off their campaign with a victory over New Zealand, but were completely undone, collapsing to 79 all out after restricting the opposition to just 126-7 from their 20 overs. This saw India lose by 47 runs, and spinners throughout the tournament grow hugely in confidence, as nine of the India wickets were taken by New Zealand spinners. Today's other game isn't in England's group either, with two sub-continent sides facing off, in Pakistan - Bangladesh.
This is the first game in Group 1 of the Super 10 stage, which got underway yesterday, following nearly a week of preliminary action, which eventually saw Afghanistan and Bangladesh join eight other countries in the main tournament. Afghanistan are in group one, joining the two teams on show today, alongside South Africa and Sri Lanka - a very tough five to predict from indeed.
Good afternoon, all! Welcome to VAVEL UK's live ball-by-ball commentary of this World T20 Group 1 clash, between West Indies and England. The toss is set for around 13:30 GMT, with the game getting underway at 14:00 GMT, weather permitting. Stick with us as we preview and build up to this hugely exciting game.