17:58 - I hope you have enjoyed Vavel UK's live commentary of today's shortened World T20 game between India and Pakistan, until next time, goodbye.
17:54 - In the end it was a 18 over a side match and it turned out to be a straight forward win for India in the end. Pakistan batted first and made a modest score of 118-5. In reply India were in early trouble but Kohli saved the day with an unbeaten fifty to take his side home.
END OF GAME. India 119-4. The Indian's win by six wickets with 13 balls remaining.
Overs 15: 106-4 We are reaching the closing stages now with just thirteen requried form the last three overs. It was a good over from Afridi but, if they want to keep themself in this match they need to be bowling madien's which is stupid.
Overs 14: 99-4 A brillant over from the Indian's as they score eight runs from the over and the imperious Kolhi finds the boundary off the final ball to make the over and even better one than it could have been.
Overs 13: 91-4 Another great over for India as they score 7 from it and they carry on rotating the strike really well. Kohli has been superb in this chase and is the reason why they will win this one.
Overs 12: 84-4 India are continuing to ease to their target and with Dhoni and Kohli at the wicket this should be an easy chase. Ten runs came from the over as India have got it down to less than a run a ball.
MS Dhoni in at number six for India.
Wicket for Pakistan! Yovraj must go falling to Riaz in the deep he scored a crucial 24 for his side in this run chase. They need a couple of more quick wickets to make it closer.
Overs 11: 74-3 India are firmly in control of this one and another fourteen come from the over as India look like easing to victory. This is too easy for Kohli and Youvraj and they continue to find the boundary on a regular basis.
Overs 10: 60-0 A brilliant over as just two come from the next. You sense that Pakistan need a wicket and fast as this one is slipping away from them and India look in control.
A further change as Wahab Riaz replaces Afridi with the ball.
Overs 9: 58-3 Another great over for India in the chase as eight runs come from the ninth. These two are reading the situation well and not taking any risks which aren't needed.
Malik replaces Sami with the ball.
Overs 8: 46-3 A solid over for India as they tick over the scoreboard well taking singles off every ball which is more than useful at this stage. Nothing in it at this stage still.
Overs 7: 40-3 A much better over there for India as they get 12 off the over. You sense that this partneship now will be vital in the outcome in this match.
Overs 6: 28-3 Another fine over for Pakistan as just five runs come from Afridi's first over and the batsmen are really struggling to cope in these difficult conditionds.
A change of bowling see the skipper Afridi replace Irfan.
Overs 5: 23-3 A great over for Pakistan as they get two wickets with just the five runs being scored. Pakistan are right back in this one and you would now have to say they are favourites and they haven't even used a spinner yet.
Yuvraj just about survives the hat-trick ball but, he didn't deal with it too well.
Yuvraj Singh in at five.
Sami is on a hat-trick
Wicket for Pakistan! Raina falls first ball also choping onto his stumps to fall for a golden duck.
India's number four is Suresh Raina.
Wicket for Pakistan! Dhawan must go as he chops onto his own stumps to fall for a cagey six.
Sami comes onto bowl in the place of the impressive Amir.
Overs 4: 18-2 Another tidy over from Pakistan as just two runs come from the next and Pakistan are really keeping themselves in this one. Dhawan appears to be having some problems and is on 2 from just 11 balls.
Overs 3: 16-1 A top over from Amir as they pick up the key wicket of Sharma whilst only conceding two runs to bring them right back into the match. This one is really on edge and could go either way. Give us your thoughts on how this one will go by tweeting us our handle is @CricketVAVEL.
Virat Kohli is in at three for the Indian's.
Wicket for Pakistan! Sharma must go out to a fabulous catch from Malik off the bowling of Amir.
Overs 2: 14-0 A horrible start from Irfan as he can't find the right line and is made to pay by Sharma who hits him for two succesive fours. India off to a flyer.
Opening from the other end is Mohammad Irfan it will be Dahwan facing.
Overs 1: 4-0 A perfect start from Amir as he finds the correct line right from the off. Just four runs come from the first over and Pakistan will be looking for some early wickets to give themself a chance of causing an upset.
Rohit Sharma to face the first ball and it will be Muhammad Amir to take the first over.
India 2ND INNINGS
16:20 The Indian skipper Ms Dhoni will be delighted with that bowling performance, but Pakistan will be ruing not getting off to a faster start. India should get home with ease but, as we know they struggled to chase down a similar score in their first match.
END OF INNINGS! Pakistan 118-5. India require 119 to win from 18 overs.
Overs 17: 111-5 A bad over for Pakistan given it was the second to last over and they also lost the dangerous Malik. They really need some big runs in the final over if they are to give themselves a chance of victory.
Pakistan's number seven is Muhammad Hafeez.
Wicket for India! The dangerous Malik must go hitting one straight up in the air to leave Ashwin with a simple catch. He fell for an entertaining 26.
Overs 16: 103-4 Pakistan go past the 100 mark as eight runs come from the 16th overs. Pakistan have got two overs to try and reach a competitive score of around 130.
The new man at the wicket at number six is Sarfraz Ahmed.
Wicket for India! Akmal must go out caught behind by MS Dhoni off the bowling of Jadeja for 22.
Overs 15: 95-3 Another great over for Pakistan to back up the previous one as 13 come from the over. Akmal and Malik are both looking in great form and are starting to find the ropes on a regular basis.
Bumrah comes back on with the ball replacing Nehra.
Overs 14: 82-3 That is much more like it from Pakistan is both batsmen score a maximum in the over to give them real momentum as they take 15 from the over. If they can do this for the last three overs they could post a good score.
Overs 13: 67-3 Once more its another over with very few runs as just two runs come from the 14th over. Pakistan just can't get going and are really struggling to cope with the varriation of the Indian attack.
Nehra comes back into the attack in the place of Jadeja.
Overs 12: 65-3 A better over for Pakistan but, they do lose the wicket of their best player which could well prove to be crucial. With just six overs left now Pakistan really need to start finding the ropes on a regular basis.
Pakistan's number five is Shoaib Malik.
Wicket for India! Boom Boom must go miss timing a hit down the ground and he picks out Kohli who makes he simple catch and he falls for just eight runs.
A change of bowling as Hardik Pandya replaces Bumrah.
Overs 11: 54-2 A great over for the Indian bowlers as just three runs come from the over as the spin is once more tough to read and the batsmen have to settle for singles. With just seven overs left Pakistan really need to get going with eight wickets left.
Overs 10: 51-2 In the context of this match that is a fine over as it brings ten runs and Pakistan are starting to get into their stride despite, losing both their openers in recent overs.
In at number four is Umar Akmal.
Wicket for India! Shahzad is out caught by Kohli at mid-wicket falling for 25.
Bumrah is back into the attack in the place of Raina.
Overs 9: 42-1 Again a tidy over but, the pitch is spinning about as much as it could be and it is really tough to even get it off the square. Just three runs come from the over and Pakistan are in real trouble at the half-way stage.
Overs 8: 39-1 A quiet over for Pakistan but, the wicket is almost a good thing for them as the openers just couldn't get going and there is just ten overs to go now and so they need to start going for it a bit more than they were.
In at number three for Pakistan is BOOM BOOM.
Wicket for India! Sharjeel Khan must go after a brillaint catch by Pandya to fall for 17.
Raina is on in the place of the econmic Ashwin.
Overs 7: 35-0 A better over for Pakistan but, they still need to be upping the rate soon otherwise their bigger players will be wasted. They manage to find the ropes but, with the spin this pitch is impossible to read.
A further change of bowling as Ravindra Jadeja comes on for Pandya.
Overs 6: 28-0 Admidittly this is a tough pitch to bat on but, the Pakistan openers are batting like they are playing in a test match. Again a tidy over as just four runs come from the next.
Overs 5: 24-0 Once more it is a tidy over for India as just the five runs come from the over and they couldn't have asked for much more of a better start. These openers really need to get on with things as they only have 13 overs remaining.
A change of bowling sees Jasprit Bumrah replace the tidy Nehra.
Overs 4: 19-0 Another quiet over for Pakistan as they manage just seven. runs from the fourth over. They are really finding it tough to cope with the Indian combination of Ashwin and Nehra.
Overs 3: 12-0 Another solid over from Nehra but, it is ruined in the final ball as Sharjeel finds the ropes for the first four of the night. Seven runs came from the over.
Overs 2: 5-0 A brillant over from Ashwin as he has the Pakistan openers in all sorts of trouble. The ball is spinning both ways early on and this already looking a good toss to win.
Ashwin to open from the other end.
Overs 1: 3-0 A solid start from Nehra as he finds a tight line early on. Just three runs come from the first over and nearly a wicket on the final ball as Nehra doesn't quite manage to reach the follow up and it falls just short.
Left-handed Sharjeel to face first. Nehra with ball in hand. And we're off.
It will be Sharjeel Khan and Ahmed Shehzad to open for Pakistan and it will be Ashish Nehra to take the first over for India.
The teams have made their way out on to the pitch and it is time for the national anthems.
We're five minutes away from the start of this Group 2 game in Kolkata. Stay tuned for live updates throughout the day at VAVEL UK.
Pakistan: Khan, Shehzad, Hafeez, Akmal, Malik, Ahmed†, Afridi, Sami, Riaz, Amir, Irfan.
India: Sharma, Dhawan, Kohli, Raina, Dhoni, Singh, Pandya, Jadeja, Ashwin, Bumrah, Nehra.
Team News Coming Up
14:42: It is India who win the toss and unsurprisingly Ms Dhoni elects to field given the weather. That could prove to be crucial toss expecially if the weather returns once more.
14:40: Here comes the toss...
14:35: The batting powerplay will be five overs instead of the normal six we have just had it confirmed. Toss in just over five minutes.
14:25: We have some great news from Kolkata and that is that the toss will be at 2:40 UK time. The match will now get underway at 3:00 UK time. It will be an 18 overs a side match between India and Pakistan.
14:00: The umpires are out in the middle having a pitch inspection currently. We will bring you the news when get it.
13:55: Even though all the covers are now off it is going to be some time until we start this one. The amount of rain which we had earlier in the day means it is going to take some time to clear up and the ground staff have got a big job on their hands to complete the clean-up operation in Kolkata.
13:45: Some good news from Kolkata and it's that the covers are now being taken off. We should have news on a time for the toss in the next few mintues. So stay tuned.
13:30: The covers are currentley on in Kolkata and we are going to have a delayed start to this one. Stay tuned with us as we get updates on the weather.
That is why this game is ever so crucial for the Indians as they look to remain in the competition. As for Pakistan, they started the event with a huge win over Bangladesh, winning by 45 runs. They started well with the bat, scoring 201-5 from their 20 overs, with Mohammad Hafeez the top scorer hitting a 42 ball 64 to propel his side over the 200 mark. It was always going to be a tough chase for Bangladesh and so it proved as Shakib Al Hasan hit a brilliant 50 but it was in vein as his side came up well short in their opening fixture.
India lost to New Zealand in the opening match, which came as a huge shock for everyone as most people prior to the tournament had India down as their favourites to win the entire thing. They did well in restricting the Kiwis to just 126-7 from their 20 overs, which at the time looked a good effort, but India's batsmen really didn't turn up as only MS Dhoni made a notable a score scoring a run a ball thirty.
India head in this competition off the back of winning the Asia Cup, defeating Bangladesh in the final by eight wickets with more than seven overs still remaining. So it's the Indians who come to the tournament in form, but in T20 on any given day any team can go on and beat another, so form may not prove to be a major factor in the overall result. Pakistan are in mixed form after struggling in the Asia Cup, but they did get off to a winning start a couple of days ago.
The most recent meeting between these two in the shortest form of the game came in last month's Asia Cup. It was India who came out on top in a lower scoring match, chasing down Pakistan's total of just 83 by five wickets with four and half overs remaining. Pakistan's batsmen didn't really turn up on the day and they left their bowlers with a real challenge. The bowlers took in their stride but, with the quality which India have in their ranks, it was always going to be an easy chase for the opponents.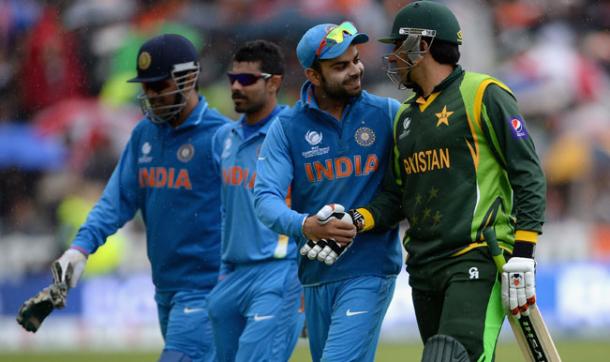 In the most recent event two years ago, when it was staged in Bangladesh, India got all the way to the final before losing out to Sri Lanka in a tight low scoring game - losing by six wickets. As for Pakistan, they had a disappointing competition last time as they failed to get past the group stage - finishing their group in third place after winning just two of their four matches.
This match is the fourth match of Group 2 and New Zealand are setting the pace after beating India and Australia in their opening games of the tournament. Both teams know that it is vital that they are able to pick up the victory in this one as India will be all but out if they were to fall to defeat, whilst a loss for Pakistan would leave their chances right in the balance. It is difficult to say who the favourites are, as these two sides match up very well against each other and it's tough to call a winner.
Good afternoon, all! Hello, and Welcome to VAVEL UK's live ball-by-ball commentary of today's World T20 Group 2 clash between India and Pakistan. The toss is set for around 13:30 GMT, with the game getting underway at 14:00 GMT, weather permitting. Stick with us as we preview and build up to this hugely exciting game.