That brings to an end Vavel Uk's live commentary of today's clash between England and Sri Lanka. I have been https://www.vavel.com/tmason2/, @tom_mason18 and until next time have a good day.
England have won that just about and they had two fantastic last two overs from Stokes and Jordan to get them across the line. England looked like they would win easily but, thanks to a superb innings from Mathews Sri Lanka were right in the match right to the end. Buttler has been named as the man of match after a brilliant knock of 66. England make it three wins from four to seal their passage through. England join the West Indies in semi-final's and will probably play New Zealand although they could face India/Australia if West Indies lose to Afghanistan tomorrow.
END OF MATCH! Sri Lanka 161-8. England win by 10 runs.
Overs 20: Sri 161-8 What a great last over from Stokes as only four runs come from it. England have done it.
Eleven needed off the last ball.
Stokes to bowl the last over of the match.
Overs 19: Sri 157-8 A perfect over from Jordan as only seven runs come front as well as the two wickets.
In at ten is Vandersay.
Wicket - Herath goes out bowled by Jordan. Game on. Fabulous bowling from CJ.
In at nine is Herath.
Wicket - Dasun must go after a stunning catch from Root to fall for 15.
Overs 18: Sri 150-6 England are on their way to losing this one as a further 12 come from the over. It is getting to close to call now but, Sri Lanka are clear favourites at this stage.
Willey back on in the place of Ali.
Overs 17: Sri 138-6 A great over from Jordan as gets the key wicket of Perera. Only six runs come from the over and it's a great over and back in England's hands.
In at number eight is Dasun.
Wicket - Perera must go out caught by Morgan for a quick 20.
Jordan on with the ball replacing Willey.
Overs 16: Sri 132-5 A brilliant over from Sri Lanka as 21 runs come from Ali's over. Sri Lanka are ahead at this stage and at this stage look the favourites.
Mathews is struggling and at the end of the last over called the doctor on and recieved some treatment for a troubled Hamstring.
Overs 15: Sri 111-5 Willey comes back and bowls a great over going for just five runs to bring England back in. Whilst Mathews is there though there remains a chance for the Sri Lankan's.
50 for Mathews.
Willey replaces Plunkett with the ball.
Overs 14: Sri 106-5 Eleven runs come from the next over and Sri Lanka are really starting to believe that they can pull this off.
100 UP FOR SRI LANKA.
Moeen Ali replaces the expensive Rashid with the ball.
Overs 13: Sri 95-5 England get the much needed wicket which could prove vital in the final outcome. Only seven runs came from the over and England are back on top.
In next is Thisara Perera.
Wicket - Kapugedra falls for 30 off the bowling of Plunkett to Stoke in the deep. Huge wicket for England.
Plunkett has replaced Stokes with the cherry.
Overs 12: Sri 88-4 Just the over the Sri Lankan's needed as they take 21 from Rashid's second over to bring themselves right back into the match. Run rate is now just over ten.
Overs 11: Sri 67-4 Sri Lanka aren't done yet and take eight runs from Stokes third over. Stoke has gone for just 15 from his three overs so far and has looked really impressive so far.
Overs 10: Sri 59-4 A better over for the Sri Lankan's as they take ten from Rashid's first. The first six of the innings was scored in the over by Mathews.
Rashid replaces Plunkett with the ball.
Overs 9: Sri 49-4 Stoke backs ups his first over with another great over as just three runs come from the ninth. Sri Lanka have responded well but are still a way behind the required rate.
Overs 8: Sri 46-4 A decent enough over for Sri Lanka but they are going to be needing to score at a better rate if they are to come back into this one. Plunkett has started really well with the ball.
Overs 7: Sri 38-4 A great start from Stokes as just four runs come from his first over. Sri Lanka have done well since the fall of the fourth wicket but are still along way behind the required rate.
Stokes on in the place of Jordan.
Overs 6: Sri 34-4 Another good over for England as just six runs come from Plunkett's second. England's fielders are really backing their bowlers well and showing just what they can do.
Overs 5: Sri 28-4 A poor over from Jordan costs him 11 runs but, the English remain firmly in control of this one. Jordan released some of the pressure in that over.
Overs 4: Sri 17-4 Only two runs come from Plunkett's first as he finds the perfect line. Sri Lanka don't know what has hit them.
Liam Plunkett replaces Willey with the ball.
Overs 3: Sri 15-4 Two wickets come from the over as well as six runs. Sri Lanka have hit the self destruct button here. England are in dream land.
The new man is Kapugedera.
Wicket - A brilliant run-out by Stokes sees Thirimanne fall for just three.
The new batsmen is Mathews.
Wicket - Siriwardana goes for seven off the bowling of Willey.
Overs 2: Sri 8-2 Jordan joins the party as he collects his first wicket of the evening. Sri Lanka in all sort of trouble early on in Dehli.
In at four is Thirimanne.
Wicket - Chandimal must go caught behind falling for just one.
Overs 1: Sri 3-1 A perfect start for England as Willey removes the dangerous Dishan. England keeping it tight early on here.
In at three for Sri Lanka is Siriwardana.
Wicket - Dilshan falls for two out caught out in deep by Hales. Massive wicket!
David Willey will open the bowling for England. Chandimal will take the first ball.
SRI LANKA 2ND INNINGS
England have done well to reach 171 largely thanks to a brilliant knock from Roy and a batting masterclass from Buttler who made an unbeaten 66. Sri Lanka will have to bat well to chase this down. Stay tuned as we bring you the second innings soon!
Overs 20: Eng 171-6 England take ten runs from the final over after Stokes takes the last ball for six. They have somehow got themselves into a grea position.
Stokes the new man at the wicket.
Wicket - Morgan must go out run-out for 22.
Overs 19: Eng 161-3 England are finishing really well here taking 15 from the next over. Buttler is doing so well but, he doesn't have the strike for the final over.
Overs 18: Eng 146-3 A shocking over from the debutant as he goes for fifthteen from his first over. England looking well set to reach a decent score at the moment.
Dasun who is on debut replaces Mathews with the ball.
Overs 17: Eng 131-3 England take 14 from the 17th and are looking like posting a decent enough score. Buttler has raced along to 36 and he is crucial to England's hopes at the end of the innnings.
Overs 16: Eng 117-3 The over that England needed as they score 18 from the over and Morgan is starting to look like he is at his best. If Buttler and Morgan can get going then they can reach 160/170.
Overs 15: Eng 99-3 Only six come from the next over and England really need to motor now if they are to be competitive. Buttler and Morgan need to be scoring at 12 an over for the last five to keep their side in the match.
Overs 14: Eng 93-3 England are really struggling here and only collect five runs from the over. They have plenty of wickets left so need to start playing a few more shots if they want to keep themselves in the match.
Overs 13: Eng 88-3 England collect just seven from the over as well as losing the key wicket of Roy. England need to start to get going here because otherwise they will fall well short of a par score.
In at five for England is Eoin Morgan.
Wicket - Roy must go falling LBW to the impressive Vandersay for a well made 42.
Overs 12: Eng 81-2 England continue to rotate the strike well whilst also finding the odd boundary. With Roy and Buttler in England always have hope of getting a decent score.
Mathews back on in the place of Hereath.
Overs 11: Eng 73-1 Eight runs come from eleventh over as Buttler finds his first runs hitting a four with a reverse sweep. Other than that it had been a tidy over from the Sri Lankan's.
In at number four is Jos Buttler.
Wicket - A massive wicket as Root must go out caught in the deep to falls for an entertaining 25.
Overs 10: Eng 65-1 A better over from Sri Lanka as England take just five runs from the over. At the halfway stage England have reached 65 which given the start is a good recovery.
Overs 9: Eng 60-1 England respond well taking eleven runs from the ninth including a superb six from Roy who is looking really good now. You sense that this partnership is vital in the terms of the match outcome as both these two look in fine form.
Hereath back into the attack in the place of Siriwardana.
Overs 8: Eng 49-1 A better over for the Sri Lankan's as only two runs comes from the over. England find it tough to deal with the added pace of Dushmantha.
Another change with the ball as Mathews is replaced by Dushmantha.
Overs 7: Eng 47-1 Nine come from the seventh over as Roy finds England's first six to help the over. The change to another spinner didn't work to well for the Sri Lankan's.
Another change with the ball as Siriwardana comes on in the place of Vandersay.
Overs 6: Eng 38-1 Nine runs come from the final over of the powerplay a total which England will be content with. Root and Roy are both well set and rebuilding the innnings well so far.
Mathews comes back into the attack in the place of Herath.
Overs 5: Eng 29-1 Another good over for England as they collect ten from the fifth over as Roy and Root are rebuilding well after the early loss of Hales. Roy found the boundary twice in the over.
Overs 4: Eng 19-1 A far better over for England as both Roy and Root find the boundary. In total eleven runs come from the over to get England back on track.
Overs 3: Eng 8-1 Another over goes in the favor of Sri Lanka as only four runs come from the over. The spinners are causing all sorts of problems to this England top order. England yet to hit a boundary from the first three overs.
A change of bowling for Sri Lanka as Mathews is replaced by Vandersay.
Overs 2: Eng 4-1 A wicket madien to start from Herath. The perfect start for Sri Lanka who are firmly in control of this one. England need to get going here.
Joe Root is England's number three.
Wicket - Hales falls for a duck out LBW to Herath. Great start for Sri Lanka.
Herath opens the bowling from the other end.
Overs 1: Eng 4-0 A quiet start for England as just a couple of two's coming from the opening over. Roy struggling early on as England look to get off to a positive start.
Angelo Mathews will open the bowling for Sri Lanka. Jason Roy on strike for England. Game on.
ENGLAND 1ST INNINGS
The players are out to sing their national anthems.
So as expected just the one change for England as fit again Hales comes in for James Vince. As for Sri Lanka they make one change Nuwan Kulasekara taken out in the place of Dasan Shanaka.
Sri Lanka team: Chandimal, Dilshan, Siriwardana, Thirimanne, Mathews (c), Kapugedera, Thisara, Dasun, Dushmantha, Herath, Vandersay
England team: Roy, Hales, Root, Morgan (C), Stokes, Buttler, Ali, Willey, Jordan, Rashid, Plunkett
Sri Lanka have won the toss and will bowl first!
Here comes the toss from Delhi!!
As for Sri Lanka, they entered the tournament with a win over the minnows of Afghanistan, claiming a victory by six wickets with seven balls remaining. In their second match they lost out to the impressive West Indies losing by seven wickets with ten deliveries remaining. This is their penultimate group game, with their final fixture being against South Africa on Monday.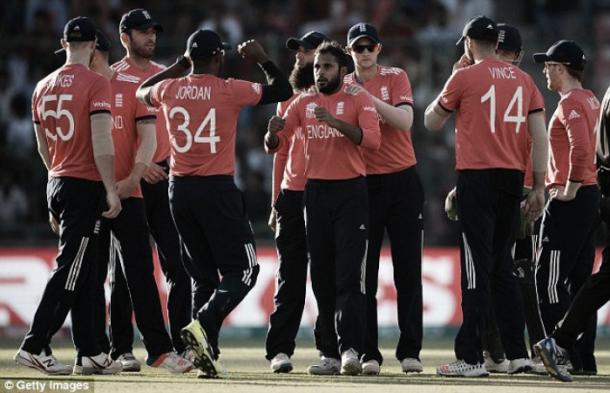 England began their competition with a disappointing loss against the West Indies after being undone by a fabulous innings from Chris Gayle, before responding well in the next match chasing down a world record score to see of South Africa by just two wickets with three deliveries remaining. They then defeated Afghanistan by 15 runs to move up to four points.
The last time these two met in the shortest form of the game was in May 2014 when Sri Lanka won the only T20 International by just nine runs thanks to three wickets from Lasith Malinga. The Sri Lankan's batted first and scored a competitive 183-7 from their 20 overs, largely down to a late cameo from Thisara Perera who made 49 from just 20 balls whilst Harry Gurney took two wickets for England with the ball. England were reduced to 174-7 from their 20 overs as only a Alex Hales 66 got them close to chasing down the score.
The two teams have met in the World T20 tournament on three occasions with England winning two of those matches and Sri Lanka coming out on top in the other meeting. The first meeting came in the 2010 tournament, where Sri Lanka batted first in the semi-final and made a below par score of just 128-6 from their 20 overs. England chased it down by seven wickets with four overs remaining thanks to an unbeaten 42 from Kevin Pietersen. The second meeting between the pair came in the 2012 event where the Sri Lankan's won by 19 runs. In the most recent meeting in 2014 it was the English who came out on top winning by six wickets with four balls remaining largely thanks to a superb unbeaten century from Hales.
This match is the fifthteenth match in the Super 10 stage after West Indies and South Africa faced off on Good Friday. This is a crucial match in the group with both teams needing the win in order to keep their hopes alive of qualifying for the semi-final stage. After the West Indies beat South Africa yesterday, we know that England will progress to the semi finals with a win today.
Good afternoon! Hello, and welcome to VAVEL UK's live ball-by-ball commentary of this World T20 Group 1 clash, between England vs Sri Lanka. The toss is set for around 13:30 GMT, with the game getting underway at 14:00 GMT, weather permitting. Stick with us as we preview and build up to this hugely exciting game.