Indian batsman Virat Kohli was the saviour for the host nation, as his side beat Australia by six wickets in a tense World Twenty20 Group 1 clash in Mohali.
Kohli hit an unbeaten 82 runs from 51 deliveries to see India home, with captain MS Dhoni hitting the winning runs, much to the jubilation of the thousands watching and the millions around the country.
The toss was going to be a key once again. Australian skipper Steven Smith called correctly and elected to bat first on a slowing deck. His opposing number Dhoni, commented he would have looked to set a total for The Aussies to chase.
Both teams named unchanged line-ups for the crucial clash.
Australia began in explosive fashion
As has been the case this tournament, power play scoring has often been a decisive winning measure for competing nations and Australia begun as if their sporting lives depended on it.
Usman Khawaja carried his scintillating form on from this World Cup and raced out of the traps. At the other end, Aaron Finch was playing his part also.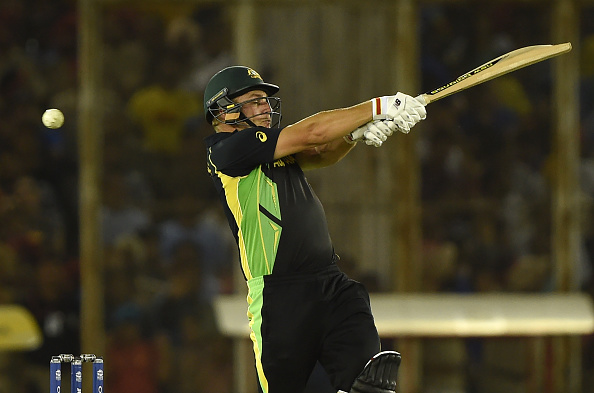 The host's lines were admittedly wayward, but both Finch and Khawaja were taking to their task adroitly. Finch in particular was added a dash of the spectacular, hitting two sixes in four balls during the fourth over. By the end of that over, Australia were 53-0.
Indians began to reel Aussies in
After such an expensive start, India needed to stop the flow of runs. Indeed, it was in the very next over that Ashish Nehra struck. Khawaja, high on adrenaline stood up to drive but found a thick edge behind to keeper Dhoni.
With big hitters to come, it was vital to keep the momentum. The Baggy Greens steadied before David Warner was stumped, again by the bucket mitts of Dhoni from the bowling of Ravi Ashwin to notch his first.
When captain Smith was controversially given out off Yuvraj Singh and Finch holed out to Shikhar Dhawan at deep mid-wicket, India had stemmed the tide, with their opponents 100-4 off 13 overs.
Maxwell hit valuable 31 for Australia
Glenn Maxwell has been one of Australia all-round performers in India and as the Victorian strode out to the crease, he needed to make an impact. His 31 that he put on was vital for his sides' cause.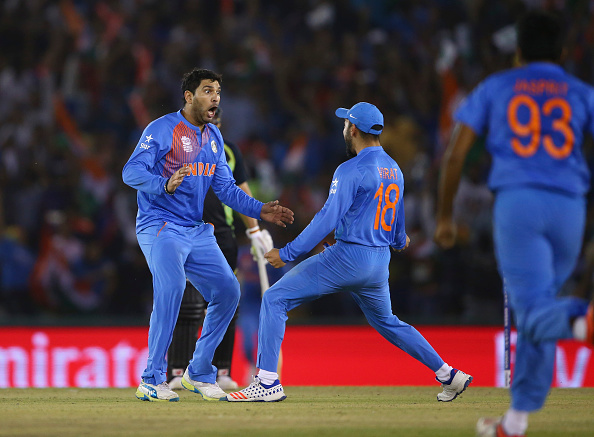 Still, spin was reeling Australia back. The trio of Yuvraj, Ravi Jadeja and Hardik Pandya continued to restrict the flow of runs.
Approaching the last over, at 145-5 India would have been content with their few hours' work. As James Faulkner was out from a Kohli catch at long-on, the mood in Mohali was upbeat. Peter Nevill made things interesting for the run chase with a four and six off the last two balls respectively. India needed 161 to reach the semi-finals.
Men in Blue started cautiously
India knew that a chase of 161 was well within their wheel-house. After the start that Australia, before being curtailed somewhat, they had a decision to make; start cautiously or go for it.
The duo of Dhawan and Rohit Sharma were keen to get the wheels in motion for The Men in Blue. The former got India off to a start with a smash for a maximum but didnt hang around for long after being caught off a top edge from a Nathan Coulter-Nile ball.
Watson makes double breakthrough
In what could have been Shane Watson's swansong from International Cricket following announcing his retirement last week, could 'Watto' make an impact with the ball, after being unable to make one with the bat?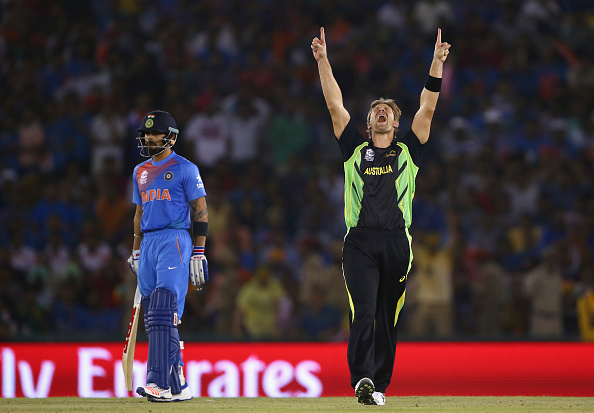 Sharma obliged. In his first over after some tidy lines, Sharma attempted to race down the pitch but was deceived and castled onto the top of middle stump.
When he removed Suresh Raina also, the watching-on thousands in the stands came to a deathly hush. Watson had two and India were 49-3. When Yuvraj appeared to twist his ankle after turning to run, it seemed Australia were in the box seat, with 11 overs to go.
Game headed for tense finale
Yuvraj was clearly hampered and save for a clubbed six, was struggling. He went for 21 after a superb diving one-handed catch from the ever-impressive Watson, with India 94-4. Dhoni came in bent, on saving the day. It proved to be the turning point.
It was however, Kohli who seemed a more likely saviour. Twos and boundaries came and with just four overs to go, India were 114-4 needing 47. Just like India, Australia had throttled the run rate.
Kohli rides to Indian's rescue
That was, until the eighteenth over. Faulkner had to go. Kohli slapped two successive fours before lofting one over the fence. 19 runs came off it. The running between the wickets, key.
The nineteeth was just a pivotal. After four more boundaries were slapped to the fence. India needed just four from the last over.
With Kohli at the other end, Dhoni was left to hit the winning runs. With aplomb. India had timed their chase to perfection.
Virat Kohli's stunning and rapid innings put on an unbeaten 82 off 51 balls to see India home. His partnership with his captain will live in the memory for some time, especially for Indian fans.
India will now face the West Indies in Mumbai on Thursday.