Thanks for joining us here at VAVEL.com for our live coverage of this World T20 semi-final. Guiding you through the first innings was Tom Mason, @Tom_Mason18 and I've been Tom Simmonds, @TomSimmonds1999 I hope you can join us here at VAVEL again tomorrow for the second semi-final.
For England, now all eyes turn to Mumbai tomorrow where Eoin Morgan's men will find out who they are due to face in Calcutta on Sunday 3rd April. What we do now know for certain is that it will for the first time in World T20 history there will be a repeat winner.
The Black Caps will be disappointed with going out now, they had looked to be certain to reach the final. However, in T20 cricket it all depends on who turns up on the day and today England were far superior and deserve their place in the final.
New Zealand were restricted well by Stokes and Jordan at the back end of their innings, and were absolutely blown away by a Jason Roy onslaught, a worthy winner of the Player Of The Match award.
Despite a slight wobble in the middle of the innings England have pulled through and in the end, have won this semi-final with considerable ease.
SIX! What a way to end the innings, a massive six over cow corner from Buttler and England are on their way to the final!
Overs 17- ENG 153-3 A very good over for Buttler. He's helped himself to bags of runs there and England tie the scores thanks to an overthrow.
SIX! A carbon copy of that last ball and Buttler has helped himself to another six, England need just 2 to win now.
SIX! He wasn't happy with four last time,so he's gone bigger this time. He's hammered this back over Sodhi's head for 6.
Four- It was touch from Root, this was power from Buttler. Another drag down from Sodhi and Buttler simply picks his spot and hammers it for four.
Four- A very deft touch from Root, a reverse paddle against Sodhi and it runs away and beats the man to the boundary.
Overs 16- ENG 131-3 A very steady 7 from that over, England will be happy with this run-rate.
Four- Expert from that Buttler, a textbook reverse sweep of Elliott and it keeps the run-rate in England's control.
Grant Elliott comes onto bowl.
Overs 15- ENG 124-3 A better over that from Santner just the three runs from it. England now need 30 at a run a ball.
Surprisingly Santner replaces Sodhi. He starts with a very defensive field on the straight boundary.
Overs 14- ENG 121-3 A good over that for New Zealand, just the four runs coming from it. England now need 33 from 36 balls.
McClenaghan back into the attack, expecting lots of change up deliveries.
Overs 13- ENG 117-3 A very good over from Sodhi, his team may not win this match but at least he has given them a fighting chance.
Four- England recover from those two wickets with a boundary from Root, he latches onto a drag down and pulls it away.
Jos Buttler comes to the crease.
WICKET! Not for the first time in this tournament its a poor shot first up from Morgan and its another golden duck for the England skipper. Possibly a way back into this game now for New Zealand?
WICKET! Finally the end to a magnificent innings from Jason Roy. His explosive hitting has put England will ahead and only now has he finally fallen to the bowling of Sodhi.
Overs 12- ENG 110-1 Seven from that over. England have recognised their ahead now and are starting to play it safe.
Four- A good shot from Root, showing all his class. He didn't try to hit it too hard, just picked the length and guided it into the gap.
Adam Milne back for his second spell now.
Overs 11- ENG 103-1 Just 5 runs from that Sodhi over, but it's all England need at the minute, they are cruising to this total now.
Sodhi comes back on now.
Overs 10- ENG 98-1 What would have been a good over from Elliott is ruined by that 6, Jason Roy looks like he could chase down New Zealand's score on his own right now.
SIX! Another great shot from Jason Roy, too close to his pads and he nonchalantly flicks it over fine leg and it only just carries for 6.
Overs 9- ENG 88-1 He went for a few runs there Santner, but he crucially broke that dangerous opening partnership.
Four- Too short from Santner and the form Roy's in means he's not going to miss out, smashes it for four.
Joe Root the new man in.
WICKET! Finally, New Zealand breaks this partnership. Hales trying to go the distance over cow corner, but it only comes off the toe of his bat and it's a comfortable catch for Munro.
Santner comes back for his second spell.
Overs 8- ENG 79-0 A very good over from Grant Elliott just the four runs from it. England will be happy though with plenty of singles and twos on offer.
Grant Elliott comes into the attack.
Overs 7- ENG 75-0 This has been a magnificent start from England, New Zealand having bowled too badly, but Roy and Hales have been pouncing on anything that wasn't exactly perfect.
Four- A perfect reverse sweep from Roy. He's clearly in a rush to get back to the team hotel.
FIFTY!- Thanks for bearing with us through some technical difficulties, but Roy has finally got his first fifty of the tournament after going close twice before. He's dominating this game for England now.
Overs 4- ENG 49-0 England are really killing this game now, both Roy and Hales looking very comfortable.
SIX! Both of England's openers now have a mark in the six column. A short slower ball from Milne and Roy flat bats it over the bowler's head for 6.
Four- He has absolutely hammered this has Hales. The short ball from Milne never really got high enough and Hales helps himself to four.
3 Overs- ENG 36-0 Another good over for England, their quickly getting on top of this run-rate.
Four- Greatest shot in world cricket this from Roy, a classical straight drive back down the ground for four.
SIX!- First six of the innings belongs to Alex Hales. A poor delivery from McClenaghan and it's right in Hales' arch. 79 metres, massive.
Mitchell McClenaghan comes into the attack. He replaces Corey Anderson.
2 Overs- ENG 23-0 A decent over from Milne, he recovered well from Roy's early boundary responding by drawing Roy into a top edge and then a close LBW shout.
Four- Another boundary for Roy, he uses the express pace from Milne and cuts him expertly for four.
Adam Milne comes into the attack.
1 Overs- ENG 16-0 England needed a flying start and Roy has provided it, four fours have already put England into the driving seat,
Four- An extremely classy dab from Roy beats both fielders and runs away down to third man.
Four- Another massive edge for Roy, this time it flies over the slips for four.
Four- Roy got away with that, a mis-timed charge down the pitch and the inside edge flies past fine leg for four.
Four- He played and missed first ball, but Roy has crashed this through point for four, an excellent cut shot.
Hales and Roy will open of course, with Corey Anderson opening the bowling. Let's get started with this chase.
We want to hear from you guys. Who do you think will win this match? Head over to @VAVELCricket to cast your vote, at the minute it seems that people are believing that this should be a fairly comfortable victory.
England should be more than capable of chasing down the target of 154 from 20 overs, however, New Zealand's spin duo of Sodhi and Santner could be really crucial in determining the outcome of this match.
Thanks for that Tom Mason, I'm Tom Simmonds and I'm here to keep you up to date with what promises to be an exhilarating climax to this semi-final.
New Zealand will be disappointed that they didn't manage to get at least 160 after the start they had. The Black Caps were 89-1 after nine overs. England will feel really confident that they can chase this down, but the Kiwi's spinners have been superb so far so it won't be easy for Morgan's men. Stay with us for the run chase which will happen shortly!
END OF INNINGS! New Zealand 153-8. England require 154 to win from 20 overs.
Overs 20: NZ 153-8 A superb final over from Stokes as it goes for just three runs including the run-out.
Wicket - McClenaghan falls for just one out run out by Stokes off the final ball.
In at nine is McClenaghan for New Zealand.
Wicket - Santner falls for just 7 as Stokes has him out caught in the deep by Jordan again.
Stokes to bowl the final over of the innings.
Overs 19: NZ 150-6 A superb over for Jordan at the death as just nine runs come from his final over. Just the one boundary in the overs as well which definatley helped.
Overs 18: NZ 141-6 A brilliant over for England by Stokes as just five runs come from the over including the two key wickets of Ronchi and Anderson. England firmly in control at this stage.
Mitchell Santner in at number eight.
STOKES IS ON A HAT-TRICK!
Wicket - Another wicket for Stokes as Anderson skies a full-toss in the air and Jordan takes the catch as he falls for 28.
Grant Elliott in at seven for the Kiwi's.
Wicket - Ronchi must go falling to Stokes for just 3 Willley with the catch in the deep.
Stokes back on in the place of Plunkett.
Overs 17: NZ 136-4 A brilliant over from Jordan as two runs come from the over including the wicket. Jordan has bowled really well today and still has an over left to bowl.
New Zealand's number six is Luke Ronchi.
Wicket - Taylor falls for just six out caught by Morgan off the bowling Jordan.
Jordan back on for Rashid.
Overs 16: NZ 134-3 A bad last over from Plunkett costs him 13 runs. Anderson also collects his first six of the day and is looking good. New Zealand with Anderson and Taylor at the wicket are looking in a fine posistion.
Overs 15: NZ 121-3 Rashid's last over is a good one for NZ as they take then from it. It was looking like a strong one until the final ball as the final ball of the over went for four.
Rashid is back with the ball replacing Ali.
Overs 14: NZ 111-3 A very strong over from Plunkett as NZ collect just five runs from it whilst also losing the dangerous Munro. With six overs to go this one is firmly in the ballance.
Taylor in at five for the Kiwi's.
Wicket - Munro falls to Plunkett out caught by Ali for 46. Another key wicket for England.
Plunkett replaces Rashid with the ball.
Overs 13: NZ 106-2 Another good over from Ali has just seven runs come from Ali's second over and he has started really well. England need to get a wicket soon and preferably Munro who is looking in great knick.
Overs 12: NZ 99-2 A better over from Rashid as just seven runs come from his third over. New Zealand are setting themselves up here really well for a bash at the end.
Rashid has come back on with the ball replacing Stokes.
Overs 11: NZ 92-2 An outstanding opening over from Ali as just the three runs come from the over including the big wicket of the Kiwi captain. New Zealand are well set though to make a more than decent score with nine overs to go.
Corey Anderson the new man to the wicket.
Wicket - The change to Ali works as he removes the dangerous Williamson out caught and bowled for a well made 32. Big wicket!
Moeen Ai replaces Rashid with the ball.
Overs 10: NZ 89-1 Yet a further over which goes in the favor the New Zealand as they take eleven from the tenth over. Munro has raced along to 36 and New Zealand are looking on for a reall competitive score here.
Overs 9: NZ 78-1 Another strong over for the Kiwi's as they take 12 runs from Rashid's second including another six. New Zealand are on top as we approach the half-way stage of the 1st innings.
Overs 8: NZ 66-1 Another really good over for New Zealand as eleven runs come from Stokes opening over. Williamson also scored the first six of the innings in the middle of the over to help set the over up.
Ben Stokes onto replace Plunkett.
Overs 7: NZ 55-1 A brilliant start by Rashid as just the four runs come from his opening over to put a real stem on the run flow. That was the first over of the match which didn't include a boundary so that is a great improvement from England.
Adil Rashid on with the ball to replace Jordan.
Overs 6: NZ 51-1 A really strong over for NZ as they take 13 runs from the sixth over to end the powerplay in a really strong posistion. The over ends well with the last two balls both being dot balls after the three before went for four.
Overs 5: NZ 38-1 Seven runs come from the over and the Kiwi's have hit a boundary in every over so far which has helped them to get off to a real impressive start. Jordan had to change his line after movements within the crease by Williamson.
Jordan is back on from the other end replacing Willey.
Overs 4: NZ 31-1 A poor start from Plunkett as eight come from his first including a four from Williamson. He nearly has a wicket though as Williamson clips one down to short third-man but, it didn't quite carry to the onrushing Adil Rashid.
Liam Plunkett on with the ball replacing Chris Jordan.
Overs 3: NZ 23-1 A great second over for Willey as he conceded just six runs whilst picking up the crucial wicket of Guptil. It has been more than a decent start for England so far with the ball.
Colin Munro in at three for New Zealand.
Wicket - Willey gets Guptil out caught behind by Buttler for 15. Huge wicket for England!
Overs 2: NZ 17-0 a solid start from Jordan as just the six runs come from his opening over. Guptil does make him pay the price though as he collects his third boundary of the match.
Chris Jordan opening the bowling at the other end for England.
Overs 1: NZ 11-0 A very strong start from the Kiwi's as they collect eleven runs from the opening over. Guptil finds the boundary on two occasions with Willey struggling to find the correct line in his opening over.
David Willey will open the bowling for England. Martin Guptil on strike for the Kiwi's.
NEW ZEALAND 1ST INNINGS
The teams are out in the field to sing their national anthems.
So England are unchanged from their win over Sri Lanka, whilst New Zealand make two changes with Guptil returning from a slight knock to come in for Henry Nicholls and the other change sees Milne come in for Nathan McCullum. We are just over fifthteen minutes from the start of the first sem-final in Delhi.
New Zealand team: M Guptil, K Williamson, C Munro, R Taylor, C Anderson, G Elliott, L Ronchi, M Santner, M McClenaghan, I Sodhi, A Milne
England team: J Roy, A Hales, J Root, E Morgan, B Stokes, J Buttler, M Ali, D Willey, C Jordan, A Rashid, L Plunkett
England have won the toss and they will bowl first against New Zealand!
Here comes the toss from Delhi.....
England also struggled in the most recent tournament, failing to qualify from their group, finishing one place behind New Zealand after winning just one match from their four. The three matches which they lost were against the Kiwi's, South Africa and somehow the Netherlands. They did pick up their one win against eventual champions Sri Lanka which showed at the time that they could have gone much further than they actually did. Like the Kiwi's they have come on a lot since that time and have caused a real threat in this competition which has seen both Sri Lanka and South Africa eliminated as a result.
In the last World T20, that was staged in Sri Lanka, New Zealand didn't even make it past the Group Stages as they picked up just four points from their four matches - beating England and the Netherlands before losing out to South Africa and the hosts Sri Lanka in their final match of the competition. Since then though they have come on a lot and as has been seen in this edition they have got a much better side and found a good formula which they can stick to but, you sense they may struggle if they were to face a different kind of pitch.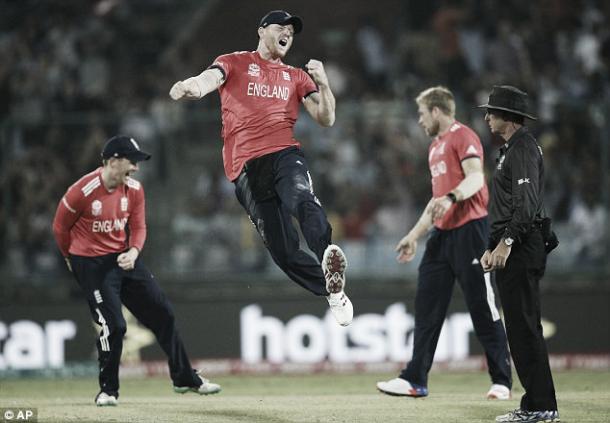 England, on the other hand, did it the hard way, starting their competition with a big loss against the West Indies after being undone by a fabulous innings from Chris Gayle. They responded well in the next match, chasing down a world record score to see off South Africa by just two wickets with three deliveries remaining. They then defeated Afghanistan by 15 runs to move up to four points. In their final match against Sri Lanka they came up with the goods and got the vital victory by ten runs after scoring 171-4 from their 20 overs before restricting the Sri Lankan's to just 161-8, despite a fabulous knock from Sri Lankan captain Angelo Mathews.
They then went onto face Australia and they picked up a narrow win on this occasion by just the eight runs as the restricted the Aussies to just 134-9 after scoring 142-8 themselves to seal their second win. Their third match was against Pakistan and again they won easily, setting 180 with the bat before restricting the Asian side to just 158-5 to collect the win by 22 runs - sealing their passage through to the last four. Their final match of the super 10's stage was against Bangladesh and once more they batted first, scoring 145-8 before bowling the minnows out for just 70 to top the group and set up this match with England.
The Kiwi's have been the real surprise package of this competition after winning their group with ease beating India, Australia, Pakistan and Bangladesh on their way through to this stage. They began the event with a big win over hosts India by 47 runs, despite being restricted to just 127 themselves they then bowled the hosts out in no time at all for just 79 to cause a real shock.
This match is the first of the two semi-finals and it sees two teams come face to face who were definitely underdogs to qualify for this stage prior to the start of the competition. Both teams have had fine tournaments to date and between them have won seven of the eight matches which they have played so far
Hello there everyone, and welcome to VAVEL UK's live ball-by-ball commentary of this World T20 semi-final clash between England and New Zealand. The toss is set for around 14:00 GMT, with the game getting underway at 14:30 GMT, weather permitting. Stick with us as we preview and build up to this hugely exciting game.