Unfortunately, that's all we've got time for today. We've been Brandon Sayer, Jonny Walsh and Oliver Emmerson taking you through the 2016 World T20 final - West Indies the champions.
Brathwaite finished up on 34*, and he'll make the headlines, but it's Samuels who is arguably the real match-winner. He was fantastic, coming in at 11-3, finishing up on 85* as his team got over the line.
Just to confirm, West Indies win by four wickets, with Samuels and Brathwaite seeing them over the line. They now hold the U19's World T20 trophy, the women's trophy, and the men's trophy. What a year off cricket for them.
Four huge, huge, huge shots from Brathwaite to win it for the West Indies! Ben Stokes is furious with himself, being consoled on the pitch after being the man to bowl that nightmare final over. Heartbreaking for England, jubilation for the West Indies.
WEST INDIES WIN THE WORLD T20, ANOTHER SIX! BRATHWAITE THE HERO!
Over 19.3 - WI 155-6: A THIRD SIX IN A ROW! Magical from Brathwaite, West Indies are going to win this! One run from three is all that's required.
Over 19.2 - WI 149-6: This is horrific for England. Another six! Seven from four...
Over 19.1 - WI 143-6: Huge six into the legside from Brathwaite to start the over! 13 from five needed...
Over 19 - WI 137-6: Superb from Jordan, with another England bowler recovering to bowl well after conceding a four from the first ball. Four consecutive singles followed, before a beauty of a yorker leaves West Indies with 19 to win off the final over. Ben Stokes will bowl it. It's all or nothing now.
Over 18 - WI 129-6: It was all going so well for Willey, before a lovely scoop shot from Brathwaite runs away to the boundary off the final ball. 11 from the over. West Indies need 27 runs from their final two overs. It's so tight, Chris Jordan needs to get this penultimate over right for England.
Over 17 - WI 118-6: Great death bowling from Jordan, who gets hit for four off the first ball of the over before conceding three runs from the next five. West Indies need 38 from their last three overs, or 18 balls. Samuels is still there, and Willey will bowl his last over - presumably leaving the final two to Stokes and Jordan.
Over 16 - WI 111-6: Seven from the over as the batsman grab the odd double, with Alex Hales preventing a boundary thanks to some excellent fielding next to the rope. It's all about those two wickets for England, who will still want Samuel gone. 45 from 24 needed.
WICKET! WILLEY HAS ANOTHER! Darren Sammy in and out, two from as many balls. Big shot into the offside, easy catch for Hales.
WICKET! CRACKING CATCH FROM STOKES! The big man, Andre Russell goes for just one from three. It was a very hard hit into the legside, off the bowling of Willey, but Stokes was equal to it to hold on.
Over 15 - WI 104-4: That's a huge over for the West Indies, Samuels taking Plunkett to the cleaners. 18 from it, and suddenly you might make the Carribean side the favourites. 52 needed from 30 deliveries.
Over 14 - WI 86-4: Right, quite a lot happened that over. Bravo did eventually get after Rashid, hitting a huge six just a couple of balls before Samuels went to 50. He's now out though, with 10 scored off Rashid's final over. He finishes up with fairly impressive figures of 1-27 from his four. Andre Russell in next.
WICKET! BRAVO GOES BIG AGAINST RASHID, SKIES IT! Root with the catch, big breakthrough for England.
50 for Samuels, coming off 47 balls. He's kept a cool head and played brilliantly, setting himself for a big score?
Over 13 - WI 76-3: Run out chance off the last ball of the over as Bravo scampers for one, gets there. Nine from it, not bad for the Windies, but the required rate again rises. They've got big hitters in the dugout, with Andre Russell still to come. Rashid will bowl his last, will Bravo and Samuels finally be able to get after him?
DROPPED! Bravo with a huge shot into the air, Sam Billings drops it next to the boundary, and it rolls away for four. Ben Stokes can't believe it. It looked like the substitute fielder just slipped as he went for it.
Over 12 - WI 67-3: More good bowling from Rashid, five from the over - all singles. He's not been hit for a boundary in his three overs, and with Root's earlier efforts, England have now bowled the four overs of spin they need to compliment their seamers. Still, Rashid's likely to bowl his last. It doesn't look like Moeen Ali will be needed today.
Over 11 - WI 62-3: Ben Stokes doesn't start perfectly, going for a four before delivering a wide, but in the end it's only eight from the over, with the required rate inching up further. Samuels is up to 43, he's got his eyes set on a half century.
Over 10 - WI 54-3: More good bowling from Rashid as we come to the halfway point in the innings. Four off the over, and West Indies now require a tad more than 10 an over to win this game.
Over 9 - WI 50-3: Samuels with a delightful boundary, flicked between his legs, starts the over, with Plunkett coming back at him to concede just seven from it. 50 up for the West Indies, they'll have wanted to get there a little quicker.
Over 8 - WI 43-3: Just four singles, West Indies rotating the strike after Rashid starts off with a couple of dots. The attendance goes up on the board, just shy of 50,000 people here watching.
Over 7 - WI 39-3: Good response from Plunkett, who concedes just two off the remaining five balls of the over. West Indies need 117 runs from 13 overs. It's definitely on for them, but they can't afford to lose any more quick wickets. Adil Rashid to bowl his first.
OVERTURNED! It hit the deck first, and it looks like the right decision. Samuels remains. Dot ball, onto the next one.
Wait, this is getting reviewed. Did the ball carry?
WICKET! Samuels flashes at a short one from Plunkett, and Buttler gobbles up the catch! He's gone for 27 from 21.
Over 6 - WI 37-3: Boundaries they needed, and boundaries they got. Samuels hits three of them, as the batsmen take 16 from that over. We won't see Jordan again until the back end of the innings.
Over 5 - WI 21-3: Nice and tight from Plunkett, West Indies could do with some boundaries in the final over of their powerplay.
Over 4 - WI 18-3: Five singles and a dot ball from Jordan, who seems to be giving the short stuff to Bravo. Neat and tidy from the bowler, who didn't offer the batsman much there. Willey won't bowl his third, Liam Plunkett thrown the ball.
Over 3 - WI 13-3: More superb bowling from Willey, just three from the over, plus the wicket. Root has done his bit with the ball, for now, as Chris Jordan comes into the attack.
WICKET! A THIRD FOR ENGLAND, SIMMONS GONE! Willey, who bowled superbly in his first over, gets a wicket in his second. LBW to Lendl Simmons, the semi-final hero, who goes after facing just one ball.
Over 2 - WI 10-2: Nine runs from the over, but England won't care as Joe Root of all people gets the two West Indian openers. Samuels, hoping to be a steady head in the crisis, flicks one into the legside for four.
WICKET! ROOT HAS DONE IT AGAIN AND GAYLE IS GONE! Can you believe it! Gayle has gone for four after playing an almost identical shot to Charles, England are loving it! Simmonds in at four.
Gayle starts off with a four from Root, though it's a thick edge that flies over square on the offside.
WICKET! IT HAS! Root starts with a wicket from his first ball and Charles is gone for 1 off 7 as he lumps the ball high into the air, and it's taken well by Stokes, Samuels in at three.
Over 1 - WI 1-0: Good start from Willey and England, who put early pressure on. Five dots and a single clipped to fine leg; Root will bowl the second over - will it pay off?
Appeals from England as Johnson tries to work the ball down the leg side, the ball flicks the pad on the way through to Buttler.
Good start from Willey, who begins with two dots. Swing is clear to see early on, Johnson doing well to repel.
The West Indies opening pair have come out to bat, can they get the powerplay and innings off to a quick start? David Willey will open the bowling against Johnson Charles.
As for the West Indies attack, Badree was once again excellent; 14 dots and two wickets came at a cost of just 16 runs from his four overs. Andre Russell chipped in with a wicket as well, but Benn and Sammy went for over 13 runs in their limited time with the ball. Bravo and Brathwaite took the keys wickets in the middle overs, sharing three apiece. The dismal of three batsmen for just one run really helped the Windies stem the tide.
England began horrifically after losing both openers for a combined score of one. Root came in and anchored the innings with an impressive 54, but captain Morgan failed to add support with just five. Buttler did back up Root with 36 from 22 but after he was dismissed - along with Stokes and Root - England's total was never going to hit the heights it could have. Ali went for a second ball duck but some hefty blows from Willey and good running from Jordan and Rashid mean England have a chance in the final.
Over 20 - ENG 155-9: Rashid and Jordan do well to get 10 from the final over, with a massive four in the middle of that from the latter. Rashid finishes with a two and England do have something to bowl at. However, this West Indies batting line-up is capable of chasing that with ease.
A two and a single follow - Rashid will face the final ball - a four would be massive.
150 up! That's the boundary England needed, and Jordan uses Russell's pace to guide the ball square on the legside.
Excellent again from Russell, who gives Jordan a taste of his own bowling with an excellent yorker. A leg bye from the first two balls.
Over 19 - ENG 145-9: England finish the over with three singles after Plunkett's departure. Seven comes off it, what England wouldn't give for a few boundries. Russell will finish the innings off.
WICKET! Plunkett hits four from the first two balls but then falls victim to a superb catch from Badree behind square on the offside. The spinner has hurt himself, though. Nasty landing. Rashid in - one a ball gets to 151 and that has to be the target.
Over 18 - ENG 137-8: Willey looked to be pushing England towards 160 but his wicket means most of the pressure is now on Jordan. Brathwaite finishes with 23-3 from his four overs. Bravo in for his final over.
WICKET! Willey holds out to Charles and he's far from pleased with himself. He doesn't quite get enough on the shot and it's a really good catch out in the deep. 21 from 14 for Willey, Plunkett now in at 10.
Willey slams Brathwaite for four down the ground after Jordan gets him back on strike.
Over 17 - ENG 131-7: Willey is providing the English fans with some hope! He crashes two huge sixes off the over, and two further singles see 14 from it - three overs left, Brathwaite back into the attack.
Willey strikes the first and third ball of the over well also, but both land at point and fine leg before getting a single. Bravo keeping things under control.
There we go! Willey picks Bravo and nails him into cow corner for a huge six.
Over 16 - ENG 117-7: Just two runs from the over, as Willey pulls for a single. Critical for the English to get some runs on the board, currently going at 7.31 an over.
Excellent start to the 16th over from Russell, as England sneak a leg bye before Willey flashes at two deliveries outside off.
Over 15 - ENG 115-7: The loss of Root and just five runs from the over has England in a poor position. With Jordan and Willey in, and Rashid and Plunkett to come, there could still be some hope.
The score predictor is currently suggesting England are on for 141 - three wickets for one run has halted their charge. Jordan and Willey at the crease.
WICKET! England have fallen apart! Root, the resistance, is gone. He tries to flick the ball behind square and it's straight to Benn - Brathwaite celebrates. Root also far from happy with something as he walks off.
Overs 14: ENG 110-6 Bravo produces a wonderful over for the West Indies as he only goes for seven runs plus got the wickets of Stokes and Ali. Root had started the over with a beautiful boundary.
Wicket - Bravo gets another wicket as he gets Ali caught down the leg side for a duck of two balls.
Moen Ali comes in at number seven for England.
Wicket - Bravo gets the wicket of the dangerous Stokes for 13 of eight balls with a beautiful slower delivery.
Bravo replaces Brathwaite with the ball for the West Indies.
Overs 13: ENG 103-4 A fantastic over comes for England as they get 14 runs from it. Root and Stoke both hit a boundary in the over. Root also got to fifty in the over.
100 comes up for England!
50 comes up for Joe Root of 33 balls. What a player!
Darren Sammy replaces Benn with the ball for the West Indies.
Overs 12: ENG 89-4 A good over from Brathwaite comes to end with him only going for six runs plus he got the massive wicket of Buttler. Buttler mistimed a pull shot straight to Bravo. Big last eight overs coming up now for both teams.
Stokes comes in at number six for England.
Wicket - Brathwaite gets the breakthrough and it's the huge wicket of Buttler for 36 of 22 balls. Bravo with the easy catch in the boundary.
Brathwaite replaces Russell with the ball for the West Indies.
Overs 11: ENG 83-3 A massive over finally comes for England as they get 16 runs from it. Buttler hit back to back sixes to get the scoring rate up. Big push now needed from the English batsmen.
Overs 10: ENG 67-3 Root hit a lovely pull shot for a boundary in the over and good running from the batsmen in the over meant they get 10 runs from it.
Russell replaces Brathwaite with the ball for the West Indies.
Overs 9: ENG 57-3 Buttler decides to take the attack to Benn and smashes the first six of the match as England get 10 runs from Benn's second over.
Benn replaces Badree with the ball for the West Indies.
Overs 8: ENG 47-3 The batsmen don't take any risks in the over and manage to get six runs from Brathwaite's first over. Massive partnership this for England at the crease.
Carlos Brathwaite replaces Bravo with the ball for the West Indies.
Overs 7: ENG 41-3 Badree bowls his final over and gifts Root a full toss which the batsmen smashes away for a four. Four singles also come from the over.
Overs 6: ENG 33-3 10 runs come from the final over of the power play for England as Buttler got of the mark with a lovely cut shot for a four.
Dwayne Bravo replaces Benn with the ball for the West Indies.
Overs 5: ENG 23-3 Badree is on top of his game as he bowls a wicket maiden. Badree set Morgan up and got him caught in the slips by Gayle. Disaster for England already.
Joe Buttler comes in at number five for England.
Wicket - Badree gets another as he gets Morgan caught in the slips for five of 12 balls. Poor start from England all round. West Indies are loving it.
Overs 4: ENG 23-2 Root and Morgan decided that this was the over to score a few runs from and they got 14 runs from it. Root hit two lovely boundaries in the over as well as that Morgan also hit a boundary.
Sulieman Benn replaces Russell with the ball for the West Indies.
Overs 3: ENG 9-2 Badree is all over the England batsmen as he only concedes one run from the over. England are really on the back foot at the start of this game.
Overs 2: ENG 8-2 Russell produces a superb over as he gets a wicket and only concedes one single. Hales will be really disappointed to get out like he did. England need a partnership to recover.
Eoin Morgan comes in at number four for Enfland.
Wicket - Russell also gets a wicket in his first over as he gets the dangerous Hales for one of three balls caught at short fine leg. Unbelievable.
Andre Russell opens the bowling for West Indies from the other end.
Overs 1: ENG 7-1 Badree does it yet again with his first over as he bowls Roy with a beautiful delivery. Two singles follow the wicket before Root hits a lovely cover drive for a four. What a start to this final.
Joe Root comes in at number three for England.
Wicket - Badree clean bowls Jason Roy with the second ball of the game for a duck to get the West Indies of to a perfect start.
Samuel Badree will open the bowling for the West Indies. Jasom Roy is on strike for England. Game on.
ENGLAND 1ST INNINGS
Both teams unsurprisingly have named unchanged teams for today's final after the success they had in their respective semi-finals. Both sets of players are out on the field to sing their national anthems. It's such a big game for both teams. Stay tuned as we bring you the start of England's batting innings in a few minutes.
England Team: J Roy, A Hales, J Root, E Morgan, B Stokes, J Buttler, M Ali, C Jordan, A Rashid, D Willey, L Plunkett
West Indies team: J Charles, C Gayle, M Samuels, L Simmons, D Ramdin, DJ Bravo, A Russell, D Sammy, C Brathwaite, S Badree, S Benn
West Indies have won the toss and they have chosen to bowl first!
Here comes the toss from Kolkata!
Who do you make favourites? It's not easy to say, and you might actually just opt for whoever wins the toss. Some would say that the West Indies beat England at the start of the tournament and will do so again. Others will suggest that England have got better with each game they've played, and that's what teams that win tournament's do. Either way, the final itself should be quite the spectacle.
The toss will be a crucial one, with both teams preferring to chase so far in the tournament, you'd imagine whoever wins the toss will bowl first. This is also taking into consideration the fact that you don't want to bowl with the dew later on in the day.
One interesting battle today is set to be that of the opener's, with Roy and Gayle both shining brightly in the tournament so far. Gayle is the better, more famous, player - but Roy got runs in the semi, so he'll be coming into the game full of confidence.
England have done things in a harder way, and wouldn't be here right now had they not produced a remarkable run chase against South Africa, winning thanks to brilliance from Joe Root after the Proteas posted a score of 229-4. They then edged out Afghanistan despite a scare, before beating Sri Lanka in a virtual quarter-final match. New Zealand were their opponents in the semi-final, a game which England weren't at all favourites for, but they produced some of their best cricket so win by seven wickets. Jason Roy was marvellous, smashing 78 off 44 balls.
After that, the Carribean side never looked like they were going to do anything but progress to the semi-finals, comfortably seeing off both South Africa and Sri Lanka to book their place in the last four. A rested side lost surprisingly to Afghanistan in their final Super 10 game, but they were already through by then. The semi-final against India looked like it would go against them, as they lost early wickets after India posted 192, but Lendl Simmonds struck a fantastic 82* to help them to a seven wicket win - and into the final they went!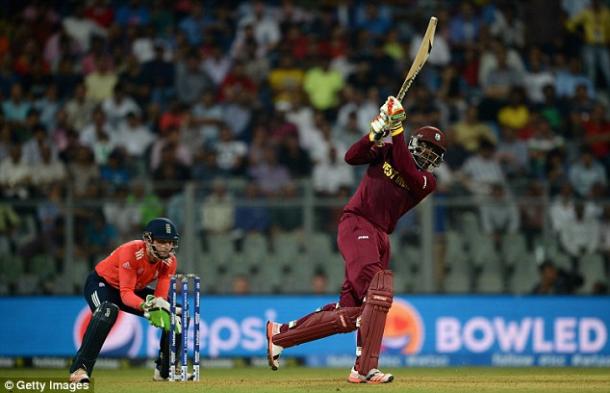 These two actually started their campaigns against each other, West Indies absolutely hammering England thanks to a Chris Gayle masterclass. It was all going fairly well for England, who posted an extremely competitive 182/6 from their 20 overs. It was all Gayle from then on though, the opener smashing a century off just 47 balls as his side won by seven wickets, with time to spare.
Let's start by taking a quick look at how each side got to this stage. They were both drawn in the same Super 10 group, with the other group yielding no eventual finalists.
Good afternoon everyone, and welcome to VAVEL UK's live ball-by-ball commentary of the 2016 World T20 final in India, contested at Eden Gardens between England and the West Indies. The toss is set for 14:00 BST, with the first ball set to be bowled at around 14:30. Keep following along with us as we take you through what promises to be an amazing final!