Day three of the four Specsavers County Championship matches in Division one saw plenty of action as all teams fought hard on the day to leave every game right in the balance.
The first two days saw plenty of action also as every game will have something riding on it going into the final day with results plausible if the weather stays good and every venue sees a full day's play.
Borthwick's second century of the game puts hosts in strong position
At Chester-le-Street, Durham are well on top against Lancashire as they will resume on day four on 239-4 in their second innings, 324 runs ahead.
Lancashire began day three on 205-4 and managed to get to 326 before being bowled out. This meant that after an innings each Durham had a lead of 85.
The stand out bowler on the day for Durham was Barry McCarthy who took five wickets for 70 from his 22 overs.
Durham then began their second innings well as they reached 239 for four at end of the day to give them a huge lead of 324.
Mark Stoneman was excellent at the top for the hosts as he made 62 from 129 balls. The main man again though was Scott Borthwick as he will return on day four 103 not out.
Borthwick continued his great form from the first innings as he made 134 to put his team right on top as they look to get a big victory against Lancashire.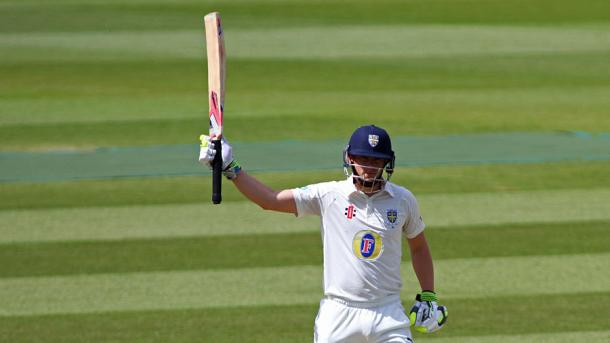 16 wickets fall at Trent bridge to set up tense final day
At Trent-bridge, it was a very eventful day with no fewer than 16 wickets falling on the day as Nottinghamshire ended the day 21 for three chasing 227 to win the game.
Nottinghamshire began the day 316 for seven in their first innings and managed to get up to 383 before being bowled out to give them a lead of 10 after both first innings had ended.
Warwickshire then began their second innings and kept losing wickets throughout as they were bowled out for 236.
Varun Chopra continued his good form for Warwickshire as he made 82 from 170 balls while Jonathan Trott made 59 from 64 balls but apart from the that the rest of the batsmen failed to do much. The main bowlers on the day for the hosts was Samit Patel as he took four wickets for 71 and Luke Fletcher who took four wickets for 25.
Nottinghamshire then came out to begin their second innings chasing 227 to win the game but lost three quick wickets to set up a cracker of a final day with both teams in with a chance of a win.
Rain frustrates hosts on the third day as Lyth scores century
At Taunton, Yorkshire began the day on 127-1 with Adam Lyth 80 not out and it wasn't long before the opening batsmen scored his century.
Lyth was finally out for 106 before rain halted play for a while during the day. Play then got back underway before the end of the day with Yorkshire losing five wickets for 11 runs at one stage as Somerset piled on the pressure.
Yorkshire stumbled along until a strong 10th wicket unbeaten partnership of 69 saw the visitors get to 306 for nine at the end of the day's play, 236 runs behind with the game likely to be heading for a draw unless something spectacular happens on the final day.
Middlesex push for victory halted by Burns
At the Oval, Surrey began the day 134-6 in their first innings looking to grind out more runs but were eventually bowled out for 242.
Ben Foakes remained 57 not out for the hosts as they were asked to follow on by Middlesex who were looking to force a win.
The hosts started much better the second time around and ended the day's play 98 without loss as they try and restore parity with Middlesex.
Rory Burns will resume on the final day 57 not while Arun Harinath 37 not out as they try and build on a strong start to the innings.