England claimed the first test match of their series with Sri Lanka inside the opening three days, as James Anderson took ten wickets when the hosts successfully defended 298 despite two Sri Lankan innings' at Headingley.
Rain threatened to haul England's progress
Following on after being dismissed for a dismal 91 in the first innings, Sri Lanka only delayed defeat thanks to the typical British weather and a brief flurry of runs by Kusal Mendis.
After rain early in the morning set day three off fifteen minutes late, Anderson quickly made up for last time by dismissing opener Dimuth Karunaratne to wicketkeeper Jonny Bairstow with another swinging delivery with the assistance of the cloudy and windy conditions. The Anderson - Bairstow combination had worked a treat in the first innings and it was present once more when Kaushal Silva prodded at a ball he should have left to depart for 14.
Mendis and Dinesh Chandimal offered some respite before lunch, though the latter should have been pocketed by James Vince just before the break at third slip. England's juggernaut was to be stopped at that point for the best part of three and a half hours as the rain descended, though they quickly regrouped when play resumed mid-afternoon.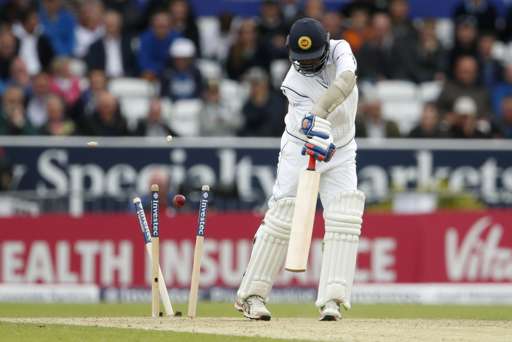 England bowlers make up for lost time
Within minutes of returning to the pitch, Chandimal chopped onto his stumps to Moeen Ali as more poor Sri Lankan batting put them in further peril. Mendis batted through to his half century, but wickets continued to fall. Stuart Broad saw Angelo Matthews caught behind by Bairstow once more, his ninth catch of the match, quickly followed by Mendis chopping onto his own stumps for 53.
The dark clouds continued to threaten but they were not as dominant as the England bowling attack. Anderson combined with Bairstow again to see off Dasun Shanaka, before Stephen Finn got in on the act when Rangana Herath chipped the ball straight to Broad.
Finn then added two more wickets, before Anderson took his tenth, in a nine minute spell that dismissed Sri Lanka for just 119, an innings and 88 runs short of England's modest first innings total. The tourists had lost seven wickets for just 26 runs on another torrid day for Headingley's visitors.
England will be delighted to get the opening points of the new scoring format, but fans who have tickets for the following matches will hope the game lasts longer than the 162.4 overs that made this the thirteenth shortest Test match of all time.