Alastair Cook has become the youngest batsman, and the only Englishman, to pass 10,000 Test runs and has joined an illustrious club in the process.
Following Sri Lanka's resurgence in their second innings, England had to bat again. Having been sat on 9,995 Test runs since his early dismissal in the first innings, Cook needed just 5 runs to pass the historic milestone.
He finally reached the milestone with a typically impeccable leg-side flick off the bowling of Nuwan Pradeep for four. The England captain went on to score 47* as his side comfortably beat Sri Lanka by 9 wickets.
Speaking to BBC Sport after the match Cook admitted that "It's a very special moment for me" and also allowed him to "forget all about the hard times you have as a cricketer". England coach, Trevor Bayliss, was also quick to complement the Essex and England opener calling him a "phenomenal batsman".
Alastair Cook just beats Sachin Tendulkar
Until today, it was Sachin Tendulkar who could claim to be the youngest ever batsman to join the 10,000 runs club. The England player, 31 years and 157 days old, beat Tendulkar's record who was 31 years and 326 days old when he scored his 10,000th run.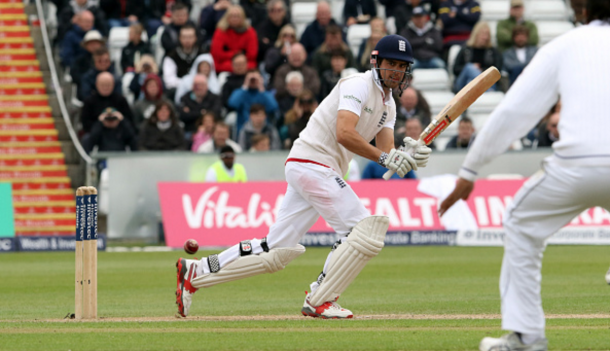 By reaching the milestone Cook has ensured he is considered amongs those considered the greats of batting. He is also the 12th batsman to reach 10,000 Test runs. Tendulkar is already the leading Test run scorer, 15,921, with Ricky Ponting, Jacques Kallis, Kumar Sangakarra, Steve Waugh, Sunil Gavaskar, Brian Lara, Allan Border, Shivnarine Chanderpaul and Rahul Dravid all also passing 10,000 runs.
Yet another record for sensational Cook
This is the latest in a long line of records for Alastair Cook, the opener has had an incredible career so far.
Alastair Cook was already England's highest ever Test run scorer having passed Graham Gooch at Headingley last May, aswell as scoring the highest number of Test century for England, 28. Cook is also the only English cricketer to have been involved in 50 Test victories.
Having made his debut due to a last minute injury to Mark Trescothick, Cook became the only Englishman, and 2nd worldwide, to score 1,000 Test runs in their maiden year.
In October 2015 Cook played the longest individual Test innings for England, batting for 836 minutes, before he later in the tour became the first batsman ever to have scored 1,000 Test runs against 6 different Test nations.