England fast bowler James Anderson is a huge doubt for the first test match against Pakistan starting next month after sustaining a stress fracture to his right shoulder blade.
Anderson suffers stress fracture to his right shoulder
Anderson, who recently moved up to the number one in the test match bowling rankings, would be a massive loss for England with him being their all-time leading wicket-taker as well as the leader of the attack.
The news about Anderson suffering an injury to his right shoulder was confirmed by the England and Wales Cricket Board on Saturday, who say that Anderson will definitely miss Lancashire's Specsavers County Championship match against Nottinghamshire at Trent Bridge next week.
The match against Nottinghamshire begins on July the 3rd, with the first test against Pakistan at Lords getting underway 11 days later, so Anderson will continue to be monitored to see if his condition for the match improves.
Anderson injured his bowling arm during the third test against Sri Lanka at Lord's earlier this month but it has now turned into a much more serious injury to his shoulder. Anderson had an amazing series against Sri Lanka, taking 21 wickets in the three-match series, including a ten-wicket haul in the first test match, so he would be hard to replace.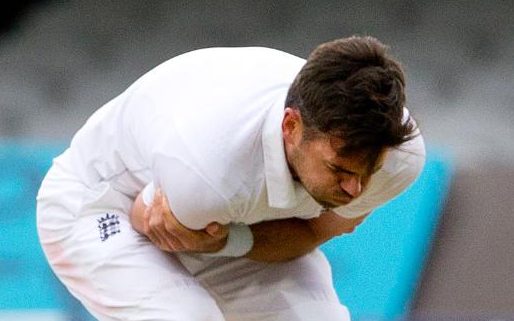 Who could replace Anderson for the first test match?
If Anderson is not fit for the first test it will be important that England make the right change to the team to make sure that they can still get the 20 wickets needed for victory during the match.
There are a couple of options that England could go with, Liam Plunkett is the first option as he is currently in good form in the ODI arena for England or they could go with Jake Ball who has been a part of the squad for the test series against Sri Lanka.