England and Pakistan meet at Old Trafford for their second game of the four match test series on Friday, with Alastair Cook's side keen to level things up after losing the opening game by 75 runs.
They'll be boosted by the return of key stars, and the hope that their better record up north rather than down south can help them pull the gap back.
England 1-0 down in the series
Indeed the first test was a disappointing one, as they suffered their third straight test match defeat to Pakistan, having lost 2-0 in Asia last year after drawing the first test.
Opting to bat first, Pakistan captain Misbah Ul-Haq was magnificent in his pursuit of runs, scoring a magnificent century to help his side to 339 all out, with Chris Woakes taking his maiden test match five-fer.
England's response was aided by their own captain, Cook falling just short of his century, with his side eventually conceding a first innings defecit of over 60 runs after being bowled out for 272.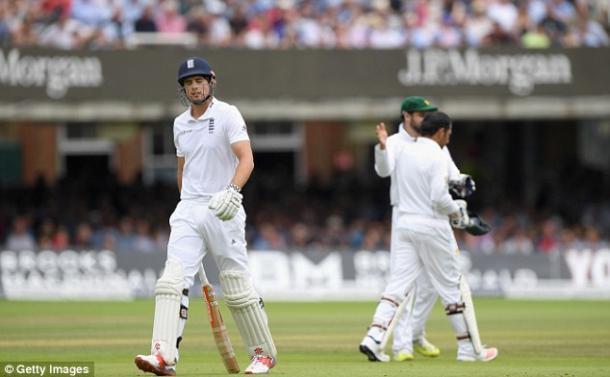 Woakes was again brilliant in Pakistan's second innings, taking another huge wicket haul to take his total to 11 for the match, but his efforts were in vain as Pakistan's 215 all out meant England would have to score one of the highest run-chase total's at Lord's to win.
They couldn't, Pakistan spinner Yasir Shah again their undoing as the hosts crumbled to 207 all out, losing by 75 runs.
Anderson and Stokes set for returns
However, things could be different this time, with England set to be boosted by the return of two key players. Steven Finn and Jake Ball, who both played in the first test, were initially called up in the 14-man-squad but then dropped, with James Anderson and Ben Stokes in line for a return. Adil Rashid is also in the squad, but it's thought that he may very well be the 12th man this time around.
England's bowling wasn't their problem in the first test, but Anderson - the country's all time leading wicket taker - returning will offer a huge boost and take some pressure off the likes of Stuart Broad and the in-form Woakes.
There was some controversy over Anderson not being selected for the first test, with coach Trevor Bayliss and captain Cook wanting their star seamer back, with other selectors deeming that he could do with an extra week to recover from injury.
Speaking about the incident, Cook said; "If we'd won, that story wouldn't have blown up like it has, it happened, it was a slightly messy affair and an unimportant sideshow. We have to move on and play good cricket."
Whilst Stokes will surely help with the bowling, his batting is the real reason that he's been brought back in with no questions asked, as England are in dire need of runs in their middle order.
Should Stokes be confirmed as fit to play and come back in, he'll look to help England deal with Yasir Shah, who England have had problems with for a long time now. Stokes paid great compliment to the spinner earlier this week, hailing him as "the best since Shane Warne".