A rain-affected third day saw England's bowlers deliver an excellent display. Yet much of the post-action talk will surround Alistair Cook's somewhat baffling decision not to enforce the follow on.
England waste little time in dismissing their visitors
After winning the first test last week, Pakistan found themselves in a terrible position on day three at Old Trafford. Chasing England's first innings total of 589-8 declared, the visitors were left at 57-4 overnight, a huge 532 behind the hosts. Opener Shan Masood and captain Misbah-ul-Haq came to the crease with more hope than expectation of delivering an innings-saving partnership. The former made it to 39 before James Anderson picked up his first wicket of the match on his return to the team, as Joe Root pouched him at second slip.
At 71-5 England sensed blood, only to be halted by an influx of typical Manchester rain. The short delay pushed lunch back by half an hour as England set about bowling their opponents over as soon as possible on their return the field.
Asad Shafiq did not last long as Stuart Broad dismissed him for just four with opener Alex Hales taking the catch. Wicketkeeper Sarfraz Ahmed offered some respite with Misbah as the duo took Pakistan into three figures, before a fluent 36-run partnership was ended by Stuart Broad when Root took his third catch of the innings. Yasir Shah followed for just one moments later, as Chris Woakes picked up a fourth wicket of the innings, with Root providing the safe pair of hands once more.
Either side of lunch Misbah and number ten Wahab Riaz launched a counter-attack as they made an aggressive 60, taking kindly to the slow pace of Moeen Ali in particular. Yet the spinner was about to get his revenge, as he forced Misbah into producing a catch for Cook just after he passed the half century mark. Moeen then completed the innings as he dismissed Wahab for 39, Alex Hales taking a tenth England catch of the innings. The 198 carded by Pakistan left them 391 runs behind and looking likely to bat again into the evening.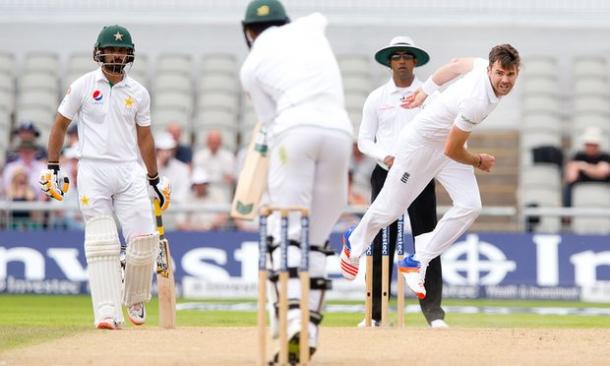 Cook opts to extend England's advantage
However, Alistair Cook had other ideas despite the unpredictable weather forecast and the fact only four sides had ever chased down a score of more than 400 that Pakistan had nearly reached. In a move that could only suggest the captain wanted to rest his bowlers, Cook and Hales came out to extend England's advantage.
In between three short rain delays, the openers flitted between acceleration and conservative batting, before Hales fell to an edge behind off Mohammad Amir after scoring 24. Joe Root saw out the day alongside his captain who is on the verge of a half century, taking England to 98-1, a mammoth lead of 489 runs. Depsite the controversial decision, the hosts will be delighted at holding such a healthy advantage and are still in a prime position to draw level in the series. With two days remaining, a likely early declaration tomorrow and refreshed bowlers, England should still wrap up the game by the end of play on Tuesday.