Some superb bowling helped England wrap up a 141 run win against Pakistan on the final day of the third test at Edgbaston, taking a 2-1 lead in the four game series with one to play.
Having conceded a first innings defecit of over 100, England completed a magnificent turnaround to win the game, bowling Pakistan out for 201 late into the evening to seal victory.
Quick runs before Cook declares
England went into the day with wickets still in hand after a marvellous second innings performance, with Jonny Bairstow and Moeen Ali adding 36 runs in the first four overs, before Bairstow's departure for 85 saw the declaration issued by Alastair Cook.
Having managed just 297 the first time around, England finished up on 445-6 dec in the second, handing Pakistan a total of 343 to win, with less than 90 overs to do it on a day five pitch.
The quality of batting had only improved as the game had gone on, so it was no foregone conclusion that the hosts would seal the win, especially when Pakistan stuck in, reaching 79-1 as the game entered the afternoon, and even when Moeen Ali and James Anderson struck to reduce them to 92-3, it still looked like the game would peter out into a draw.
Middle order collapse hands England victory
However, a dramatic middle order collapse from the visitors completely swung the game in England's favour, in an afternoon to forget for many.
Six wickets for just 27 runs saw the Pakistani's slip from 124-3 to 151-9, as Stuart Broad, Steven Finn and Chris Woakes shared the wickets with Ali and Anderson - they'd all finish with two wickets apiece. Younus, Misbah, Shafiq and Sarfraz made just 14 runs between them.
The job wasn't done just yet for England though, as an excellent last wicket partnership from Sohail Khan and Rahat Ali frustrated them, taking the game to the bowlers with a quickfire 50 partnership, eventually getting within 10 more overs of seeing the game out.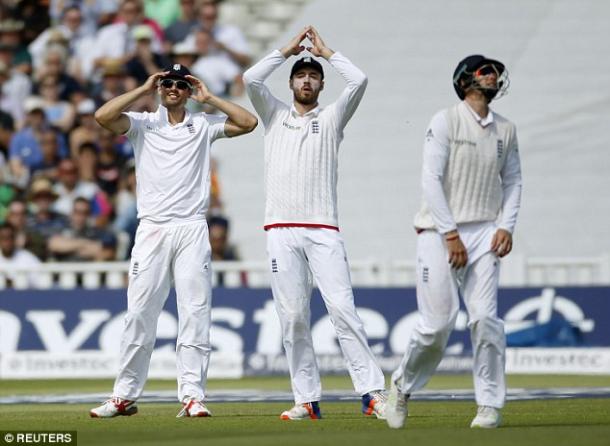 However, one big shot too many came from Sohail, who was caught and bowled by Moeen as he looked to drive him back down the ground, out for 36 as the game was brought to an end.
England now move on to the final test, which they'll look to avoid defeat in, in order to hold test series trophies against every single nation. They lead 8-4 in the super series, which takes into account all games between the two teams on Pakistan's tour.