Laura Trott won her seventh Rainbow Jersey at the Track World Championships yesterday, as she won the Omnium ahead of the USA's Sarah Hammer and France's Laurie Berthon.
The 23-year-old had a successful Championship, claiming Gold in the scratch race on Thursday, as well as bronze in the team pursuit, and now the 'golden girl' of track cycling is four titles off of Sir Chris Hoy's all-time British record of 11.
On Sunday, Trott finished third in both the flying lap and the 500 metre time trial, before keeping her composure in the points race where she won two sprints to make sure of the gold.
Trott hails 'incredible' Omnium win
Speaking after the ride to Cycling Weekly, Trott said: "I'm just so happy; it's taken me four years to get a gold medal back in the Omnium. It was just incredible."
As Trott had a bit of an advantage, getting the early sprint bonuses in the points race was vital; and after she did that she could relax a little knowing she had an advantage ahead of Hammer and Berthon.
"I wasn't completely bothered about what was going on with Sarah [Hammer, USA] and with Laurie [Berthon, France] because they were having their own battle," said the Omnium World Champion.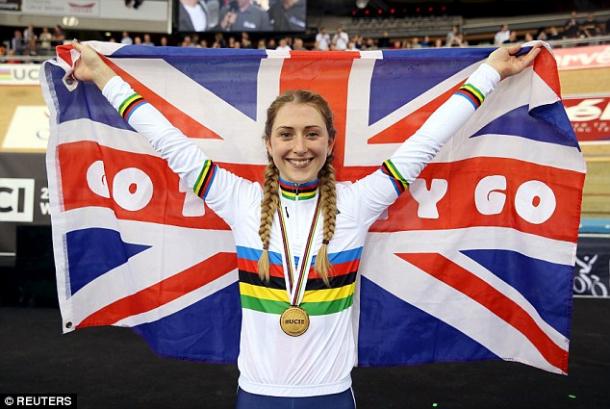 The evening before saw Trott lose out to Hammer in the elimination race; but the Matrix Fitness Pro rider got her tactics wrong which allowed the American rider to take the victory.
"I was a little bit disappointed that I didn't win the elimination race. I rode stupidly really. I should have taken Sarah down to the black line, but I didn't," said Trott.
Attention now turns to the Rio Olympics where Trott will be aiming for gold in the Omnium and also the team pursuit; but with her successes in the points and scratch race, she could be targeting four gold medals at Rio this summer.
"I could do the Omnium, the team pursuit, the points and the scratch, you never know," said Trott.