Yesterday Steve Cummings of Dimension Data escaped solo to win stage four of the Tirreno-Adriatico and add the victory to the one he got last year at the Tour de France.
He was acting as the rider to stop potential attacks in yesterday's stage, as Dimension Data's team leader Edvald Boassen-Hagen is looking to clinch the overall victory; but when the opportunity presented itself, the former Team Sky rider couldn't pass it up.
Cummings turns 35 next Saturday, but the old experienced pro is still showing the youngsters how to do it.
Dimension have evolved during the off-season, last year they were given a wildcard entry into the Tour de France, but now they are looking to progress both on and off the road. They made their intentions clear by signing sprinting superstar Mark Cavendish. But with the likes of Boassen-Hagen and Cummings in the squad they have enough firepower to challenge on multiple fronts.
'It makes a career to win these races' says Cummings
Cummings is certainly not the rider that grabs the headlines and wins endless amount of stages, he is just not that type of rider. But he is a workhorse and when a domestique like him wins a stage it is a great occasion for the forgotten men of cycling.
And speaking after the victory, he said: "It was a victory presented on a platter."
It seems Dimension have given Cummings a little more freedom than he would normally get in a race, but the former Team Sky and BMC rider is extremely grateful for wins like those at the Tirreno-Adriatico.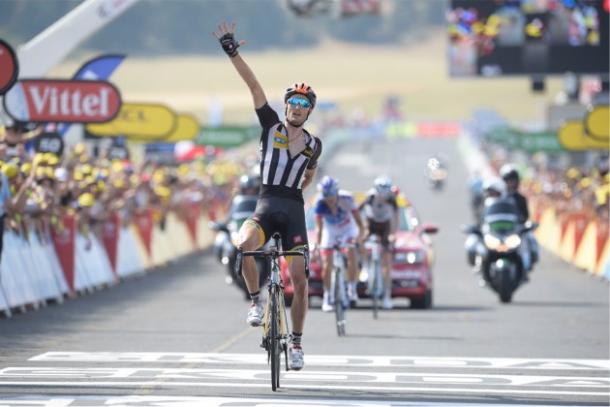 "They mean everything, it makes a career to win these races that I've won in these last two years," said the 34-year-old rider.
He continued, saying: "That's why I race the bike. I'm grateful to the team to give me this freedom."
More Classic races are around the corner, starting with Milan-Sanremo next weekend, if Cummings is allowed the freedom for those races, you could see the British rider spring a few surprises.