Team BMC's Greg Van Avermaet attacked with nine kilometres to go but was caught with just 250 metres remaining on the Weregem finishing straight as fellow Belgian Jens Debusschere took victory in what was an emotional day for the country.
In a week which saw terror attacks shake Belgium and the rest of the world; cycling didn't allow terror to win as Dwars door Vlaanderen went ahead despite fears. After a minutes silence for the victims of the atrocious attacks prior to the race, the cycling was fast and furious just as it should be.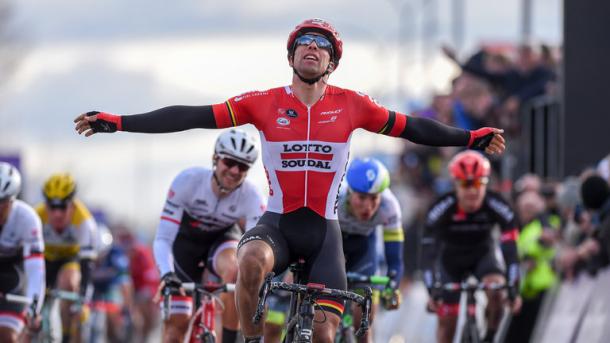 Van Avermaet tried his luck late in the day, but ultimately he didn't have enough in the legs to claim a victory in what is a notoriously difficult Classic race.
Attack was 'all or nothing' admits Avermaet
The 30-year-old has never tasted success in the door Vlaanderen. After finishing 22nd and 11th in his last two starts at the race, this time he finished 32nd after the sprint train's raced past him in the run up to the line.
Van Avermaet said after the race that his late surge was 'all or nothing', and in the end proved to be the latter, which the Belgian admitted was 'a pity'.
Attacking inside the final 10 kilometres is always a risky proposition in cycling; and sometimes it is a game of luck. On this occasion Avermaet was out of luck, after claiming that he 'had a small gap' which made him believe his failed attack would pay off.
Belgain falls 'just short'
The doors Vlaanderen is a difficult race and it is about timing your attack and seeing what other riders have in the locker.
Leading into the final left-corner, it seemed as though van Avarmaet had done just that, but it wasn't to be as the peloton swamped him. "I tried to save energy" said the BMC rider, who admitted everything would have had to go his way for him to claim victory, "but I fell just short."
Next up for Avermaet and his teammates is E3 Harelbeke, a race which Team Sky's Geraint Thomas won last year; but if Avermaet can stay within touching distance of the big-hitters, he could have a chance of picking up a podium place.