Cycling Weekly sat down with Team Sky's Geraint Thomas to discuss all things cycling as the Welshman embarks on a coming-of-age season with the British outfit.
Thomas has had a marvellous start to the season, already notching up victories at the Volta ao Algarve and Paris-Nice where he beat fellow Tour de France rival Alberto Contador to a famous victory just a couple of weeks ago.
But this season will be different for the 29-year-old as he goes into the Summer months with added pressure to perform. Moving away from his duties as domestique, Thomas is now becoming more of team leader; and at the Tour de France he will be Sky's second GC leader in case anything untoward happens to Chris Froome.
Thomas says he is 'used to the pressure'
Thomas, has been a fixture in Team Sky's setup for a number of years now, and having ridden some of the biggest cycling events in the world, 'pressure' is something he doesn't take too much notice of.
After all, he did ride in a team pursuit final at a home Olympics in 2012 – so now not a lot fazes the Welshman.
Thomas said: "The whole pressure thing, you're used to that on the track."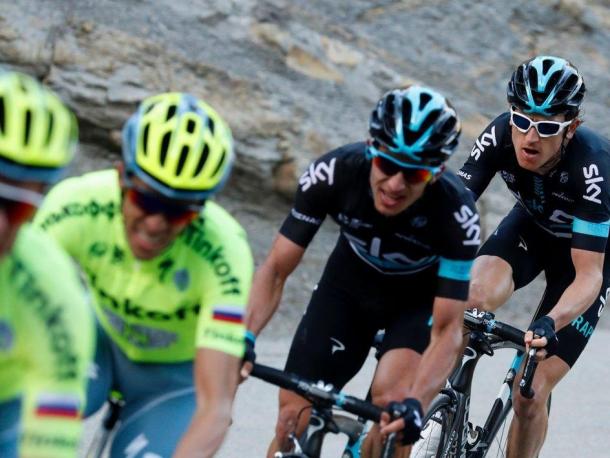 Thomas and his teammates at GB cycling enjoyed a very successful London 2012 in which Thomas came away with a Gold medal in the Team Pursuit, and now he says the pressure of riding the Tour or the Vuelta a Espana doesn't compare to the Olympics.
Thomas remains laidback ahead of big race season
With the 2012 Pursuit Gold in the locker already, Thomas admits that winning big races like that has helped him to deal with the pressure, saying "you've already got your way of dealing with that in your head."
Thomas has been known to be laidback and one of the more approachable members of the pro-peloton, so he tends not to get bogged down with worrying about what will happen in big races.
His preparation, including training is key, and once all that is complete, "what's the worst thing that's going to happen?" Thomas queries.