Geraint Thomas is going to have a new role at this year's Tour de France as he will be Team Sky's backup GC rider behind the two-time winner Chris Froome.
After a superb showing last year, the Welshman has shown he is capable of one day possibly winning the greatest race in cycling; but first he has to bide him time.
But so far this year Thomas has picked up some great results; he won the Volta ao Algarve, and then he beat Alberto Contador at Paris-Nice in a race that he described as the 'best win of his career'.
The 29-year-old is going strong and with the months ticking away until the main target this year; Thomas still has time to fine tune his legs ready for the big race in July.
Correct Tour preparation key for Thomas
Thomas is not riding the majority of the Classic races this year; he took part in last weekend Milan-Sanremo and then he will ride the Tour of Flanders, but he won't be focussing on Paris-Roubaix this year.
Instead Thomas will look at stage races for the ideal preparation for the Tour; there are plenty of options out there. The Criterium du Dauphine is regarded as a dress rehearsal for the Tour, and then there is the Tour de Suisse in which Thomas finished second in last year.
Tim Kerrison would rather Thomas ride the Dauphine,"because it's a dress-rehearsal of a Tour," admitted Thomas.
The Suisse stage race could be better for Thomas, because he feel what it is like to race with a whole team behind him, and after finishing second last year he wants to go there to try and win.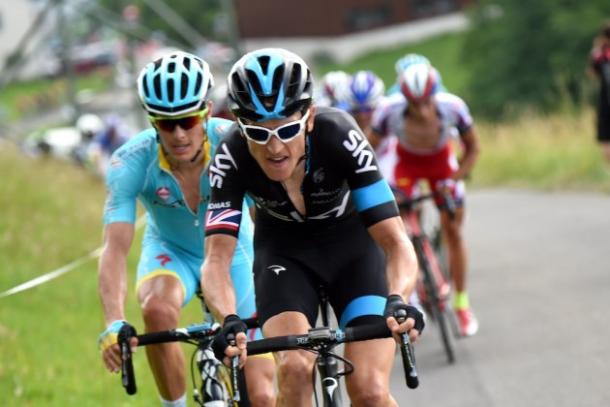 "Obviously after last year as well it would be nice to go back and try and put that right," said the 29-year-old.
Being 29, Thomas is entering the prim years of his career, the years in which he could win a Tour so it is vital he plans his schedule accordingly.
Thomas said: "The best years of my career are now and I want to make the most of them."
They do say a rider will enter his peak around 30, so with Thomas currently 29 he said, "I've got a good four, five, six years, even, at the top of my game."