With five or six years at the top of his prime Geraint Thomas has plenty of time to target the three Grand Tours but this year his focus is on the Tour de France.
Last year the Welshman performed admirably in aid of Chris Froome, and if it wasn't for a collapse on Stage 19, Sky might have had two men on the podium in Paris.
And his performances so far this season suggest he is ready to launch an attack on the podium this year, as Sky's backup GC rider.
But when discussing his future plans, Thomas hasn't ruled out targeting the Giro D'Italia and the Vuelta a Espana in coming years.
Thomas would 'love to podium in the Tour'
For any professional cyclist wining a Grand Tour is a dream, and a dream some cyclists rarely get the chance to achieve; but for the 29-year-old Welshman it is starting to become a reality with upturn in performances and results.
Thomas said: "The Tour is the race I'd love to one day try and podium [in]."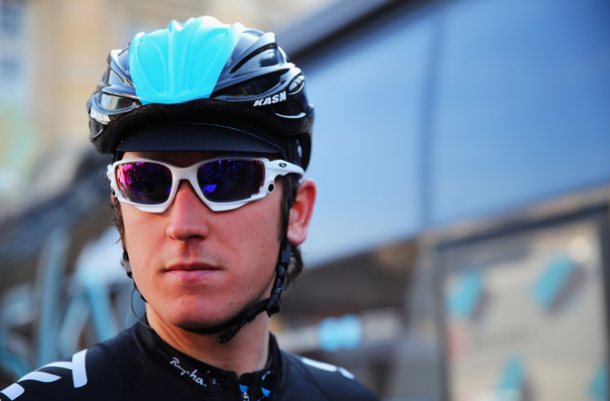 Even though he is still riding in support of the two-time winner Froome, Thomas will have a bit more freedom to try and get himself on the podium this; but he hasn't forget about the important work he will have to do for Froome.
"I'll target it as if I'm going there to get the best result from myself and do my bit with Froomey," said Thomas.
Over the years the Tour route has changed and become more unpredictable, very similar to what the Giro and the Vuelta is like, but it is something Thomas enjoys.
The Paris-Nice winner said: "The Tour is going down the Giro/Vuelta route where there's a lot more stages that are there to be raced.
To outsider of the sport, cycling can seem very boring; but to true fans it is so tactical and when the Grand Tour's enter the mountain stages anything can happen.
In a split second a rider can be on course for a good finish in a Grand Tour or the next he could be stuck in an echelon; and with the routes being varied the 29-year-old said:"There's a lot of undulating days where a lot can happen and go wrong."
But at the moment the Tour is the priority, and everything he does in the early part of the season, is in preparation for the Tour. But he concedes that next year he might target the Giro or the Vuelta.