The women's RideLondon race which is held in London each summer has received a major boost as it has been announced there will be equal prize money available for the women riders.
The men riders race for a pot worth $100,000 but now the women will be able to fight it out for the same amount; a substantial amount of money that shows just how far women's cycling is progressing.
Laura Trott won the inaugural RideLondon race, and will feature again this year, but it will also give the likes of Anna Van der Breggen, Lucy Garner, and possibly Marianne Vos the chance to add another race to their palmares, as well as the chance to bag some nice bonuses in the process.
The 5.5km circuit, which is held in central London and starts on the Mall, is part of a 17 race WorldTour series.
Event organiser Hugh Brasher 'believes in equality in sport'
Last year the men's winner, Jean-Pierre Drucker of BMC, pocketed $25,000 for winning the race, and then there were other riders which won performance bonuses.
Event director Hugh Brasher said: "We believe that it is right that the prize money for our new UCI Women's WorldTour event matches that [of the men's]," and he also talked about how it will hopefully set a "new standard for women's cycling."
It looks as though the RideLondon prize money scheme is going down the same route of the London Marathon, where there is equal money available for both male and female runners.
And speaking to Cycling Weekly about the huge announcement, Trott said, "Women's cycling is being given the recognition it deserves" as the sport looks to continue to grow and prosper in a year where the Women's World Tour was introduced.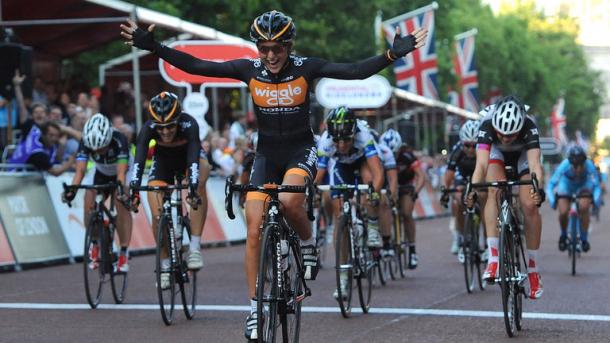 In terms of giving women's cycling a platform, the RideLondon event has been great. Last year they had cameras on the bikes giving the watching public a completely different view of bike racing and that, coupled with the live television coverage, means the race has been making huge strides.
But with the addition of equal prize money, it should certainly become a race where all the top riders will want to perform.