British superstar Lizzie Armitstead completed a career goal yesterday as she won the women's Tour of Flanders ahead of Wiggle High5's Emma Johansson in what was a photo finish.
The Flanders race was the fifth race of the newly formed WorldTour series, and Armitstead's victory on Sunday has put her back on the top of the pile, ahead of her teammate Chantal Blaak.
Armitstead and Johansson rode clear on the Paterberg in what was a gruelling day for the women riders and when they hit the 1km banner, they only had a 10 second gap; but ignoring the pursuers behind Armitstead kept her calm and led out the sprint and secured a famous victory.
Armitstead exclaims Flanders victory was 'the perfect day'
It was the first time the women's race got a decent amount of coverage, it wasn't perfect but it was a start, as Eurosport dipped in and out of the men's race to show the viewers what was happening in the women's race.
The build-up to the race suggested there would be a good number of riders in the final shake up, but in the end it was the 27-year-old Armitstead and Swedish rider, Johansson who competed for the victory.
And speaking to Cycling News after her big win, Armitstead said: "It was a really strange race with just two in the front."
It was never going to be a straightforward finish with Johansson on Armitstead's wheel, after all Johansson is a silver medalist as she finished second in the road race in Beijing; she is no slouch and Armitstead said she 'didn't underestimate' her capabilities in the final reckonings.
At the start of the season, Flanders and the Olympic road race in Rio was the 27-year-old's main objective; she has one in the bag and now she can switch her attention to the big one this summer.
"I've got that win, that career goal done, and now it's all about shifting focus," said Armitstead after her victory.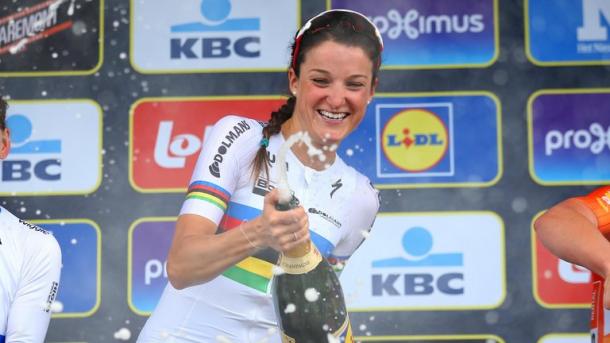 The Olympics in the summer is a big draw for the women's cyclists, everyone will want to go out there and etch their names into the history; but if Armitstead keeps performing like she is doing, not many riders will be able to stop her.
And winning in the Rainbow Jersey is no mean feat; there has long been a stigma attached with the jersey, but both Peter Sagan and Armitstead is banishing that theory this year.
"It's really special to win, and to win in the rainbow jersey is even more special," said Armitstead in closing.