Fabian Cancellara has begun his farewells from the sport that has served him so well over the past 20 years as he insists it's the "right time to leave the sport."
The Trek Segafredo rider is one of the most successful riders ever to grace the sport; he has won three Tour of Flanders, as well as Paris-Roubaix three times; and in the Grand Tour's he has held the leaders jersey on multiple occasions.
This season marks his last in the saddle as 'Spartacus' looks to pastures new; but he has still shown that he is capable of winning some of the biggest races. Last Sunday he finished second at Flanders, 25 seconds behind Peter Sagan, but this Sunday he is hoping to win Roubaix for a fourth time.
Cancellara ready to say his goodbyes
Cancellara has been an iconic figure in bygone Flanders races; in the past he has produced some magical moments and last Saturday he was close to winning his favourite race.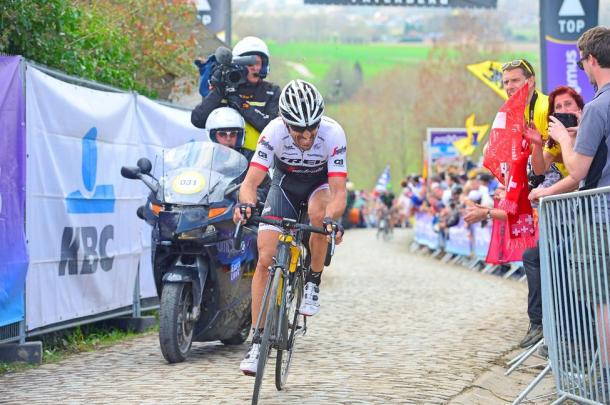 But this is his last season, and speaking a couple of days after the race, Cancellara said: "There's not a single part of me that doesn't want to retire at the end of the season."
Many riders don't get the chance to retire on their terms, albeit to injuries or other factors – but Cancellara is in a privileged position as he can decide when the time is right, and for Cancellara this season is the time to call it a day.
"It's time to go. I think it's good that I'm retiring when I want to," said the 36-year-old Trek rider.
Spartacus 'sad' it will be his last Roubaix this Sunday
The Roubaix is another historic cobbled Classic which has made careers, and fortunately for Cancellara he has been able to win the event three times; which he said has provided him with "great memories of Roubaix."
And despite not winning Flanders last weekend, the Swiss rider is still one of the favourites along with Sagan, and Sep Vanmarcke. Speaking ahead of the race, Cancellara said: "I will be ready to fight more than ever and will never give up. It will be a battle to the finish line."
Flanders and Roubaix have been such a big part of Cancellara's cycling career and he admitted it was 'hard' to say goodbye to Flanders, and he reckons it will be "even harder" to wave goodbye to Roubaix.
But he said, "I've been preparing for this race for weeks and months, so need to make sure I will make it a good farewell," as he aims to win Roubaix for a fourth time.