Fabian Cancellara finished second at Tour of Flanders last weekend but this Sunday he is hoping he can win Paris-Roubaix for the fourth time as he plans to retire this season.
The long farewell for one of the greatest riders the sport has seen has started; but 'Spartacus' is not thinking about his pending retirement at the moment: his focus is on Roubaix.
Cancellara entered Flanders as favourite, but it was Peter Sagan who produced a storming last 15km to win his first monument at the expense of the Trek rider who finished second.
But now Flanders is over, Cancellara can only think about the next objective, and that next objective is the notoriously difficult Roubaix.
Cancellara says he has to start Roubaix with his 'game face on'
With 27 sectors of pave and some steep climbs, the riders will take in a lot of riding over the 250km course; but it will be inside the final 60km where the race will be decided.
As he crossed the line last weekend, Cancellara appeared to be quite emotional and speaking ahead of the race this weekend, he said: "Emotional? I didn't know how I'll react on Sunday [Tour of Flanders]. I have to think about Roubaix only."
Both the cobbled Classics have held special moments Cancellara; he has won Roubaix three times and is bidding for a fourth, but he knows there are some great riders on the top of their form at the moment.
Cancellara alluded to the press that he has to be 'mentally ready' for Sunday, because, "otherwise it will be a long Roubaix. I race to win on Sunday," as the likes of Sagan, Tom Boonen and Sep Vanmarcke are all favourites this weekend.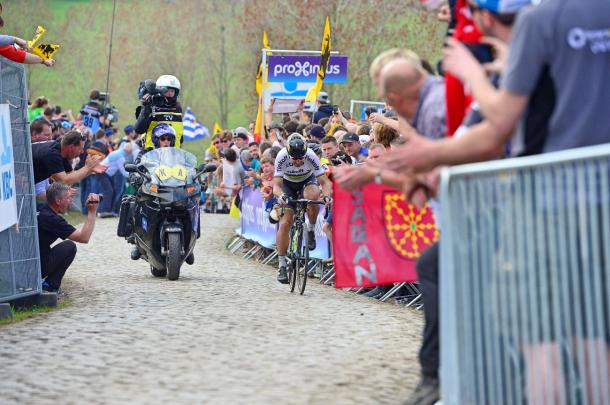 It would be a fitting way for Cancellara to say goodbye to the Classics by crossing the Roubaix Velodrome finishing line first; but even he knows that cycling is unpredictable, and especially in a race like Roubaix.