Hailed as one of the best stage racers the sport has seen, Spaniard Alberto Contador is rethinking his retirement plans after winning at the Vuelta al Pais Vasco.
It was the fourth time Contador has won the event in the Basque Country and he did it with an impressive time-trial in the last stage.
It hasn't been the best early season in terms of results, he missed out on the Paris-Nice crown as Geraint Thomas held on to win. And he also missed out in the Volta a Catalunya; so the win this weekend was welcome relief, as it was, in-fact his first race win since the 2015 Route de Sud.
Contador's retirement might be put on hold for now
Contador claimed that it would be his last year in the saddle, but the 33-year-old has been impressed with his early season showings.
Speaking after winning at Pais Vasco, Contador said: "For me it was a pleasure racing and winning the Vuelta al Pais Vasco."
It should give the Spaniard confidence now as his attentions will turn to the main objective, which is the Tour de France.
Contador is a two-time winner of the Tour as he won it in 2007 and 2009; and this year he will be bidding to win it for a third time; and being 33-years-old there is still time for Contador to win yet more Grand Tours.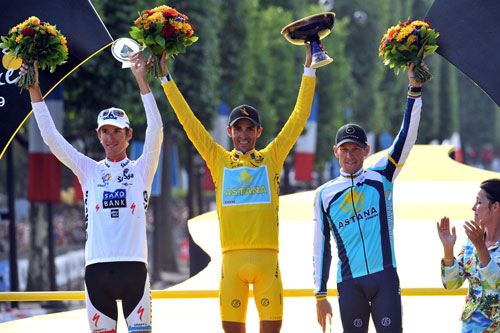 A rider can be a long time retired and Contador has been thinking about the decision, saying, "Probably I will continue riding. I'm sure this isn't the last time I come here."
Contador has been at the centre of cycling for many a year, and at the moment there is plethora of young talent emerging; and in a couple of years time he is 'aware' that the peloton will get faster and as will his younger rivals.