The LottoNL-Jumbo rider Sep Vanmarcke attacked on the Carrefour de L'Arbre but he couldn't sustain it as Matt Hayman rode to an impressive victory in the Roubaix Velodrome.
It was one of the best Paris-Roubaix's seen, as the riders gave everything; the race had crashes, gutsy performances, but for Vanmarcke it was another year which the Belgium rider missed out on a podium place.
The last 20km was full throttle as Ian Stannard, Tom Boonen, Edvald Boasson-Hagen, Hayman, and Vanmarcke all exchanged blows; but for the 27-year-old he expended to much energy trying to get away on one of the final cobbled sectors.
Vanmarcke 'hoped' for podium place at Roubaix
It was all working out perfectly for Vanmarcke; one of the big race favourites, Fabian Cancellara crashed in the group behind, and when Vanmarcke went on the attack and drew out a lead of nearly 10 seconds it looked as though he would continue onto victory.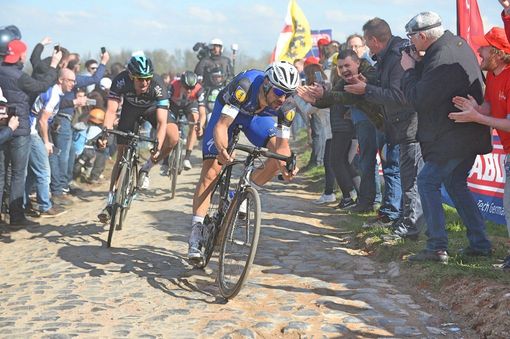 But it wasn't to be, and speaking after the race, he said: "I'd love to win but I received a blow when I was caught back after the Carrefour de l'Arbre."
Vanmarcke will have to wait for next year now, but he insists he 'believes' he can win it one-day, and he further displayed his confidence by saying, "I think every year I've got the chance to win it."
To win Roubaix, a mixture of things have to align; the race tactics have to be spot on, and then an element of luck has to be with the winner, and Vanmarcke quipped afterwards that: "One day luck will be on my side."
Previous winners in the past include Cancellara, Boonen, and Johan Museeuw; these are riders that have the experience but also the toughness to win what is the most difficult of cobbled Classic's.
"Maybe I lack the age, the toughness to add one more gear at that moment, to keep going. There's still time," added a disappointed Vanmarcke.