Luca Paolini has been banned by the UCI's anti-doping tribunal after testing positive for cocaine during the Tour de France nine months ago.
The Italian, who was riding for Team Katusha at the time of the positive test, was withdrawn from the Grand Tour following stage seven, having tested positive for the recreational drug.
​Katusha man ineligible after Tour de France doping
The 39-year-old was found guilty by the tribunal of a "non-international anti-doping rule violation" and was declared ineligible from the sport for 18-months. It has not yet been underlined whether this will be backdated from the time of the positive test.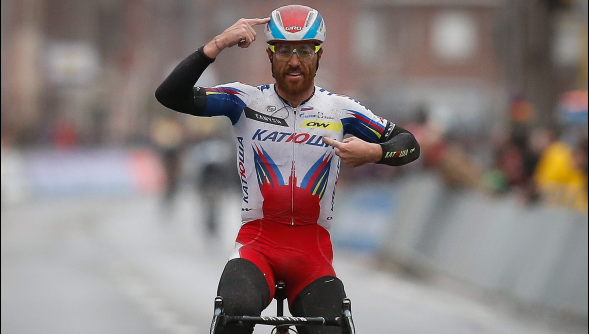 Paolini, who was provisionally suspended by the UCI and his team, admitted to having a sleeping medicine addiction, which lead to him taking cocaine alone at a pre-tour training camp.
This test means the bearded rider joins Italian compatriot, Mattia Gavazzi (Amore & Vita - Selle SMP) as the second rider on the list who has tested positive for cocaine this year. It was announced that Gavazzi had been provisionally suspended by the UCI for a positive test of cocaine at the Tour of Qinghai Lake in 2015 which was his third positive test of the substance in his career.
​Drug addiction known by Paolini's team
The Russian team that parented the cyclist reportedly knew about his addiction to the sleeping medicine, but not to the one-off time he took the class A drug.
In order to fight off the drowsiness that was brought about as an effect of the medication, Paolini would drink more and more coffee before a race in order to stay alert.
If the ban does backdate to the time of his positive test, then Paolini will be eligible to return in early 2017, when he will be 40 years of age.