With less than 100 days to go until the Olympics in Rio British Cycling is in disarray as the events of this past week have completely shattered the equilibrium that existed prior to this 'damaging' week.
By 'equilibrium' I mean that tranquil and serene setting which for so many years GB cycling has operated under; they allow their athletes to train without any 'distraction' so that they can focus on the task at hand.
But this week was like none other. Shane Sutton has stepped down amid claims of 'bullying', 'sexism' and to top it all off 'discrimination.' And to end the week on a another negative point Simon Yates of Orica-GreenEdge tested positive for a substance called Turbutaline. By all accounts it has not been a good week for British Cycling.
It was probably a week that started fairly innocuously at GB HQ, but by Wednesday it had all gone south.
Of course the chiefs would have seen the article The Daily Mail ran with Jess Varnish – a rider who in my opinion was unfairly let go by Sutton and GB cycling earlier this year as they didn't think she had a chance at medalling at Rio and even in Tokyo at the next Olympic Games.
If they thought it would blow over, they were sadly mistaken – it caused a storm not seen in British Cycling for a long, long time.
Varnish made some pretty strong allegations about Sutton; who was technical director of GB and a man who along with Sir Dave Brailsford had changed the fortunes of British cycling. Since his arrival in 2002 GB have won 34 medals, that's including the Paralympians.
But the 25-year-old Varnish said Sutton told her to 'get on with having a baby' and also that her 'ass' was 'too big' – that was blow number one.
They might have thought those allegations would be all; but how very wrong they were. Blow number two was ten-time paralympian medal winner Darren Kenny coming out and saying he heard Sutton refer to para-cyclists as 'gimps' and 'wobblies.'
Well as you can imagine that was the final straw in the camel's back; Sutton stepped down citing he didn't want 'distractions' to cost the athletes in Rio.
So by Wednesday night GB cycling was in complete turmoil. Andy Harrison, programmes director has taken over until Rio; and head-honcho Ian Drake faced an uncomfortable interview with BBC's Dan Roan, all this just months before the Olympics.
The timing is just wonderful as GB's wheels are threatening to come off
For some of the riders involved, the Olympics are the pinnacle of their sport; and the biggest event they will ever compete in.
And the timing of this debacle has certainly not been ideal; whether it will affect our chances of being able to recreate the success of London 2012 is something we will have to find out nearer the time.
If you ask me, it is bound to have some affect on the athletes; what people have said about Sutton is that his approach to management is slightly different, but one thing you cannot argue with, was the results he achieved.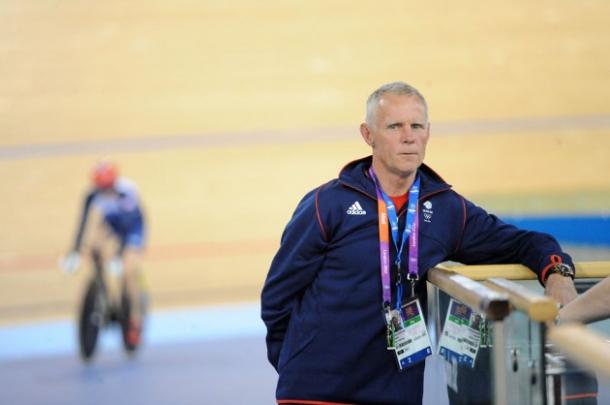 Whereas before he had the calming influence of Brailsford, but since Brailsford moving over to Team Sky, the brash Australian has been able to largely go unchecked in his methods of coaching and rallying his troops. And it looks he might have over-stepped the mark on a few too many occasions.
But is there really this 'sexist' culture operating underhandedly in British cycling?
One of the biggest features of this week, have been the allegations of 'sexism' operating in British Cycling; this was mainly aired by Varnish originally and then former riders of the ilk of Victoria Pendleton and Nicole Cooke came out and publically backed Varnish. As did current women's World Champion Lizzie Armitstead.
It's hard to tell if British cycling are indeed sexist but I along with Pendleton and Cooke do believe the accusations Varnish levelled at Sutton. To me, he has always come across as an arrogant, no-nonsense coach; and in some respects you need that in a coach.
But it seems Sutton has over-stepped the mark. It's hard to really tell if there is indeed inequality; media reports this week have certainly highlighted that there could well be.
And if you look across all the disciplines of cycling; the women's game is only really starting to take off; the expansion of the Women WorldTour was much needed after London 2012, but it failed to happen. You have to question why that was.
And also why there was not a women's Team Sky back in 2010, when British cycling joined forces with Sky – it would have made sense, certainly when you had riders such as Emma Pooley at the peak of their powers.
For some it might not be a issue of inequality and sexism; but to me it all points to the culture people are talking about today – there is a link and with the independent review coming up; it might be a good chance for GB cycling to change approach and listen to their riders.
It's safe to stay British cycling are at an important junction; they have to make sure the best is done on behalf of the athletes. Many of them have worked too hard and sacrificed way too much to see their chances of winning Olympic gold in Rio vanishing into thin air.
Harrison is in charge at the moment but it only seems to be a stop-gap; the next replacement needs to be someone of experience, someone that can relate to the athletes without being overbearing and rude; and above all it has to be someone that can be able to deliver results – because otherwise we might just see the changing of the guard in track and road cycling at this year Olympics in Rio.