Thomas Voeckler (Direct-Energie) has spoken of his surprise and gratitude at the number of Bristish fans who came to support him at the Tour de Yorkshire.
Coming into the final stage of the second edition of the race, Yorkshire was still yet to see its first stage winner, but it eventually came in the form of the crowd favourite Thomas Voeckler.
​Voeckler "keen" to get back to Yorkshire
Voeckler admitted the racing last year made him feel "​a little uneasy​", as he "sometimes got more encouragement than the British riders." It was for this reason why the 36 year-old could not wait to ride in the second edition of the race.
The Frenchman revealed that the race "was like riding in my home region in the Tour de France​." Over 2 million spectators swarmed to watch the three-day race unfold, with banners and flags with the champion's name decorated upon them leaving the rider "absolutely amazed."
Children and their parents alike took to the Direct-Energie riders' team coach and personal BH bike before the day's racing began, taking photos and discussing their admiration for him.
Tactics pay off for the 36 year-old
Voeckler spoke of his tactics, and how he had to ignore his natural attacking mindset due to the Scarborough wind and rain and the sheer number of riders Team Sky would have had to close him down.
Voeckler believed that "having the experience of the final four kilometres" from last year helped him plan out how he was to tackle the final, crucial stage.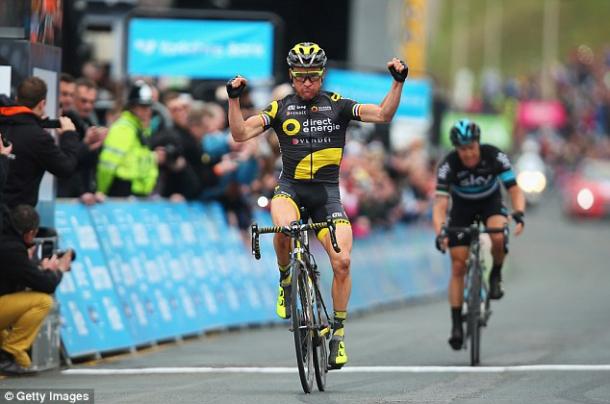 After having scaled Oliver's mount, only six kilometres from the finish, Voeckler managed to get across to Nicolas Roche of Team Sky, and now had the primary objective of not letting the three chasing riders close the gap.
Despite the pair having a decisive 500 metre gap, the Direct-Energie man was still far from sure that he would win.
​Scarborough sprint sees Voeckler crowned champion
"​I wasn't confident I would beat him​" admitted the eventual winner, as he spoke of how Roche is "Usually faster in the sprint​".
Anthony Turgis of Cofidis​, who eventually claimed third position, and was a favourite to win overall, had an influence of Voeckler's approach to the final sprint, as the veteran took his "lack of fear and complexes".
With Voeckler being the rider who has competed in the highest number of race days in the international peloton since the start of the season, his aim now is "to take a bit of a breather​" before getting back on the bike to challenge in the Tour de France.