It hasn't been an ideal start for Alberto Contador at this year's Tour de France after two crashes in the opening two stages has left his bid for overall glory in jeopardy.
The opening week of the La Grande Boucle is always a nervy affair as the GC contenders want to be as close to the front as they possibly can to avoid any crashes; but for Contador lighting struck twice on the first two stages as he tumbled.
His first crash looked nasty, as he cut up his shoulder and his hip; and then his second on Sunday's stage was more of an inconvenience as multiple riders landed on top of the two-time Tour winner.
But despite being over a minute down on his rivals Chris Froome and Nairo Quintana, the 33-year-old is confident of his chances.
Contador admits his left leg is giving him 'problems' as the Tour rolls on
Such is the unpredictable nature of the Tour, you never know when disaster will strike, and for Contador it seems all his bad fortune has happened in the opening week.
Speaking about his injuries, the Tinkoff-Saxo leader said: "Today was more or less okay but I've not been able to ride well because I can't go too much on the pedals because of the pain in my legs."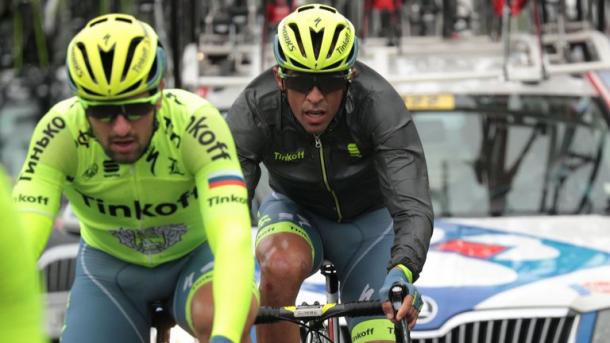 It seems the shoulder is starting to heal, but now Contador is having complications with his left leg which is not ideal as the Tour heads into the first week.
There was a moment over the weekend where people thought Contador might not have continued, he was pictured leaving a hospital and many suggested the crashes might have had an adverse effect.
"I know that I'm not feeling better than yesterday but I'm still here," admitted a solemn Contador.
The plan for Contador is to limit his losses; the opening has a mix of terrains, but the high mountain stages don't start until the second week, so if Contador can avoid anymore crashes he might be able to force his way back into contention.
"This Tour, and in this moment, it's very difficult for me but it's only stage 3 of 21 and I still have my morale even after my crashes," said Contador.