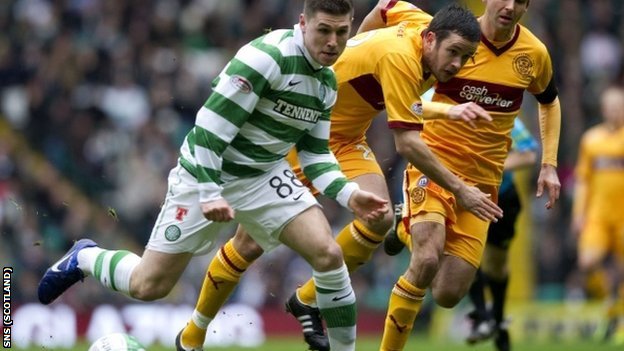 SUMMARY Celtic didn't have lots of work to do during the second half after their clear lead at half time, if St Johnstone had any chance, the substitute Commons turned it off with a well taken penalty. Mulgrew rounded Celtic's performance with a sweet left-footed shot from inside the area. It was a good recovering exercise from a Celtic side that disappointed in the same turf on Saturday, their morale will be sky high now after a good performance against a St Johnstone team that didn't show anything until the late minutes when Celtic had clearly taken their pedal off the gas. We'll be back with SPL action on Sunday, Celtic will travel to Dundee to play against a Dundee United whose high flying start was followed by some bad results. We'll be there to explain you Celtic's highs and lows at Tannadice at the end of this week. Have a nice night and stay tuned to Celtic_VAVEL. See you!
90' Final whistle. Celtic are through to the semifinals after a 5-0 trashing of St Johnstone.
89' Costless kick for St Johnstone after Izaguirre fouls Craig. Craig's delivery is disappointing, no one could head that overhit ball.
87' Lustig and Hasselbaink are booked after an off the ball clash.
86' Some space for the Saints as Celtic have switched off a bit. Hasselbaink's shot was saved by Forster, whose fingers avoided the Saints' first goal of the night, the ball hits the post and it's a corner for the visitors. No danger for Celtic.
84' Corner for St Johnstone, the set piece almost ends in a goal as Robertson's shot nearly beat Forster. Another corner, no danger for Celtic's defenders.
82' McCourt gets away from 4 players before being fouled. Gary Miller is booked. The Bhoys at Parkhead clapped the Northern Irishman after that run.
80' Matthews shoots after a good assist from the unselfish Tony Watt. His shot is deflected. In the build up, Wanyama had shown a really good trick to dribble several Saints' players.
77' St Johnstone serve a corner but Moon shoots the ball way over the man.
74' Hasselbaink replaces Gregory Tade. The Frenchman looked isolated up front today.
St Mirren get their second goal in Aberdeen. 1-2 now and a tough task ahead for the Dons if they want to reach the semifinals.
71' Celtic get their 10th corner tonight. Paddy McCourt replaces Efe Ambrose.
66' Watt¡s cross was almost a goal after Mackay nearly deflected the ball to his own net. St Johnstone look exhausted and morally destroyed. The following corner is served by Commons,no danger for St Johnstone as the ball is cleared by their nervous defence.
65' Murray Davidson is replaced by David Robertson. Celtic make a substitution too, Brown makes way and Adam Matthews is in to replace him.
63' GOAAAAAAAAAAAAAAAAAAAAAAAAAL, IT'S MULGREW NOW!!! The Scot is in the end of a great pass from Lustig, who overlapped Brown in a great move. The versatile defender looked like failing to control the ball, when the chance looked lost, he recovered and fired a good shot with his left foot to make it 5-0.
61' Watt dances through the Saints defence, he was in a good position to shoot but he preferred to assist Ledley. Misunderstanding there as the ball ends in St Johnstone's feet.
59' GOAAAAAAAAAAAAAL!! COMMOOOOONS SCOREEEEEES, IT'S A HAT TRICK FOR HIM TONIGHT!!! He fires in a shot to the left top corner, great penalty kick. 4-0
58' Penalty for Celtic as a low cross from Mulgrew is to be controlled by Watt, a defender fouls him and the referee signals a penalty. His shirt was clearly taken by the defender.
56' Corner kick for Celtic. Outswinging right corner taken by Commons, he delivers a short pass to force another corner. No danger for St Johnstone and they start a counter attack lead by Tade, after some suffering moments for Celtic's defence, he crosses and Celtic are back in posession. Tade showed good pace and technique there.
52' Costless kick on the left hand side for St Johnstone. Mackay knocks it to the far post and the ball goes out. Goal kick. Ambrose was shown a yellow card for the tackle that lead to the costless kick.
50' Tony Watt gets a yellow card after a high tackle.
46' The game gets underway with Celtic in posession. Mulgrew has replaced Hooper, the Englishman is rested by Lennon after a fine performance during the first 45 minutes. Nigel MacLean replaces Rowan Vine after an anonymous match from the Englishman, who couldn't replicate the form that lead him to score a brace against Celtic earlier in the season.
21:43. Vernon has equalised for Aberdeen. 1-1 now at Pittodrie. Meanwhile, Arsenal aren't having a good night at the Madejski Stadium as they are trailing 4-1.
SUMMARY: St Johnstone tried to follow Kenny Shiels' script that lead Kilmarnock to a win on Saturday and, to be honest, it worked for him during the first 25 minutes. Once Commons shot accidentally ended in the back of the net, it's been a one-sided contest where Celtic has clearly dominated the visitors. Kris Commons has been in fine form with a further goal and an assist to Gary Hooper. Steve Lomas will have to do a massive motivational speech during the half time break if he wants his team to claim a good result tonight.
45' Half time at Celtic Park.
42' Tony Watt's attempt is deflected in what looked like a decent chance. St Johnstone are in posession, but the ball doesn't last a lot in the Saints' players feet.
Celtic's passing game has improved a lot since Hooper's goal, they are showing lots of confidence now to move the ball around the park while St Johnstone chase them.
40' HOOOOOOOPEEEEEEEEERRRR!!!!! Izaguirre makes a first touch pass to Commons, whose low cross is taken to the back of the net by Gary Hooper. And it looks like game over now after Celtic's three-goal lead.
37' Izaguirre's cross is blocked and it's a corner for Celtic. Short corner and a good cross from the left, Mannus saves a header from his own defender, Lustig heads again and a defender clears the goal from the line. The play ends, surprisingly, with no harm.
34' Almost a mess for Celtic as Izaguirre heads a ball to Forster. Tade almost gets to the end of it but his touch is too heavy and it's a goal kick for Celtic.
32' COMMOOOOOONS STRIKES AGAAAAAAIN!!!! Great assist from Hooper after a nice build up he started in the middle of the park and Kris Commons beats Mannus with a low shot with his right foot. 2-0
30' Mackay receives a yellow card.
27' GOAAAAAAAAAAAAAAAAAAAAAAL!!! CELTIC GET THEIR FIRST GOOOOOOOOOOOAL TONIGHT!! IT'S KRIS COMMOOOOOOOOOOONS. The Scot shoots from close range and a defender deflects the ball to his own net. Disaster for St Johnstone as they will be more open now while they try to equalise.
24' Commons makes his third attempt of the match. His low shot is saved by Mannus, Watt tries to shoot the ball but a defender clears it before he can score the opening goal.
It's been a quiet game so far, Celtic haven't hit the target since Commons attempt. Hooper and Wanyama's efforts were off target and, while they move the ball well, they aren't really pressing St Johnstone like they did during the first minute.
20' Celtic get a corner. Outswinging corner from the left, St Johnstone clear the ball but Izaguirre gets it back, his pass isn't the best as the ball goes out. Throw in for St Johnstone.
Down south, Reading are giving Arsenal a hard time, after less than 20 minutes, they are leading 2-0. Roberts and Koscielny (own goal) were the scorers.
14' Lustig crosses a low ball to Hooper, the Englishman shoots out left, way off target.
13' Izaguirre's overhits a cross, it's a goal kick for St Johnstone.
St Mirren get the first goal tonight as they nick a 0-1 lead at Pittodrie, Sam Parkin was the scorer and gives Craig Brown a headache at the moment in Aberdeen.
8' Commons takes a shot from distance, Mannus parries the ball away, Celtic get the ball back and Commons tries again, his shot had good direction but was too weak.
7' Brown avoids a tackle and makes a low cross, a defender almost scores an own goal and it's a corner. Outswinging corner from the right, no danger for St Johnstone as they clear the ball easily.
6' St Johnstone obtain their first corner of the game after Wilson touches the ball while he tried to disposess Tade with a sliding tackle. Outsinging corner from the right, Forster collects the ball easily.
4' Wanyama gets Celtic's first chance, he receives a headed assist and heads the ball off target, over the bar. It's the first attempt of this game.
Celtic are getting lots of time on the ball during this early stages. They are pressing well with their forwards. St Johnstone have most of their men behind the ball. Celtic Park looks empty tonight.
1' And the game gets underway!
20:35. Miku started during Celtic's defeat in Perth, today he is replaced by Tony Watt. Lennon wants to add more pace and mobility to his attack, Watt showed a great understanding with Hooper when they played together at the Tulloch Stadium in Inverness. That day, the youngster scored a brace and created several chances with his movement up front.
20:25. Steve Lomas looks for a famous win despite Celtic's ability, and reminds that they have already beaten them this season:
"We know it's a tough time to catch Celtic but we are looking forward to it. The pitch looks great and it's a lovely drizzly evening, perfect for slide tackles.
"We beat them earlier this season and it will need another totally committed display for us to come out on top. We need to make sure we don't give Celtic a start; the first 20 minutes are vital."
20:21. Bench: Zaluska, Kayal, Mulgrew, McCourt, Matthews.
20:20. Celtic XI: Forster; Lustig, Wilson, Ambrose, Izaguirre; Brown, Wanyama, Ledley, Commons; Hooper, Watt. Some changes to the starting XI after Celtic's below par display last Saturday, Matthews, Kayal, Miku and Mulgrew make room for Lustig, Wanyama, Watt and Brown.
Neil Lennon: "St Johnstone will be very motivated. They will want to put another one over on us and that can't happen. I expect the attitude to be spot on."
20:15. Welcome back, ladies and gentlemen, Bhoys and Ghirls. It's Celtic time once again in Vavel UK! We'll do a minute by minute live tonight to give you the latest information from these League Cup quarter finals, while we live the match involving Celtic and St Johnstone at Parkhead.