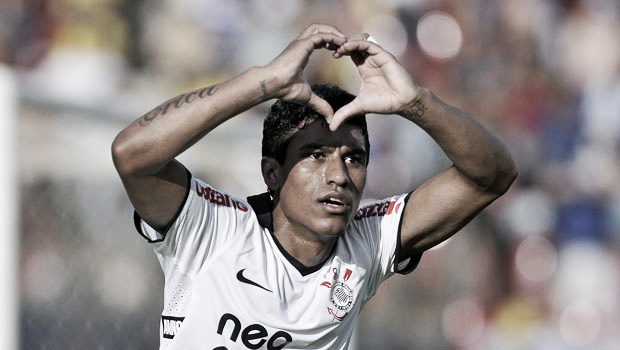 In a flurry of Brazilian players linked to Tottenham this transfer window, Paulinho seems the most sought after. The in-demand central midfielder claims to have an offer from Spurs, but is weighing up all offers recieved. For Tottenham, acquiring the Brazilian's signature would be massive for them. In what is an ambitious transfer as Spurs target to break into the Top 4, Paulinho would slot right into the Spurs XI.

Firstly, fellow Brazilian, Sandro, could be his partner in the heart of Spurs' midfield. The two could form an excellent bond for club and country. 'Opposites attract' as the saying goes, which fits both Brazilians perfectly. Paulinho is the more dynamic player out of the duo. Predominantly a box to box midfielder, but is a standard above the majority in his role. Paulinho has an end product. Paulinho's contribution in his sides build up play is signifcant; whether he is assisting his team-mates or putting the ball in the back of the net himself. Although, work rate is the key asset to succeed in that position. Paulinho has that in abundance. Paulinho is willing to burst his lungs to ensure he is aiding his team mates when attacking or defending. Yet, he does not run around the field like a headless chicken. Paulinho is effective at what he does and has the potential to become one of the world's best in his role. The only player similar to Paulinho at Spurs it Scott Parker, so the upgrade in talent and quality is evident for all to see.

Also, Sandro partnering Paulinho allows the latter the licence to roam and more freedom. The enforcing Sandro will be the unpraised hero in this double pivot partnership. As always, Sandro will be responsible breaking up the opposition's attacks, intercepting and retaining ball possession. As we have seen with similar anchormen, their dirty work allows the better players on the pitch to get their rhythm going.

Next season, Spurs are likely to stick to their guns and continue lining up using the 4-2-3-1 formation. One of the most modern formations currently in football. With Sandro and potentially Paulinho being the double pivots comes pressure. In the heart of the Spurs XI, both will need to work for eachother, but most importantly, the team. Both players will need to have good communication and be on the same wavelength. Understanding how one another plays could be make or break for Spurs. Paulinho's bursting runs forward means that he will leave space behind him in the process. Sandro will need to cover the space behind him ensuring whenever the opposition are on the break. However, one cannot expect Sandro to do the graft solo. Paulinho cannot afford to drift out of position or get too advanced, despite his work rate. The better sides that Tottenham face, and if this problem was to arise, those better sides would exploit of the space and be much more threatening when attempting to hit Spurs on the break.

Another interesting factor of this debate is Moussa Dembele. If Paulinho was to arrive, it has left many football fans sceptical as to where the Belgian would be plying his trade, be that Spurs or elsewhere. Versatality is a beautiful aspect of the Belgian's game. He is better suited to a deeper lying role, but his eagerness to get forward and attacking mindset allow Dembele to be utilised further afield, much to Spurs' advantage. As he has shown before, Dembele looks confident when playing as an attacking midfielder. His drive and determination on the ball, mixed with his strength, skill and stamina mean that Tottenham purchasing Paulinho saves the purchasing an attacking midfielder, as they could use Dembele there, if need be. I for one would like to see Dembele the more advanced midfielder out of the three, but it is to be seen whether AVB would want to use one of his star men in a position which is not his natural.
What makes this transfer more appealing for Spurs' fans is that Paulinho has played alongside Luis Guztavo, who is a similar player to Tottenham's Sandro. The partnership that Scolari has formed using these two midfield men has worked to good effect. Both compliment each other's style, which can be seen in action in the current Confederations Cup.
I do feel confident that Paulinho would succeed at Spurs, if his eagerly anticipated arrival was to happen. The high tempo and velocity of the Premier League would be of little hassle for Paulinho, as the top division in his native Brazil is place at a fast pace. Internationally, it is also something Paulinho is more than used too. All players need time to adjust their game, but the box to box midfielder would quickly settle into the speed of the English game.

As many Premier League followers know, Andre Villas Boas structures his teams with an attacking approach. The transfer of Corinthians midfielder Paulinho would be ideal. Few adjustments would be needed to be made, whilst acquiring one of the sought after Brazilians in world football.

In theory, Paulinho could be a wonderful, yet instrumental addition to the Spurs team for Champions League football and future success.