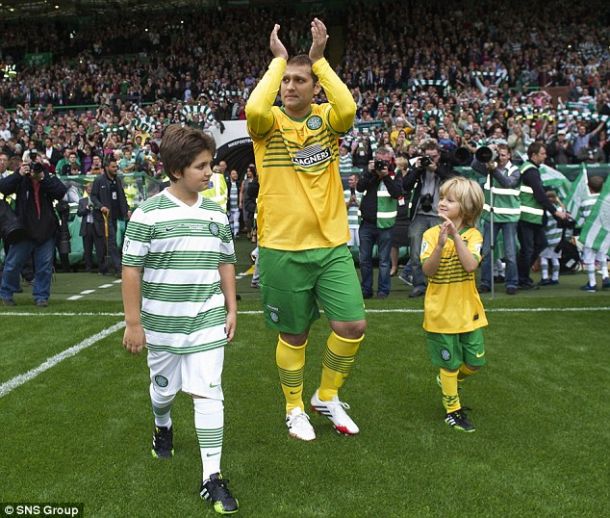 On Sunday, 60,000 fans took to the east end of Glasgow, and filled Parkhead, for a very important occasion, when a Celtic legends team took on a Stiliyan Petrov Eleven in a charity match. However this wasn't your run of the mill charity match, this was a celebration of Petrov's greatest victory, over Leukemia.
Petrov was initially diagnosed with the disease in March 2012 and the football world was plunged into shock. The disease forced the Aston Villa captain to retire. However in a similar nature to the dynamic and tenacious approach the Bulgarian brought to the pitch, the cancer is now in remission.
The match saw a Celtic legends team, including Henrik Larsson, Chris Sutton, Pierre Van Hooijdonk and Aston Villa Manager Paul Lambert, among countless others, take on a Petrov Eleven, including Berbatov, Agbonlahor and John Terry.
The game was entertaining, with goals from Berbatov, Martin Petrov, Henrik Larsson and Westlife's Nicky Byrne, however the game was almost secondary to proceedings. Even the crunching tackle which saw Louis Tomlinson of boy band One Direction having to leave the field before vomiting, paled into insignificance compared to events after the final whistle.
Having come on to play for the Celtic team for the final few minutes, Petrov, upon the final whistle walked toward the centre circle to show his own appreciation to the Parkhead support. After rapturous applause, the familiar sound of 'You'll Never Walk Alone' came over the Celtic tannoy, and began two and a half minutes that everyone watching in the ground, at home, and especially 'Stan' will never forget.
The song could not have been more fitting to the moment, and having been joined by his sons, Petrov tried and failed to hold back the tears. Never has the song been sung with more meaning and heart. Suffice to say, their wasn't a dry eye in the house.
Not only did the sell out game raise much needed money for Leukemia research, it reminded football fans everywhere how beautiful the game can be. Petrov is now a man that has crossed all borders of rivalry and pettiness in football. He is a gentleman, a fighter and a warrior in the eyes of many football fans.