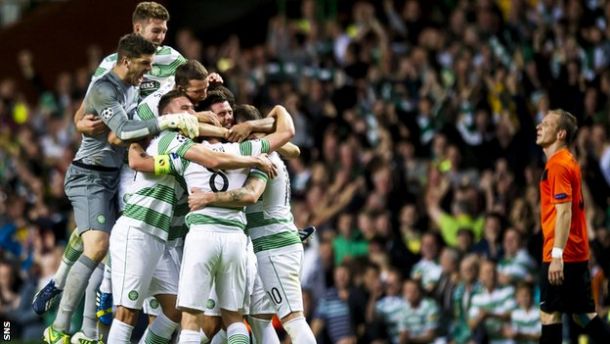 The Champions League can be a romantic affair in the eyes of football fans. It is the pinnacle of world football, with the best clubs in the world battling against each other for the ultimate club football prize. This seasons Group H is firmly besotted with the romantic side of football, having the unique claim of being the only group in Champions League history consisting of former champions. With a total of 16 European cups between the four clubs, many eyes from around the world will be watching this group with bated breath.
Barcelona - Ajax
Barcelona have lifted Europe's most famous trophy on 4 occasions, with the latest triumph being the defeat of Manchester United at Wembley in 2011. Their team is littered with world class players that would terrorise even the best of defences. Widely renowned as the world's greatest player, Lionel Messi spearheads an attack that is supplemented with a terrifying array of talent in Neymar, Iniesta, Fabregas with the clockwork passing of Xavi behind them.
The infamous, all conquering Barcelona have come unstuck in recent years, having been demolished by Bayern Munich at the Semi-final stage. However with the introduction of Neymar, they are joint favorites in most bookmakers.
Barcelona begin their assault on the Champions League with a home tie against Ajax of Amsterdam, who are managed by former Barcelona player Frank De Boer.
Ajax of Amsterdam are a club with a proud heritage in the Champions League and European cup having lifted the cup on 4 separate occasions. Ajax fans hark back to the glory days, where their all-encompassing side, led by Johann Cruyff were the cream of the crop across Europe.
Having not won the trophy since 1995, Ajax have had a slight fall from grace, and have rarely threatened the latter stages of the tournament in recent years. However they have a proud tradition of nurturing impressive youngsters, and despite the loss of playmaker Cristian Erikkson to Tottenham, will not be a walk over for any team in this group.
Ajax start with the trickiest of draws away to the Catalan giants of Barcelona. They will not be expected to take anything from their first game; instead they will be concentrating on gathering points against AC Milan and Celtic.
The match itself will be one that Barcelona will fancy taking maximum points from and Ajax will have to pull of a momentous victory in the first competitive clash between the two clubs.
AC Milan - Celtic
Second only to Real Madrid, AC Milan are among the European elite. The Rossoneri have lifted the big cup on a staggering seven occasions, perhaps most famously when they defended their title to win for a second successive season in 1990. That team included alumni such as Rijaakard and Van Basten upfront, with Maldini and Baresi at the back. However they haven't won the premier competition since 2007 beating Liverpool 2-1 with Inzaghi scoring both goals.
Far from teams of yesteryear, Milan have struggled to make any real impact on the competition in recent years. A team firmly in transition will be boosted by the return of prodigal son Kaka from Madrid. In addition, much reliance will be placed on enigmatic forward Mario Balotelli, a man equally capable of scoring a hat trick as he would be to be sent off.
Milan begin their campaign with a home tie against Glasgow Celtic, a team they have faced many times in the competition. The Rossoneri will hoping for three points to kick start their campaign.
Celtic make their way into the competition having successfully negotiated three qualifying rounds and have heritage in the competition. The famous Lisbon Lions of 1967 defeated the cream of European football at the time, Inter Milan, 2-1 in Lisbon with a team entirely built with players born within 30 miles of Celtic Park. They reached the final three years later, only to be defeated by Feyenoord. Long gone are the Lisbon Lions, but the bottom seeds of this group will be certain to ruffle a few feathers of their more decorated counterparts.
Last season, despite all expectations, Celtic finished second in a group that included Barcelona, Benfica and Spartak Moscow, adding the famous scalp of Barcelona along the way. The club have lost star striker Gary Hooper over the summer, along with Wanyama and Wilson, but much of their squad will be well versed in what is needed in this elite group of former champions.
Celtics incredible home form in the Champions League, with only 1 defeat in 21 group matches, will be crucial to the hoops hopes of qualification. If they can continue that form, and sneak a point or two away, they may surprise a few people.