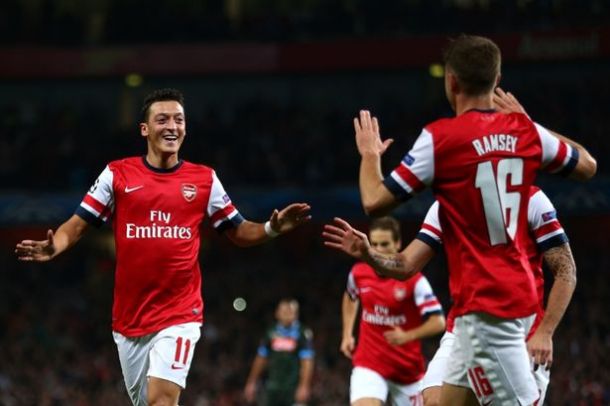 After two rounds of the Champions League, the five British participants in the Champions League are starting to see their respective groups taking shape. So far the clubs have had mixed fortunes. We take a closer look at how they are doing so far, and what to expect from the rest of their groups, and possibly beyond.
Arsenal
After the standard August chorus of Arsenal fans deep in crisis, calling for the head of Wenger, and the worried glances at newspaper reports linking them with average premiership players, Arsenal and their fans have turned full circle and the club are now quelling talk of an invincible year.
In terms of the Champion's League, Arsenal sit proudly atop of a group that many people (author included) tipped them to struggle.
6 points from two games and Arsenal look like they may already have one foot in the last 16. Tuesday's 2-0 victory over Napoli never looked anything other than comfortable, and although the now face last season finalists Dortmund twice in succession, the Gunners are looking pretty.
So what has changed? A certain German maestro of course!
Ozil has completely transformed the Arsenal team. Not only has the maverick playmaker brought his own brand of intelligent midfield play to the Emirates, but his presence has actually rejuvenated those around him. Aaron Ramsey isn't the same player as last year because Ozil's intelligence off of the ball allows him more freedom. In addition, Giroud has now been given a player to provide the final ball to him on exactly the blade of grass he needs.
Talk of an invincible year for Arsenal is off course premature, but the signs are looking great for the Gunners to progress to the last 16 and beyond, if they keep Ozil fit.
Celtic
Two matches in, two heroic performances, but alas no points. Celtic have taken a lot of heart from their performances so far. They were the better team in Milan, and were keeping Barcelona frustrated like a teenage boy at a disco until Scott Brown's petulance let them down.
When the groups were drawn, Neil Lennon said it was like two sides of the coin. On one side, a chance to impress against the cream of European football, on the other, a terrible group in terms of chance to progress.
After last year's progress to the last 16, Celtic fans were hopeful of similar progress this year and despite the two defeats, there is still a possibility of this. However they will need two positive results against Ajax and a home win over Milan to make this possible. Even taking 4 points against the Amsterdam outfit may not be enough, as they would need to match Milan's score against them at Parkhead to equal the head to head ratio.
Celtic's woes this year have been compounded with the sale of key players. Although Kelvin Wilson has been adequately replaced, with both new boy Van Dijk and Ambrose impressing in both games, Wanyama and Hooper's exits are being more keenly felt. Stokes is not an out an out front man, and Lennon was forced to play two full backs in midfield against Barcelona. Much will be needed from new striker Temmu Pukki against Ajax to gather as many points as they can.
Whilst the last 16 is not out of reach yet, the Europa League may have to be the next best step from the group stages post-Christmas.
Chelsea
After early elimination from the group stages last year, Chelsea were given the easiest group since the formation of Girl's Aloud. Despite the group's comparative ease, Chelsea were defeated by Basle in their opening game, before a comprehensive victory on Tuesday over Steaua Bucharest. The West London club now have a double header against Schalke which should determine how the group shapes. The German club are currently unbeaten, and will certainly provide a stern test for Chelsea.
With the appointment of the special one, Jose Mourinho over the summer, Chelsea have a manager with track record in the competition, however Jose never won the competition in his previous spell at the club, despite throwing the proverbial cheque book in its direction.
Chelsea certainly have the squad to mount an attack on the premier European competition and Mourinho's appointment certainly had this in mind. However his distaste for the attacking nous of Juan Mata may come back to bite him, with the Spanish playmaker the team looking altogether more threatening than without him.
Chelsea should make it through the group, but without 4 points in the upcoming games against Schalke they may have to go through as runners up, with a possibly difficult task awaiting them in the last 16.
Manchester City
Another season, another expensively assembled squad and a new manager brought in because of his Champions League track record. Verdict so far? So-so.
City started their third Champions League campaign with a simple 3-0 victory over Plzen of the Czech Republic, no real shock there; however yesterdays result put them firmly back down to earth when they were comprehensively swatted aside by Guardiola's Munich Juggernaut. Yes Munich were impressive and City had to contend with Joe Hart being replaced with a static traffic cone in goals, but what will be most worrying for the Manchester City hierarchy was the obvious gulf in class between the two sides.
Since the Abu Dhabi royal family took over City, the squad has improved tenfold and on paper, their squad is probably in the top 5 in Europe, yet when it comes to European football, they seem to constantly underperform. Joe Hart especially is now looking like a liability rather than one of the best keepers in the world. Consistency appears to be a major issue for Pellegrini's City team, a trait that is often exploited in the Champions League.
City should have enough to get out of the group behind Bayern Munich, but a trip to Moscow in the months approaching winter may become a daunting task. More catching practice for Hart awaits.
Manchester United
This is turning into a funny old season for seasoned veterans Manchester United. Their godfather Don Ferguson has stood down over the summer to indulge (more) in the fine wines that the world has to over, and another Scot, David Moyes enters the breach.
Much press attention has been made of United's stuttering start to the season, especially the thumping they received from their noisy neighbours, however their Champions League campaign has got off to an unspectacular yet steady start.
Given they have a decent group, avoiding any real big guns, United have 4 points from 2 games, and have arguably negotiated their most difficult game, away in Donetsk. Despite a shaky defence at home, they defeated Leverkusen comfortably, and a point in the Ukraine sets them up nicely for a routine run for the remainder of the group.
Moyes last week stated that Manchester United are nowhere near good enough to mount a serious challenge for the Champions League, and much will depend on their eventual opponents in the run through of the knockout stages.
At this stage, it is probably the one competition where no alarm bells are ringing for United fans, although if their league form persists in its current form winning the tournament may be their best chance to qualify for next year's Champions League.