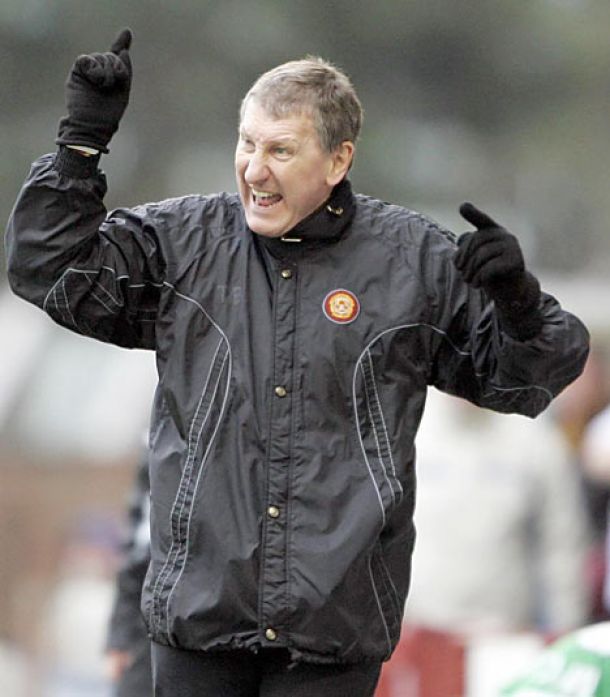 Terry Butcher's appointment at Easter Road is his seventh managerial position in football since becoming Player-Manager of Coventry City in November 1990. His record is varied to say the least with stints at Coventry, Sunderland, Sydney and Brentford at best unremarkable. In contrast he was worked wonders at Inverness Caledonian Thistle and some years after his departure, is still held in high regard by followers of the Steelmen.
The former England skipper was brought to Fir Park as part of sweeping changes that followed the departure of Billy Davies in autumn 2001. In came Eric Black as manager, Butcher as his assistant with George Adams and Chris McCart completing the coaching and youth development set up. The appointment of Black was seen as something of a coup, fast-tracked through the SFA coaching set up as he was, and certainly Adams and McCart were widely recognised as being some of the best in the business at youth development.
Butcher however? Well, Motherwell fans are known for their harbouring of grudges. Throw in a healthy dislike of all things Old Firm and with memories of battles against Butcher's Rangers still fresh in the minds of many, the Englishman's appointment was given a lukewarm reception.
Black's reign proved to be short. Successful in the fact he had achieved his first and main priority of easing Motherwell away from any relegation worries and he had continued the work that Billy Davies had commenced by giving opportunities to the likes of James McFadden and Stephen Pearson but Black looked far from happy, long even before John Boyle put the club into administration in April 2001 and one might say with some relief, took the opportunity to move on.
Terry Butcher however, as had been demonstrated on many times previous throughout his career is made of sterner stuff and took command of the situation guiding Motherwell through a gut wrenching final fixture at Kilmarnock before the administrative cull, and the final game of the season at home to Dundee a week later. The sheer emotion of the situation carried 'Well through to 4-1 and 2-1 successes.
As the off field issues continued Butcher was confirmed as Motherwell boss on a permanent basis and set about preparing what was left of the squad he had inherited for the 2002'03 campaign. In contrast to modern day administrations Motherwell were fortunate that no points penalty was levied upon them, nor was any transfer embargo - a fact that riled and continued to rile our peers for some time. Aided by the excellent administrator Bryan Jackson, a name whom would become all too familiar to fans of several Scottish clubs, the club convinced the authorities that to remain as a going concern, Motherwell needed to play and to do so they needed more players. In due course Butcher scrambled around to bring a smattering of unknowns such as German Daniel Sengewald and unwanteds like David Partridge to the club.
There was a unique atmosphere around Fir Park at this time. Motherwell subsequently went on to play in League and Scottish Cup Finals, in the UEFA Cup, Europa League and Champions League. They finished SPL runners-up, yet for many they recall this season with a fondness greater than any of those fine achievements.
In actual fact in season 2002'03 Motherwell finished bottom of the table, and but for Falkirk's failure to meet SPL regulations would have been relegated. Yet it was a season that brought so much joy. Celtic and Rangers were both beaten at Fir Park, Hearts were thrashed 6-1 and the club made it to the Scottish Cup Semi Finals going down narrowly 4-3 to Rangers. The season finished on a high-note with James McFadden bagging a hat-trick as Livingston were thrashed 6-2.
Butcher was very much at the heart of the club throughout. Managing the first team without a recognised assistant, he was heavily involved with the reserves too as anyone who toddled down to Fir Park of an evening would testify with his loud and constant calls of encouragement to his young charges. He was never done in a cheerleading role for the club also. At this time still contracted to work with BBC Radio Five and Channel 5, rarely would a broadcast pass without Terry making a positive reference about the Steelmen giving the club great nationwide exposure.
With the club beginning life post-administration Terry was able to approach his second full season in charge with a touch more normality. Maurice Malpas was instilled as his assistant and he brought experience to the team in the shape of veteran goalkeeper Gordon Marshall, and two former Fir Parkers Stephen Craigan and Alex Burns.
Despite the loss of James McFadden to Everton as the clock wound down on the summer transfer window and Stephen Pearson to Celtic in the winter window, smart additions to the squad such as Jason Dair, another returning hero in Phil O'Donnell and the find of the season in Australian striker Scott McDonald, Butcher's men went on to secure a top half finish. An incredible achievement given the budget the former Sunderland boss was operating with.
Season 2004'05 got better still and was arguably the peak of Terry Butcher's time at Fir Park. Developing his squad further Butcher had attracted Jim Paterson, Richie Foran and Brian Kerr from Newcastle in the summer of 2004 all on costless transfers. Sadly Kerr would succumb to injury before pre-season was even concluded but his replacement, Kevin McBride would go on have exactly the impact that might have been hoped for from Kerr.
'Well would go on to secure a second successive top six finish and would reach their first national Cup Final since the glory days of 1991. Morton, Inverness and Livingston were all dispatched as the Steelmen stormed to the Semi-Finals where, fuelled by the annoyance of having to play the match just three miles from Hearts Tynecastle home, Motherwell raced into a 2-0 lead. The capital side clawed it back to 2-2 taking the match to extra-time, but with penalties looming Marc Fitzpatrick netted a last gasp winner to secure a League Cup Final spot and provide Motherwell fans with one of their most memorable evenings in years.
Perhaps given the outcome it might be best to gloss over the final itself mind you!
Before the season was out Motherwell would prove to have a huge bearing on the outcome of the SPL title with two late Scott McDonald goals helping 'Well defeat Celtic at Fir Park ensuring their Old Firm rivals would instead triumph. Against a backdrop of the home stands being infiltrated by hordes of visiting fans, hyping themselves up to celebrate a title win, the result was wildly celebrated by Motherwell fans delighting in the avoidance of celebratory scenes from an opposition side on home turf.
Hopes were high going into the 2005'06 campaign that the club could continue on its upward spiral but as the season progressed the team struggled with consistency in the league. Another run in the League Cup however saw a return to Hampden to take on Celtic in the Semi Final and it looked for a time like the Steelmen might make a second successive Final. Sadly though a late goal dashed 'Well's hopes and put a dampner on proceedings that would take several weeks to lift. A late rally saw the Steelmen push for another top half place but it wasn't to be and 'Well would finish the season in eighth place.
By this time speculation was rife that a move for Terry was in the offing. Both Motherwell chairman John Boyle and Butcher had spent time in Australia during the season, in months previous. Boyle on holiday and Butcher seemingly negotiating a tie up between Motherwell and Australian side Sorrento. Quite whether this was connected to Butcher eventually taking charge at Sydney in May 2006 was never confirmed but was generally always assumed to be the case.
Despite still having two years left on his contract, which John Boyle waived as a measure of his gratitude for Terry's efforts, and for all his success it did seem like a natural parting of the ways at that stage. That Terry's job was done and he had delivered more than anyone could have asked of him, and he was entitled to his life in the sun as reward.
Given his time at Sydney and Brentford, Motherwell fans came to conclude that whilst Terry Butcher had indeed been a perfect fit for Motherwell at that time, that Motherwell were good for Terry Butcher too, providing him with a unique set of circumstances that got the very best from him.
Yet, subsequently ofcourse Terry has gone on to enjoy similar if not greater success with Inverness, has attracted interest from the English Championship and now earned himself a shot at a big city club in Scottish football.
All these years later he still speaks highly of, and remains very thought highly of by those at Motherwell FC who will doubtless wish him in his new role as manager of Hibernian.